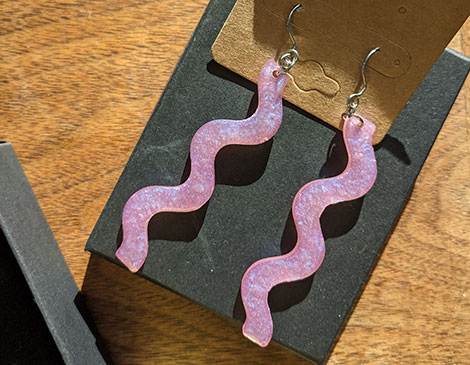 Arbela Capas, associate editor
Curvy Iridescent Pink Earrings from Capas Creations ($16)
When it comes to earrings, I've got my go-to gold hoops and simple studs I've come to love. But I've been in the market for more fun earrings to experiment with and knew I had to start out small. A relative of mine has her own Etsy shop, and while browsing through her listings I came across these squiggle earrings that immediately intrigued me. I usually don't reach for longer earrings in general because of practicality purposes, but these are so lightweight that I don't even notice they're on. Also their shape and color in general just makes me think of strawberry popsicles and bendy pool noodles, so I'd say they're a perfect way to ring in the warm weather. etsy.com/shop/CapasCreations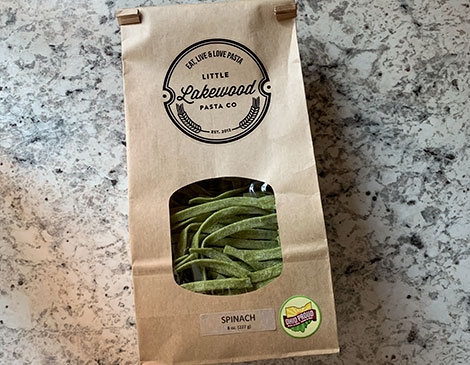 Kim Schneider, editor
Spinach fettuccine from Little Lakewood Pasta Co. ($5)
I wouldn't consider myself a great cook by any means. But this last year has forced me to flex those skills and I've upped my game. Instead of ordering a nice pasta dish for takeout or dining out at an expensive restaurant, I'm more than happy to experiment in the kitchen. While I haven't worked up the nerve to make my own pasta at home, turning to Little Lakewood Pasta Co. for its lineup of pastas — including spinach fettuccine and butternut squash ravioli — gives me a great base to work with. I love how quickly I can turn these noodles into whatever kind of dish I want. My go-to moves include adding olive oil and a little Parmesan or layering in roasted tomatoes, ricotta, lemon and baby spinach. 15613 Detroit Ave., Lakewood, 216-889-7966, littlelakewoodpasta.com



Dillon Stewart, associate editor
Michael Stanley's Heartland ($2.29)
In honor of Michael Stanley, the fan-favorite Cleveland rocker who died on March 5 and is being remembered with a citywide celebration on March 25, I decided to add some MSB to my record collection. I lucked out by finding Heartland. It's probably his most popular and accessible record and features his two most popular songs, including "He Can't Love You" and "Lover." Fun Fact: The E Street Band's Clarence Clemons plays sax on "Lover," which was pretty cool to discover as a Bruce Springsteen fanatic. I do have to admit that I bought the record at Half Price Books, which isn't very #ShopLocalCLE of me, though MSB is Cleveland music. I suggest you do your record shopping at My Mind's Eye, Record Revolution, Brittany's Record Shop, Blue Arrow Records & Books or This Way Out.