If there's one thing Erin Guido and John Paul Costello are known for, it's bright colors. By day, Guido works as a project manager at Land Studio, a nonprofit developer of public art; on the side, she's known for her own vibrant-hued, block-lettered art installations around the city. Costello is a fabricator and designer who works with wood and metal. Together, the couple runs So Fun Studio, an interactive design collaborative that brings lively, imaginative 3D art to Cleveland.
It's no wonder, then, that their wedding day was as cheerful as the art they create together. From Costello's bright blue suit and Guido's vividly patterned Sachin & Babi gown, to their purple wedding cake and neon yellow pineapple cocktails, the couple's backyard wedding was as bright and joyful as they are.
Like so many couples who've married mid-pandemic, though, the wedding they had was a far cry from the wedding they first planned for. After getting engaged on the shores of Lake Erie in December 2019, Guido and Costello began making arrangements for a February 2021 destination wedding in Oaxaca, Mexico, which they chose for its reputation for delicious food and vibrant public art. When the pandemic started, though, they were forced to nix their trip.
"We texted our family and were like, You know what, you guys? We're just going to do it," Guido says. Still expecting to have a party in Oaxaca later, they chose August 22, 2020, to be legally married in Ohio.
Within a week, the couple, who had dated for four years, organized an intimate outdoor event attended only by their immediate relatives (plus one mutual friend), for a total of just 13 attendees. Even the officiant was family: The groom's older brother, Cleveland Heights Municipal Court Judge J.J. Costello, presided over the nuptials, which took place in his backyard.
Despite the small crowd, the entire day
was representative of Guido and Costello's large network. "Because it was more laid-back, it didn't have a lot of pressure or stress," she says, "but it ended up still being very special because everyone pitched in."
That includes a who's who of well-known Cleveland artisans and shop owners.
Their friends, Brandon and Jeff Zelmer, owners of Urban Orchid in Ohio City, put together a bright, oversized bouquet that complemented the kaleidoscope of blues, greens, browns and more in Guido's dress, which she purchased at a discount online. Their wedding cake — a three-layer vegan lemon poppyseed cake with layers of strawberry, encased in a lavender buttercream — came from Flour Child Bakery, owned by Gabrielle Shipley, a friend from Guido's book club. Guido, who had worked with photographer Da'Shaunae Marisa through Land Studio, asked Marisa to capture the day.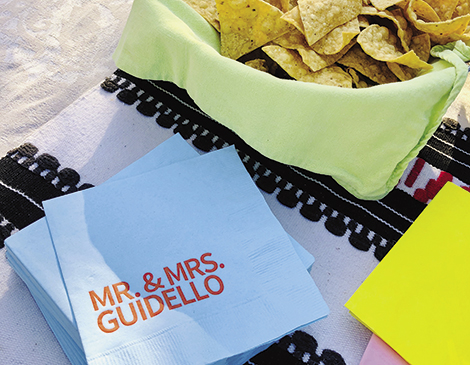 Guido's earrings were handmade and selected for her by her sister-in-law, Alicia Zeigler Costello, owner of Noble Fawn Jewelry, and although Guido did her own hair for the wedding, she borrowed hair clips from her hairstylist, Natalie Mitcheff of LovLox in Rocky River.
"We weren't good planners," Guido says, laughing. "We're lucky that we have generous friends who were like, Oh, you're getting married? Let us make you these amazing things."
Their wedding rings, too, came from loved ones: Guido's dad never wore his wedding ring, she explains, and her mom upgraded hers years ago, so the couple planned to have those rings melted down and turned into their own custom rings. It turned out, though, that the original rings fit perfectly — and felt right.
"They are simple and exactly what we wanted," Guido says, "so now we just have my parents' wedding rings as our wedding rings."
The morning of the big day, Guido sipped champagne and ate a socially distanced breakfast with friends who dropped in to surprise her. Costello, meanwhile, arrived early at his brother's house to make jackfruit tacos al pastor for the wedding dinner while their relatives made guacamole and bean dip. Guido's brother, Mike, whipped up specialty cocktails like the So Fun Soda, made with grapefruit juice, club soda, simple syrup and tequila, and an Oaxacan Wedding Punch.
"We were trying to pretend we were in Mexico!" Guido says.

With no set timeframe to the day, the couple just winged it: They joked that their midday lunch picked up from Aladdin's Eatery was a rehearsal dinner, and they started their ceremony at dusk. Costello's brother J.J. did most of the talking, as the couple wrote one another private letters in lieu of writing their own spoken vows.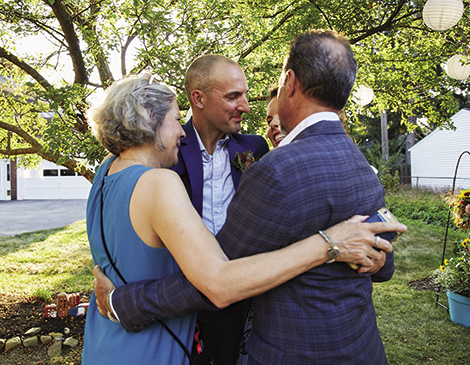 "We're both much more visual than we are good with our words," Costello says.
As the night grew dark, the backyard lit up. Costello's nephews had helped decorate the backyard, including their wooden swing set, with delicate paper lanterns and golden twinkle lights.
"I think my nephews were the most excited and stressed about the day," Costello jokes. Abe, 5, was focused on decorating, while Oliver, 9, insisted that he needed a suit for the celebration. Throughout the night, they entertained everyone with their dance moves while their father took music requests on Spotify — and when the evening drew to a close, Guido and Costello were delighted to discover that the boys had decorated their car with "Just married" messages.
"[The day] was just about us and our family, and there wasn't any pressure to make sure everyone was having a good time or that the decorations were perfect," Guido says. "It fell into place — all the fun parts with none of the stress."
The couple still hopes to eventually hold a party in Oaxaca in February 2022 (especially because they couldn't get their deposits back), but they have no regrets about tying the knot sooner.
"We were originally like, 'Our wedding is later and this is just the legal ceremony,' " Guido says, "but from now on, I will always think of that day as our wedding. It was just so special."