When Taylor Hoffman and Luke Gould met for the first time at a friend's birthday party, the timing was serendipitous. Although they had crossed paths at many of the same local events, the Cleveland Heights residents didn't meet until they had both just left other relationships. "It was good, synchronous timing," says Gould.

They quickly discovered they shared many of the same passions and gradually started dating. After two years, they realized it was time to take the next step, mutually proposing to one another with engagement rings they crafted themselves at Wanderlust Jewelers in Cleveland Heights.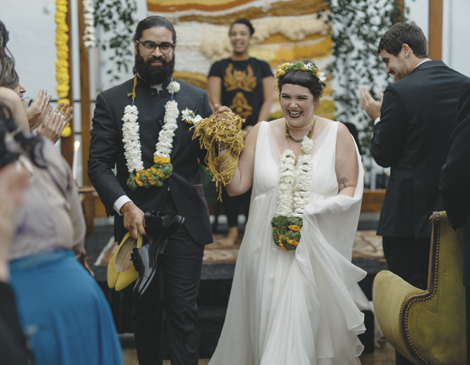 When planning their Oct. 13 wedding for 240 guests, they knew one thing for sure. "It felt really important to spotlight local businesses," says Hoffman. "Pretty much all the vendors we worked with were local."

But when it came to figuring out how they would combine two very different backgrounds — Gould's Indian heritage and Hoffman's Western one — into a cohesive wedding, they knew they had a challenge.

The couple got to work, consulting relatives on how best to integrate elements from both cultures.

"I think we were both very hesitant at first to blend or alter things," says Hoffman. "Luke's grandma said, 'This is about your love. Do what feels right to you. Some of these traditions are really old. Update them.'"

The resulting nuptials were a unique blend of Hindu and Western customs that kicked off with a traditional private Hindu ceremony performed a few days before the wedding. "It was a way to make sure my mom and grandmother felt we were doing full justice to that part of my culture," says Gould.

The celebration of Gould's heritage continued with a Sangeet party the night before the wedding at his parents' house in Cleveland Heights. A traditional Indian celebration, the party is an opportunity for both families to get to know one another while enjoying choreographed dancing and musical performances by guests. Inspired by members of Hoffman's family who are New Orleans musicians, the couple took music lessons so they could perform songs by Brandi Carlile and Daniel Caesar at the party.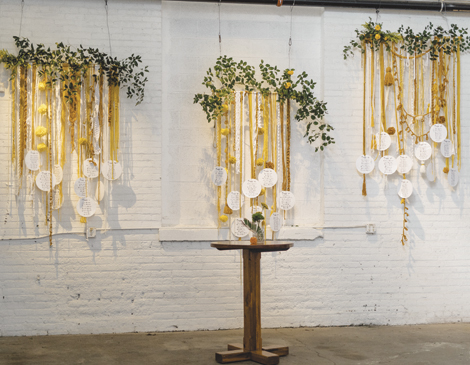 The main event took place the following day at the Madison in Cleveland, where an 11,000-square-foot open layout and 20-foot-high ceilings offered the couple a blank canvas for decorations. "We had a lot of freedom to do what we wanted," Hoffman says.

They hired local installation artist Lauren Skunta of Elbow Grease Design to create tassel-adorned tapestries to hang above the tables and bar. She also crafted a woven textile installation for the mandap, a flower garland-draped, four-pillared holy structure in which the nuptials took place.

Even the food, catered by Spice Kitchen & Bar, was a harmonious affair inspired by Cajun and South Indian cooking such as polenta fries with spicy remoulade and fish curry. "It was this great melding of flavors and spices," says Hoffman. Eschewing cake, they had doughnuts from the Vegan Doughnut Company and macarons from Sweet Pea Patisserie.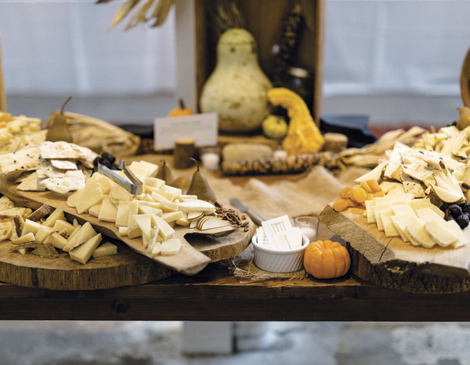 The ceremony seamlessly melded both cultures, including an Indian "exchange of garlands" (a symbol of two individuals becoming one family), a Western white wedding dress accessorized with mehndi, or henna, and the bride walking out to the reception while "Power of Love" by Huey Lewis and the News played.

"It came together beautifully," says Hoffman. "It was this thing that just felt so special."