Janae Bryson was already working from home when the COVID-19 lockdown hit — which means she had a head start on putting her Zoom outfits together.

Since founding the branding studio Auden & Company almost four years ago, she's worked almost every day from her home office. Inspired by sharing some brand expertise with her friends, the company, which now offers photography, graphic design and website building, was designed to help small businesses with rich histories bring their stories to life through refreshed brands. "There was a large portion of the market kind of missing where the small businesses and startups could have access to high quality design for a bit more affordable cost," says Bryson, who is also brand stylist for Creatively Stocked, an inclusive collection of stock images.

Bryson's style tells a story, too. An entrepreneur and mother of a four-month-old, Bryson's everyday uniform embraces skirts, linen dresses and ruffle tops; trusty accessories such as simple leather totes and monochromatic combinations of neutrals and beiges with pops of red and green. "I would describe my style as kind of minimalistically feminine," Bryson says. We talked to Bryson about building a comfortable, yet stylish wardrobe for any occasion.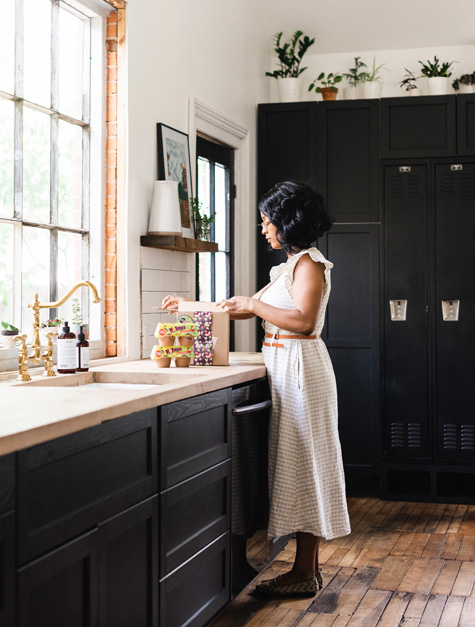 Dress For Success
Whatever the occasion, Bryson has a dress for that. "If it can be accomplished in a dress, fantastic." While she also loves a good pair of jeans and T-shirts, her closet is full of easily thrown-on pieces as perfect for going-out as they are for a professional meeting. "For events, I try to do more professional, maybe a blazer dress," she says. "It might go a little bit longer than some of the dresses I would just wear on a day-to-day basis."

Light As Linen
Bryson's two go-to wardrobe pieces — big surprise — are two linen dresses. One is a simple A-line maxi dress, and the other a shorter dress with feminine sleeves. "It's a little bit shorter, so it's the perfect length because I'm 5 [foot] 4 [inches]," she says. "It kind of has soft balloon sleeves and it has a neutral beige-y color look and it's super easy to wear, I like to dress to it up or dress it down with either heels or canvas shoes."

The Classiest Of Loungewear
As far as at-home looks, Bryson forces herself to get dressed, while still implementing comfy pieces such as bike shorts and easy bodysuits for Zoom meetings. In fact, after her son Oliver was born, Bryson found comfort in the classiest of loungewear. "I actually was living in a robe for a good chunk of my life," she says. "I have what I call my Hugh Hefner robe, which is purple and goes down to the floor and then I have just a simple black and polka dot one that's cotton and is lighter then I have a satin-feeling one that I got as a gift for my baby shower that I'm still lounging around in."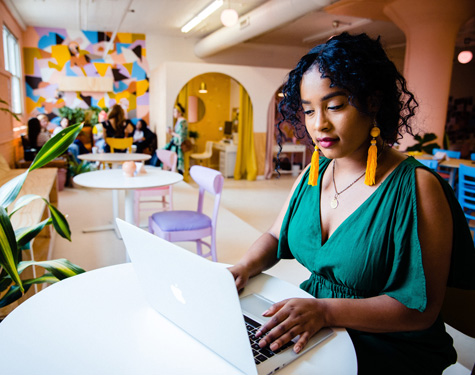 Accessories That Inspire
"My favorite accessory is actually not even technically a necklace," Bryson says. "It was a keychain from Oceanne Jewelry that says, 'Empowered Woman, Empower Women' you know, and so I turned it into a necklace by adding a brass chain to it." While she's taking a break from earrings for now due to her four-month old being in the grabbing stage, she also loves to pair her camel-colored purse from Sanity Style in Chagrin Falls with sneakers or canvas shoes. "It's another good neutral piece that I like and it has this really fun laser cut-out pattern on it," she says. "It's one of my favorite things to grab because it can be a crossbody or it can be like a little tote as well so walk out of the door with."
Bryson's Favorite CLE Boutiques
Bryson gets a lot of her wardrobe from boutiques around town, including jewelry and tees from Oceanne Jewelry in Gordon Square and professional pieces Haven in Chagrin Falls. "At Haven, they have a lot of investment pieces, and they're all high quality," she says.