Shopping at a local market has a feeling of discovery to it. The hustle and bustle of sellers, the eager buyers finding different pieces and just the excitement of finding something truly one-of-a-kind. This feeling, along with many artisans' main source of income, dramatically shifted after the hit of COVID-19. Many artists and local makers were forced to pivot to online selling and reconfigure their whole way of making a living. And that's something that Heights Arts Gallery is trying to keep alive this time around.
"I think anyone who has tried to buy art online realized that it is very important to actually come into the space and see the art in person," says Rachel Bernstein, executive director at Heights Arts in Cleveland Heights.
Since 2001, the gallery has turned into an artisan pop-up for local creatives to sell their items and introduce customers to new and unique pieces. Opening Nov. 1 and running through New Year's Eve this year, the Holiday Store will showcase the work of more than 80 local artists.
"A lot of the independent markets are closed, because they have lots and lots of people, and that's not happening," says Bernstein. "So we are performing a service for people now, which is more important than ever, since many artists have not had the opportunity to participate in these other shows."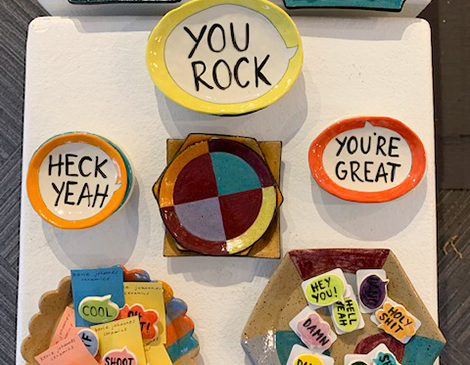 Along with added social distancing parameters — the gallery will have a limit of 8 to 12 people allowed in the space at one time — Heights Arts will also feature six artists a week through their window displays.
Among the shelves and displays, shoppers will find everything from handmade decorative lamps by local artist Lari Jacobson, bold jewelry by silversmith Catherine Butler, abstract sculptures by ceramicist Yumiko Goto and many others.
"This is the place where you want to buy your gifts," says Ann Koslow, store manager and exhibition manager. "There's going to be a teacup or a ring or a gorgeous piece of jewelry or there's going to be a book you had no idea even existed because it's not in your local bookstore, so it really is an extraordinary place to find that special gift."
And there's many ways to purchase items too. Beyond coming into the gallery, Koslow points out that shoppers can call and purchase items over the phone or visit the gallery's online shop. For local artists who have lost many of their opportunities to sell their work in person through monthly flea markets and artisan events, these chances to spotlight their work can make a great difference.
"Anyone who knows what's been happening since the pandemic knows that the arts are in grave danger right now," says Bernstein. "Because we're a nonprofit, we depend on funding, but we also depend heavily on this time of year and the sales that we make on consignment in this gallery."
It was mainly thanks to the Small Business Administration's Paycheck Protection Program the Holiday Store was able to happen at all, so the organizers are making sure that this year's market counts.
"The next six months will really tell us what the fate will be of our organization and probably many arts organizations and local businesses around," says Bernstein.
Still, the leadership at Heights Arts is hopeful that holiday shoppers will turn to local artists to check off their gift shopping this year, while also enjoying a different version of the feeling artist markets create.
"I'm hoping that, and I believe, we've made some real headway and are making contact with shopping and representing the local artists that are here," Koslow says. "And giving the community the space they need to shop."