See this year's Reader Picks, where our readers responded with their favorite picks in categories such as best happy hour, best pizza, best boutique and more.
Food & Drink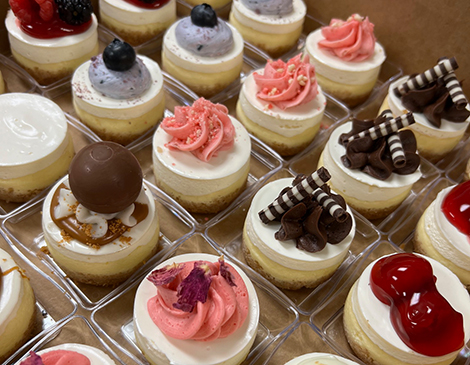 (Photo courtesy Messy Aprons & Co.)
Best Cheesecake: Messy Aprons & Co.
Melissa Simon grew up baking, learning the art of making cheesecakes from her grandmother. Originally, she rented a small kitchen and took orders as they came in. Then, she opened her Strongsville brick-and-mortar store in 2022, offering various sizes. Six-inch cheesecakes ($37) are offered in at least five flavors, with 9-inch cakes ($62) offered in more than 15 flavors. Want just a bite? Order up an individual slice ($9.99), cups ($5), or mini cheesecakes ($3.50). messyaprons.com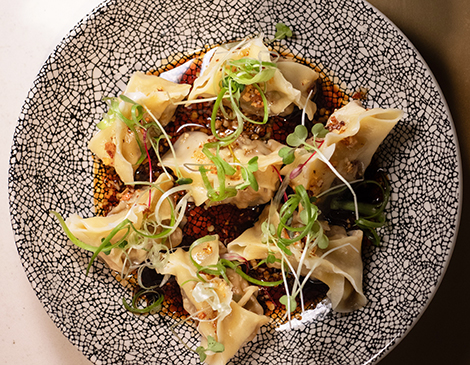 (Photo courtesy Fahrenheit)
Best Second Act:
Chef Rocco Whalen's

Fahrenheit
In July, chef Rocco Whalen pulled all the stops with an expansive long-awaited reboot of award-winning Fahrenheit, this time in Public Square. With room for 700 diners, the opulent flagship boasts a larger-than-life meat and seafood focused vision, showcasing a menu of 75% new dishes. With a 15,000-square-foot, two-story re-haul, including a swanky roof with Downtown views, a first-floor patio and an oversized quartz chef's table, both the design and the menu stand out, also thanks to CEO Alexis Dankovich Whalen, the chef's wife. Whalen's first venue, the original Fahrenheit, closed last year after 21 years in Tremont, a reign that helped make Cleveland a foodie town. After 10 years of vacancy, the former John Q Steakhouse building has also been given new life. Showcasing the original refurbished wooden bar, the restaurant pays tribute to the history of the landmark building. "I'm a historic guy when it comes to Cleveland," Whalen says. "We're taking the space from 1958 and taking elements from the past to the future." chefroccowhalen.com
Best Kosher Barbecue: Mendel's Kansas City BBQ
This barbecue spot is 100% kosher, as the namesake owner, Mendel Segal, adheres to a strict kosher diet. The demands for both kosher food and barbecue are always high, Segal says — so why not put them together? Mendel even took over Progressive Field's former Kosher Dogs stand, offering hot dogs and more to Cleveland's baseball fans. "We try to stay true to what we do and offer authentic, good barbecue using good ingredients," says Segal. "The food speaks for itself." mendelskcbbq.com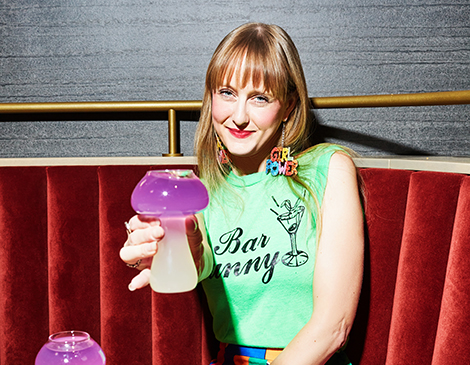 (Photo by Casey Rearick)
Best Mixologist: Cassie Trainer
For cocktail master Cassie Trainer, crafting drinks is about more than catching a buzz. Fans of her beverages have seen everything from bouncing bubbles of smoke atop their glasses to s'mores drinks where patrons get to roast their own marshmallows. "I dream up different themes in my day-to-day life," Trainer says. "I have a dream or a weird [thought], like, 'I wonder if I can turn that into a cocktail?'" After working at Mahall's 20 Lanes for almost nine years, the mixologist recently launched her own cocktail experience company, Moon Bunny Libations, which caters to weddings, corporate events, personal celebrations, bar pop-ups and beyond. Interested customers can reach her via email or Instagram for a fantastical alcoholic adventure. instagram.com/fancifulfawn, moonbunnylibations@gmail.com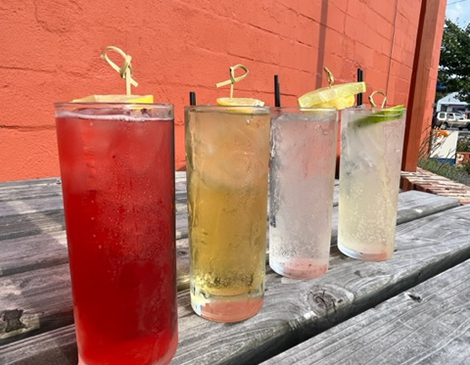 (Photo courtesy Doinks Burger Joint)
Best House-Made Seltzer: Doinks Burger Joint
Partners Peter Brown and Bon Rossavong wouldn't have made their pandemic pop-up permanent in July if they felt like their decadent OG Burger couldn't smash the competition. But in a burger-saturated food scene, they bubbled up even more excitement with an in-house hard seltzer program. The Waterloo eatery features four flavors: transfusion (raspberry, ginger and vodka), margarita (lime, simple syrup and tequila), a penicillin (lemon, ginger and honey with whiskey) and the Thai-inspired coconut pandan with vodka ($7 each). "We do all of our syrups in-house and combine that with vodka," says Brown. "Then, we throw it in a keg and carbonate it with beer gas." A few months in, even beer devotees are falling for this unique spin on the boozy trend. instagram.com/doinksburgerjoint
Best Mead: BottleHouse Brewery
Community-focused BottleHouse Brewery has impressed with award-winning meads, craft beers, sours and ciders for 11 years. Hungry? The brand's two main locations also serve up great food. Cleveland Heights brewery offers Saroj & Carlos Indian soul food, and Lakewood is home to Eugene Kitchen burgers. The Craft Collective location at Van Aken District Market Hall in Shaker Heights allows guests to savor eats from local vendors while sipping their favorite BottleHouse beverages. bottlehouse.co
Best Non-Alcoholic Bar: Verbena Shoppe, Cafe & Dry Bar
Since early July, Verbena Shoppe, Cafe & Dry Bar has been catering to Clevelanders who choose not to drink alcohol in a sleek new Ohio City space, refreshing what was formerly Cleveland Tea Revival. But the spot, one of Cleveland's first NA cocktail bars, isn't missing out on any flavor or fun. The dry bar's menu of curated, freshly made cocktails ($9-$11) suits any season — just with no alcohol included. verbenafreespirited.com
Best VS Best: Best Packaged Snack
Whoa Dough
Cookie dough, on-the-go. Whoa Dough is more than a simple sweet; it's also a bite that's friendly to diners with dietary restrictions. Each of the local brand's bars are vegan, gluten-free, non-GMO and kosher — and come in mouth-
watering flavors like brownie batter, oatmeal cookie and sugar cookie dough ($9.99 per pack). Whoa, indeed. whoadough.com
Humphrey's Popcorn Ball
A brand with Cleveland history, Humphrey's has been selling its popcorn products since the family-owned company also ran Euclid Beach Park more than a century ago. While we can no longer visit the long-lost beachfront amusement park, we can still munch on this beloved sweet-and-salty popcorn ball when hunger strikes ($28.95 per pack). humphreycompany.com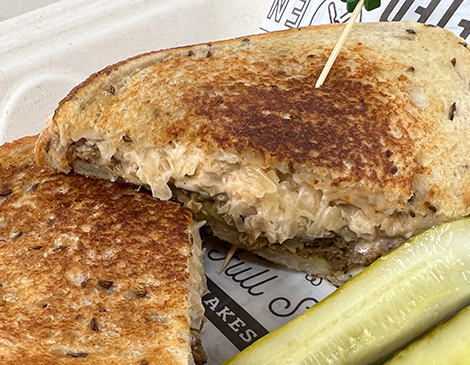 (Photo by Roxanne O'Brien Troke)
Best Vegan Reuben: Birch Cafe
Birch Cafe in Highland Heights has been serving up some of the best vegan fare in the Land since December 2019. The seasonal reuben ($12.99) — made from seitan corned beef (sourced from Chicago's Feed Your Head Foods), Schwebel's classic rye bread, Violife cheese and house-made Thousand Island dressing — makes customers flock until they're gone. Owner Roxanne O'Brien Troke says they aim to keep the cafe approachable with both its menu and overall vibe. "We say it's good food that happens to be vegan, so when someone says it tastes vegan, I feel like I'm doing something wrong," they say. "We try to be inclusive and welcoming, especially for the LGBTQ+ community, and it's really important for us to be a safe space." birchcafecle.com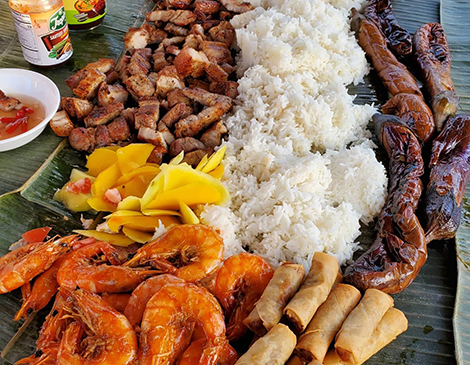 (Photo courtesy Pinoy Fine Foods)
Best Dining Pop-Up: Pinoy Fine Foods
Filipino food and Polynesian cocktails are a match made in Tiki heaven. "The food just goes hand in hand," Pinoy Fine Foods owner Melvin Reyes says. "A lot of Tiki pioneers were Filipinos." That's why, after years of rotating pop-ups, the kitchen at Porco Lounge & Tiki Bar has found a permanent occupant in Pinoy Fine Foods. Inspired by the food they grew up on, Pinoy's partners — including Reyes' brother, Mitch, and cousin, Victor — source unique ingredients like banana ketchup and special cooking wines online and from AsiaTown's grocery stores. While the bestsellers are accessible Filipino-inspired sliders and tacos, Reyes' aunt has hand-rolled more than 10,000 lumpia Shanghai ($9), a crispy pork egg roll, since Pinoy's opening. The tofu sisig ($10) — a sizzling plate of tofu, veggies, sauce and rice — is among the most traditional Filipino food in Northeast Ohio, and more items like this are on the way when the fall menu drops. "The Midwest is still a desert for Filipino food," he says. "Helping introduce our culture into a community where, honestly, it's lacking, like here in Cleveland, is one of the biggest drivers for us." pinoyfinefoods.com
Best VS Best: Pierogi Pizza

Pizza216
The pierogi pizza ($12.75-$23.25) has become somewhat of a local delicacy in Northeast Ohio. At Downtown's Pizza216, it's served in a topping-forward format: whipped mashed potatoes are paired with green onions, caramelized onions, ricotta and cheddar, with a swirl of sour cream on top. pizza216menu.com

Dina's Pizza & Pub
This beloved Old Brooklyn bar and restaurant run by namesake Dina Walsh slings up the standards of a pizza shop (Hawaiian, deluxe, meat-lovers, etc.) — with a menu standout that enamors Clevelanders. The restaurant's pierogi pizza ($12.70-$25.60), topped with potato and cheese-filled pierogies and grilled onions, atop a fluffy crust, is best enjoyed dunked into a side of sour cream. dinaspizzaandpub.com
Best West Coast Vibes: Kafela
When Kayla Dial got laid off in 2020 during the pandemic, she decided it was her moment to create her own business from the ground up. The Black-owned restaurant Kafela (pronounced "cafe L.A.") transports guests to Los Angeles, rocking a pink, plant-filled, chic aesthetic on St. Clair Avenue. "The cafe was always a dream of something I wanted to do, but I didn't have the time," Dial says. Utilizing a building space her parents owned (she was living upstairs at the time), she started with coffee and ice cream and branched out little by little to an all-day menu of breakfast, lunch and dinner. "Everything just came together: the plants, the coffee, the food. I picked L.A. because they really care about what they eat and what they're drinking," Dial says. "Every time I go there it's just good vibes. Cleveland gets really depressing and dark in the wintertime, so I wanted to bring the good vibes here." thekafela.com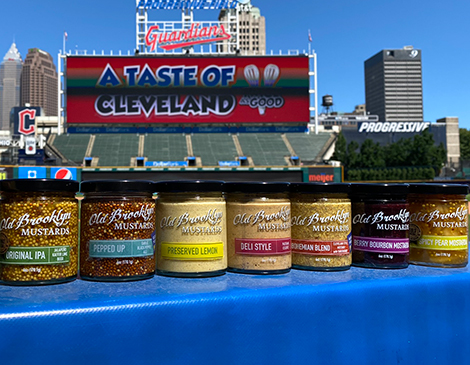 (Photo courtesy Old Brooklyn Mustard Co.)
Best Mustard: Old Brooklyn Mustard Co.
Old Brooklyn Cheese Co. owner Michael Januska has always had a passion for cheese, but mustard is his second love. "I think we're the only company in the United States that is actually smoking a [mustard] seed," Januska says. Januska prefers to use clear glass jars so customers can see the sheer amount of seeds packed into each bottle ($5.99-$7.50). Because of that crucial recipe element, expect big flavors with every bite. "The mustard's chemical reaction doesn't happen until you break the seed open. So when you're chewing it you get an instant explosion in your mouth," Januska says. oldbrooklyncheesecompany.com
Best Mofongo: Quisqueya La Bella
Clevelanders from all over town flock to Quisqueya La Bella for authentic mofongo and other flavorful Dominican dishes. "What is different from other places is we make it from scratch. We get the plantains fresh, peel and fry. Everything is made from scratch," manager Veronica Zapata says. The casual restaurant aesthetic celebrates the city and culture through photos and murals. Pro tip: Order the mofongo with shrimp (with garlic or tomato sauce), the most popular dish ($17). quisqueya-latin-cuisine.business.site
Shopping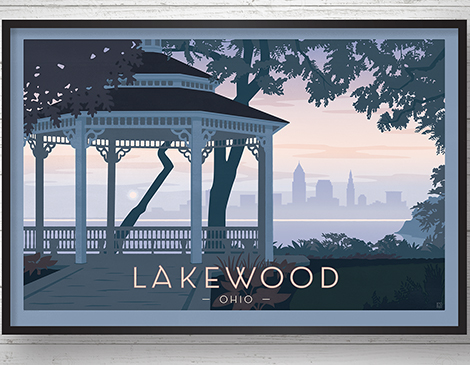 (Photo courtesy Lund Studio)
Best Neighborhood Art Prints: Lund Studio
Akron artist Jon Lund has had a career in the art and design industry for years, illustrating and designing for the U.S. Open and the World Series. At Lund Studio, Lund creates unique posters and prints ($115) that represent iconic landmarks and cities across Northeast Ohio, from the West Side Market to the Cuyahoga River. Lund says that customers "love how I highlight ordinary places from the area and show how they are extraordinary." lund.studio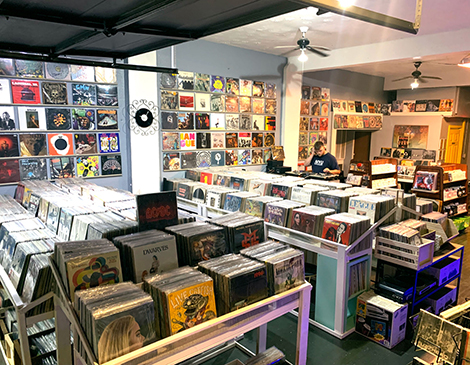 (Photo courtesy Late Night Records)
Best Late Night Shopping: Late Nite Records
Last spring, Allen Wagner took a 25-year-long passion project and a collection of nearly 25,000 rare records to the local stage to support a revival of curious vinyl collectors in Cleveland. His shop, open only during the evening hours, creates pockets of opportunity for fellow music enthusiasts, night owls and daytime professionals to flip through the racks and meditate over their favorite genres. "I feel like each record shop has their own little niche they're known for, but I'm really just trying to welcome anybody who's open to being surprised by what they're seeing on the shelves, especially the weirder or hard-to-find stuff," he says. Look to the shop's social media for parties, events and its current stock.
facebook.com/lateniterecordscleveland
Best Indie Publisher: Grieveland
When Brendan Joyce and Kevin Latimer launched their independent publishing company Grieveland in 2020, it was a labor of love — a love for poetry. With a shared background in self-publishing and press production, they knew that they had a chance to create something wholly unique. "Kevin and I released our books first as pilots," Joyce says, "because we'd much rather screw up our own work than someone else's." Fortunately, both publications ($20) were met with rave reviews. To date, Grieveland has been positively featured by outlets such as Vogue, VICE, LitHub and The Kenyon Review. They have published several works from fellow poets, such as How To Be A Good Girl: A Miscellany by Jamie Hood and We Are Owed ($10), a debut collection from legendary slam poet Ariana Brown. grieveland.com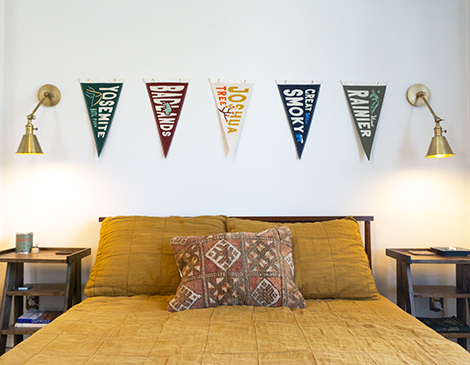 (Photo courtesy Wild Northland)
Best Cleveland Pennants: Wild Northland
Based in Lakewood, Wild Northland makes and sells unique pennants and flags featuring Cleveland, Cuyahoga Valley and many other national parks. Each flag ($38) is hand-sewn and painted to represent a range of places any Clevelander would recognize — plus out-of-state attractions and locations. The brand's pennants make for one-of-a-kind gifts for anyone wanting to show some hometown pride; one of their Cleveland pennants showcases a Cavs-colored Terminal Tower in maroon and mustard yellow. wildnorthland.com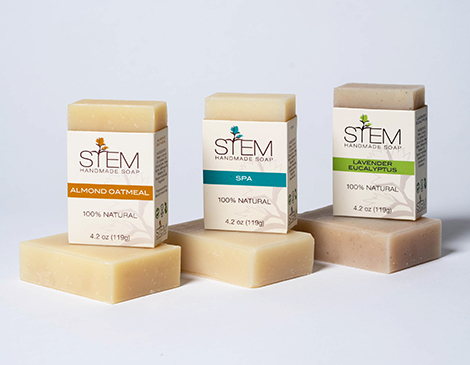 (Photo courtesy STEM Handmade Soap)
Best Soap: STEM Handmade Soap
We don't want to be lathering up with toxic chemicals if we can help it. Luckily, STEM Handmade Soap agrees. With two successful storefronts in Lakewood and Shaker Heights, owners Steve Meka and David Willett have shaken up the full-body skincare industry with their line of all-natural products. "Bar soap ($6) is where it started and bar soaps continue to be our top bestsellers any day of the week, month and year," Meka says. "They're closely followed by our body butters ($16) and foaming hand soap ($8)." Although their line of offerings includes all things from shower steamers ($24) to aromatherapy candles ($20), that soap loyalty from patrons is what makes STEM the proudest. stemsoaps.com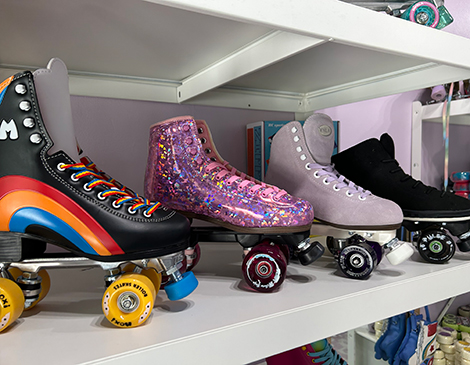 (Photo courtesy Next Level Skate Shop)
Best Roller Skate Shop: Next Level Skate Shop
Lindsay Chapman took over Next Level Skate Shop in 2017, moving the concept to Cleveland. As president of Burning River Roller Derby, Chapman has helped lead Ohio's roller derby scene for almost 20 years and brings a passion for the rough-and-tumble sport to her shop. "I love the competition and camaraderie that come with the sport," Chapman says. "I also appreciate the way it embraces all body types for the unique advantages each person brings." nextlevelskateshop.com
Best Dog Rescue: Muttley Crue
The vast majority of dogs at Cleveland's city kennel are pit bulls. The all-volunteer organization Muttley Crue has stepped in to assist with finding homes for the dog breed, which is plagued with stereotypes of aggressive behavior. "We really need rescues around the area that focus on pit bulls, because those are the ones that are in most need," Muttley Crue President Nikki Lavdas says. Specifically, Muttley Crue helps find temporary foster homes for dogs that have medical or behavioral issues, rehabilitating them until they can find permanent homes. Lavdas took ownership of the organization a few years ago, giving new management to the organization that's helped local pups since 2008. "Rescue is really hard, so people come and go, and I was lucky enough to be in a good position at the time," Lavdas says. "I knew exactly how the rescue world worked, and I took it over, and we have a lot of new and awesome volunteers to help." muttleycruerescue.com
Best Market: City Goods
Located in Ohio City, City Goods works to help small businesses promote their products and encourage community. Hangar-style buildings house shops selling their goods, and in the summer, outdoor booths also sell handmade items, vintage clothing, art and food. Don't forget to stop by The Hangar, City Goods' cocktail bar. There you'll find local beers, wines and craft cocktails, making it the perfect place to sip, shop and socialize. citygoodscle.com
Best Candles: 1820 Candle Co.
This family-owned shop in East Palestine, Ohio, crafts vegetable wax candles ($15-$36) with balanced scents suited for every home. A locally focused highlight is the shop's Rust Belt line, with fragrances fit for Midwest living rooms.1820co.com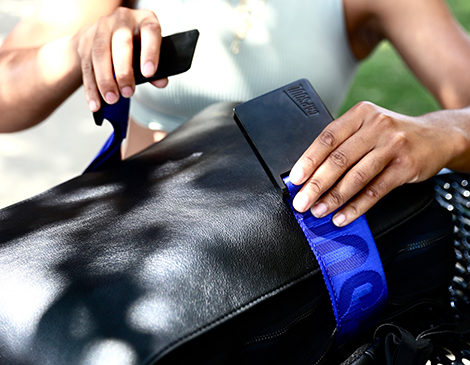 (Photo courtesy Capsoul Collective)
Best Luxury Laptop Bag: Capsoul Collective (The Capsoul Pack)
Capsoul Collective owner and lead designer Marissa Wilson knows you're desperately hunting for a bag like this. "We want to give a new meaning to what a business traveler looks like," she says while sharing pre-production ideas for the compact Capsoul Pack ($249) inspired by classic business briefcases. capsoulco.com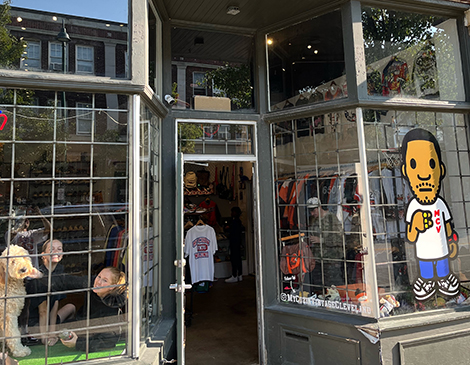 (Photo courtesy My Cuzin Vintage)
Best Vintage Streetwear Shop: My Cuzin Vintage
My Cuzin Vintage (a play on the 1992 movie My Cousin Vinny) features a large selection of vintage clothing, hats, shoes and accessories, many of which feature Cleveland pride with past Browns and Indians logos on shirts and jackets. Plus, concert lovers can find merch from past tours, like Kiss and Beastie Boys. Owner Derek Hoffman opened the store in 2021. "I love this store," he says. "I love what we've built, because we have such a range of customers." mycuzinvintagecle.com
Best Nail Salon: The Finished Finger
One visit to this Lyndhurst establishment explains why it continues to have robust business 43 years after sisters Diane and Marilyn Fuhrman first opened it in neighboring Mayfield Heights. The place is attractively light, bright and clean. (This says something: A state cosmetology board inspector scheduled biweekly manicures there for 37 years.) Better than the ambiance is the service. Marilyn attributes the blissful peace to the practice of seeing clients by appointment only. "We book the right amount of time based on what services customers are coming in for," she says.
facebook.com/finishedfinger
Best Shopping Event: The Real Black Friday's Black Business Expo
Cleveland's Black businesses are showcased at The Real Black Friday's regular Black Business Expo events, which have taken over Tower City, Public Square and Edgewater Beach, along with area churches and high schools. But founder LaRese Purnell sees beyond the hundreds of local businesses, the thousands of attendees and the hundreds of thousands of dollars spent, at each iteration. "This is deeper than just an event," he says. "It's about impacting a community and creating some sustainability and longevity. That's why I love doing the work that I do." The celebratory event puts an emphasis on Cleveland's Black entrepreneurs, offering broad exposure to their concepts. It all goes back to improving the city. "Our neighborhoods are stronger and safer, our communities are stronger and safer, our families are building wealth because their businesses are doing well," Purnell says. "I always want to make sure I lift up the greatness that our city possesses." facebook.com/trbfcle
Best Jewelry
Best Ceramic Earrings: Small Pond CeramicsDesigner Hope Hickman brings a unique flair to earrings, pairing peculiar shapes with alluring colors. Small Pond also offers recognizable designs like hearts, flowers and even gummy bears ($35+). instagram.com/smallpondceramics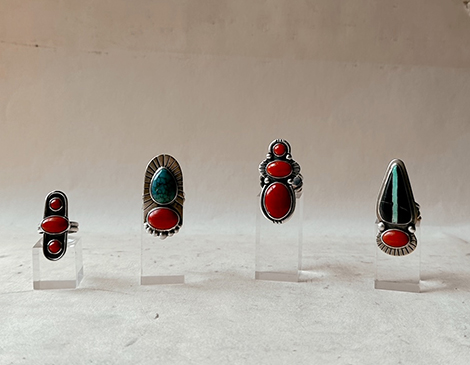 (Photo by Stephanie Lee Paynter)
Best Custom Rings: Stephanie Lee PaynterStephanie Lee Paynter, a local jewelry designer and metalsmith, designs a ring for every finger ($62+). Her wearable art combines high-end metal and trending styles to create one-of-a-kind pieces, all inspired by her love of art and the city of Cleveland. stephanieleepaynter.com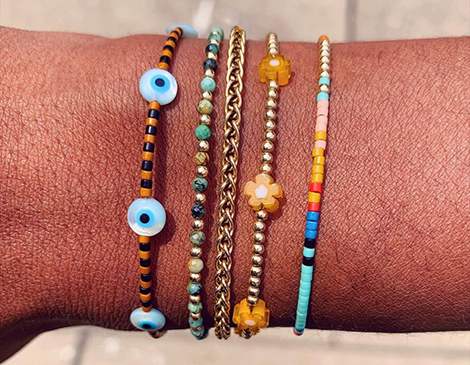 (Photo courtesy On the Lookout)
Best Beaded Bracelet: On the Lookout
Erica Young and her team carefully hand-make each bracelet ($60+) piece by piece. Young got her start at summer camp and after 20 years in the making, these little radiant creations have come to life in a big way. on-the-lookout.com
Best Tropical Plant Store: Urban Planting Cleveland
Whether you're looking for a small plant to keep by your bedside or a leafy tree to enhance a living room, Urban Planting Cleveland has you covered. "In here we have a lot of bigger plants and the demands are always shifting, but keeping up with them is the fun part," owner Elio Calabrese says. Its stock is replenished from Florida every week — and store owners work with customers to find the perfect plants for their homes. "It's finding the right plants for the right spot in the house," Calabrese says. urbanplantingcleveland.com
Best New Apartments: Tinnerman Lofts
A historic stove factory-turned-apartment-building, Ohio City's Tinnerman Lofts is infused with local arts: it incorporates paintings, photographs and sculpture on every level. Coupled with a large green space, neighboring restaurant Cha and bocce courts, Tinnerman might be an arts-lover's dream. "We've had some success with utilizing the arts, which we enjoy ourselves, and which we try to incorporate into the building in a major way to make the properties feel more like a home and less like an institutional property," says Neil Viny, president and principal owner of Dalad Group, which runs Tinnerman. tinnermanlofts.com
Entertainment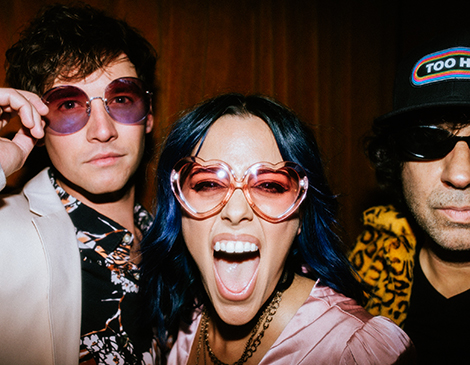 (Photo by Raquel Markulin)
Best Indie Rock Band: The Vindys
Indie blues-rock band The Vindys, led by singer Jackie Popovec, originates from the welcoming and down-to-earth Youngstown music scene, with a fan base that stretches across all of Ohio — and beyond. With a namesake that nods to The Vindicator newspaper and blended sounds reminiscent of Amy Winehouse, the band takes any opportunity to create a diverse coast-to-coast community. Popovec hopes that by staying in the Youngstown area primarily, and then reaching outward, the band has a chance to build something important in its hometown. "When people bash 'dying' steel towns and the Rust Belt, I always look at it, like, out of the ashes can come something really cool, and you see it in Pittsburgh where they've revived the city around entertainment," she says. "I'd like to see that build up within Cleveland and Youngstown. I know we can do it." Be sure to check out the band's 2021 album Bugs and look out for its hometown show planned for Oct. 14 at Westside Bowl. thevindys.com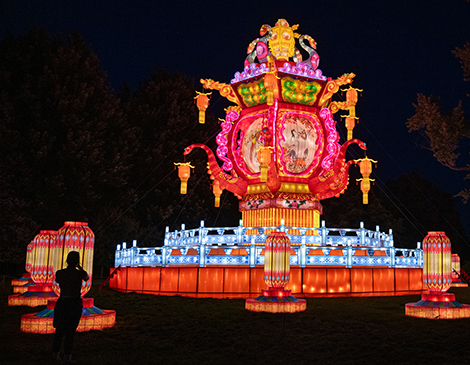 (Photo courtesy Cleveland Metroparks)
Best Light Display: Asian Lantern Festival
Every summer, Cleveland Metroparks Zoo comes alive at night with the new-ish Asian Lantern Festival. Cultural food options and acrobatic performances are a part of the event, but the main draw is its picture-worthy, massive light displays, including a dragon, walk-through tunnels, towering lanterns and a range of glowing creatures. (Tickets $22-$70.) clevelandmetroparks.com/zoo
Best Deals
Guardians Ballpark Pass
For $49 per month, 2023 Ballpark Passholders were guaranteed standing room only tickets to all regular season games. (Fingers crossed the deal continues into 2024.) mlb.com/guardians/tickets/ballpark-pass
Frontier's GoWild! Passes
With Frontier soundly stationed at Cleveland Hopkins International Airport, local travelers can explore the world with this unique offering: Frontier's GoWild! Passes give passengers, for $149-$1,999, all-you-can-fly deals for a month, a season or a year. flyfrontier.com/deals/gowild-pass
Blossom Music Center Ticket Deals
With this summer's $25 ticket week and $199 lawn pass deals, fans were able to see legends such as The Cure and country star Shania Twain on the cheap. Both deals typically return each spring — and sell out quickly.
livenation.com
Best Board Game Store: Superscript Comics & Games
Tucked in the Madison Avenue shopping district in Lakewood, Superscript Comics and Games opened in the depths of the pandemic in July 2020. A veritable nerdy paradise, the shop has it all: trading cards and board games, collectible figures, shelves upon shelves of comics, models for games like Warhammer 40,000 and various other bits and bobbles that will have you perusing for hours. The hobbyist oasis expanded last November, adding another room of graphic novel shelving, tables and even more board games. Events including weekly trading card tournaments, tabletop role play meetups, board game socials and even comics workshops make the space shine. While some specialty shops might feel unwelcoming at times, Superscript prides itself on an open and inviting atmosphere."It's hyper-diverse, especially being in the Lakewood area," says employee Sean Michael Clark. "We totally go as far as we can to make sure that people feel safe and welcome in our environment." superscriptohio.com
Best Retro Soul Band: Art Blakey and The Day-Nites
Legendary Cleveland soul singer Art Blakey first established himself as a member of The Hesitations in the '60s. Now, fronting a new soul band, he's singing those decades-old songs once again. "I've been a part of this city itself since 1941. I've seen this city then, in the middle of now, and right now," Blakey reflects. "Boy, what a difference." The crew consists of Blakey, plus some Cleveland music standbys: Bob Basone, Tom Fallon, Nick Fritsch and Matt Garrett. "Cleveland has these hidden gems, these lost treasures, and every once in a while, we're lucky enough to still get to see them and find them and experience them," Fritsch says. The group plans to play sporadic shows and record some music in the near future. facebook.com/thedaynitesband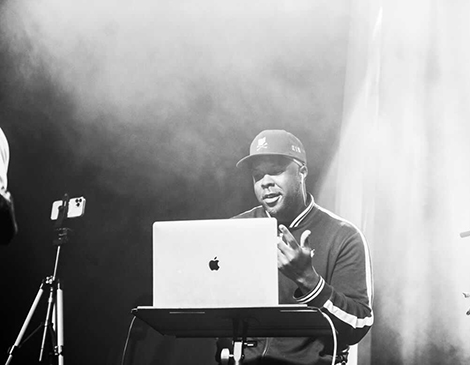 (Photo courtesy JT Gallery)
Best Producer: Jesty Beatz
You may not realize you've heard Cleveland producer Darrel Greene (aka Jesty Beatz), but odds are you have. He's done everything from NFL commercials to his project Holy Mattress Money, whose viral tracks include "Blue Hundreds" and "Crash into You," each garnering millions of streams on Spotify alone. Of course, he's worked with locals, like pop artists Clemont and Chayla Hope, as well. "Cleveland has very deep pockets of great musicians," Greene says, "and I feel like now more than ever, people are willing to collaborate more freely." facebook.com/jestybeatzmusic
Best Barbershop Quartet: Fashionably Late
The Cleveland Heights quartet (Grant Heineman, William Aiken, Gerald Shazor and Michael Garrett) is highly ranked in the competitive barbershop world. "It's the only music I've ever studied where the majority of people involved are so clearly doing it purely for the love of the art and not themselves or their ego," Heineman says. instagram.com/fashionablylateqt
Best Cleveland Runway: Fashion Talks
Fashion Talks has dazzled viewers for its dedication to fostering diversity within the industry. Founder Aimon Ali and her team dreamed of lifting Cleveland's style status to the level seen in New York or Los Angeles, and judging by recent shows, they might soon achieve that goal. fashiontalkss.com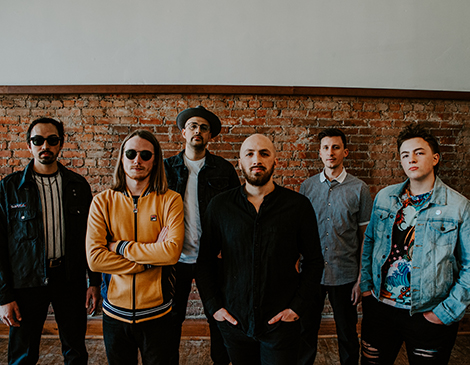 (Photo courtesy Little Blackbird Photo)
Best Latin Fusion Band: The Labra Brothers
The Labra Brothers are the only people having more fun than you at a Labra Brothers show. Whether you've seen them rocking out at a wedding, opening for Los Lobos at Music Box Supper Club or warming the crowd up with an energetic performance at Brite Winter festival in the Flats, the Youngstown-based family band, led by singer and guitarist Adrian Labra, surely laid down a funky fusion of Latin, rock and soul grooves over uplifting, modern tales of life in Steeltown, U.S.A. thelabrabrothers.com
Only In Cleveland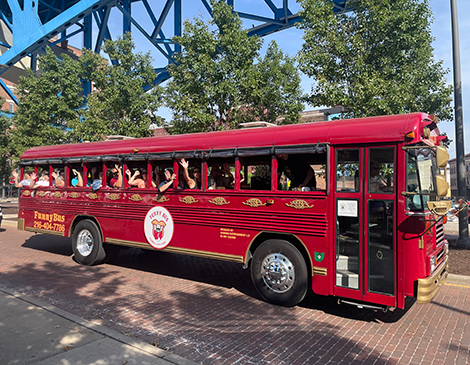 (Photo courtesy Funny Bus)
Best Bus: Funny Bus
While bus tours are nothing new, the Cleveland Funny Bus blends together a city tour with comedy, making the experience all the more memorable. Is there anything nicer than touring your beloved city while enjoying jokes with a drink in hand? "I think one of our interesting aspects is that we have three different comedians on the Funny Bus and they have three very different shows," owner Dean Schnurr says. "You can see one of our comics and then get on a week later and see another comic and it's like two different shows, which is great." The Funny Bus does both public and private tours, with tickets at $29 each. It also hosts specialty tours: in October, its tours are Halloween-inspired, focusing on Cleveland's frights. For December, the tours are "lights and laughs" themed, featuring some of the more festive areas of Cleveland. funnybus.net/cleveland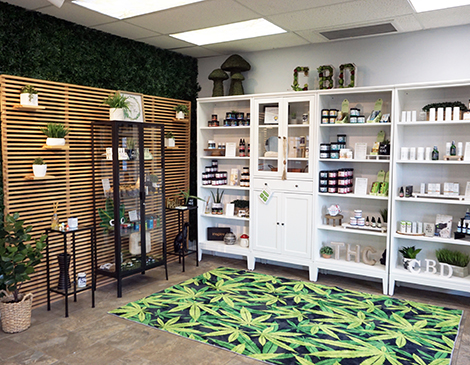 (Photo courtesy Clean Remedies)
Best Delta 8 Products: Clean Remedies
For six years now, this woman-owned and USDA-certified organic business has taken pride in helping people find balanced bliss in a demanding world. Business founder and CEO Merideth Farrow says she believes that CBD and Delta 8 are not only "a natural alternative to big pharma" but also bring accessible and reliable relief to people who need it.
cleanremedies.com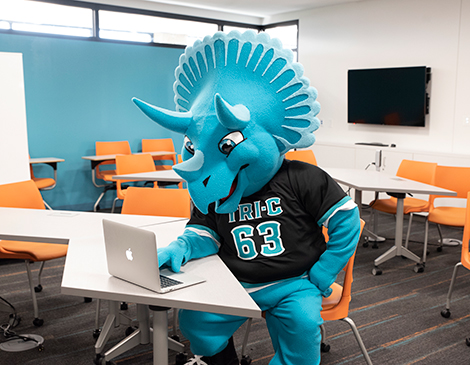 (Photo courtesy Cuyahoga Community College)
Best College Mascot: Stomp
We at Cleveland Magazine appreciate a good pun, so when Cuyahoga Community College picked a triceratops as its mascot, we were all for it. Chosen in an online poll, Stomp, Tri-C's 7-foot tall blue triceratops, instantly became a beloved Cleveland character. tri-c.edu/about/mascot
Best Shop Cats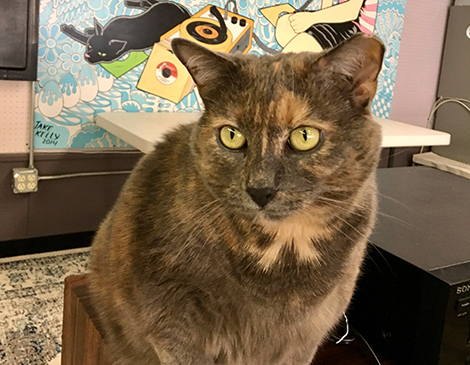 (Photo courtesy Blue Arrow Records)
Rhonda
Blue Arrow Records' tortoiseshell lady Rhonda often suns herself in the front window and greets shoppers with a purr.
bluearrowrecords.com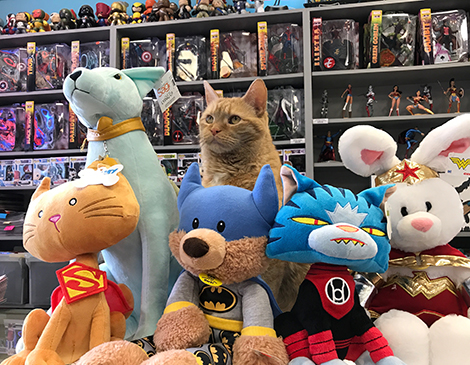 (Photo courtesy Carol & John's Comic Book Shop)
Winston
Superman, Batman and Winston the resident orange tabby are all heroes at Carol & John's Comic Book Shop.
cnjcomics.com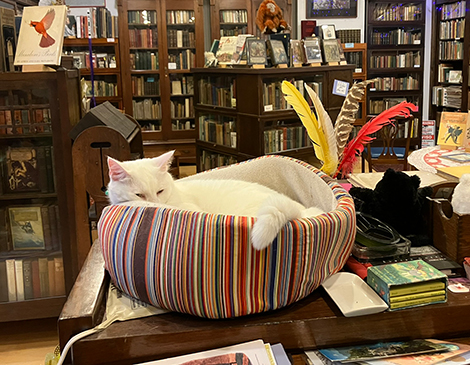 (Photo courtesy Loganberry Books)
Alice
Sister to Otis, Alice has quickly earned fans in Larchmere literary oasis Loganberry Books. loganberrybooks.com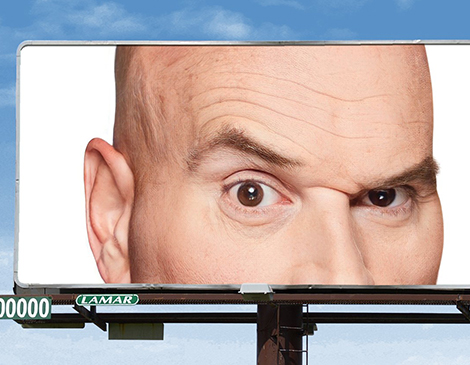 (Photo courtesy Tim Misny)
Best Billboard: Tim Misny
If you've lived in Northeast Ohio long enough, you know exactly what Tim Misny does: He makes them pay! You might also be familiar with the personal injury lawyer's bald head, suit, pointing finger and imposing stare, with a furrowed brow and one raised eyebrow. The top half of Misny's face became a part of his latest marketing ploy in Northeast Ohio when it was presented on billboards without any words or context: just Misny's hard stare. "I think the reason it works, and it's working remarkably well, beyond my wildest expectations — the reason why, is everything I do is organic in nature. I am who I am," Misny says. "I was born here, I was raised here, I'm raising my family here. I love Ohio. I love what I do for a living. I think, organically, that translates." misnylaw.com
Best Muralist: Starbeing
Even if you don't know his name, you know the dazzling artwork of Isaiah Williams, known as Starbeing. With around 40 murals painted in the city, Starbeing is literally all over Cleveland. You might notice his homage to ghouls in the Haunted House Restaurant — or perhaps you've skated past his largest piece wrapping a Cleveland Metroparks building in the Flats. The artist has always had an interest in art mediums that stray away from canvas, but murals tapped into the necessary and beautiful concept of community art, he says. "I feel like when you add color, an image to that, as well, you can use art to bring a community closer together," Williams says. starbeing.co
(Photo by Annie Nickoloff)
Best Lake Erie Cruise: Lady Caroline
The Nautica Queen was a beloved part of Cleveland's cruise options for more than 30 years — and now, it's been succeeded by Lady Caroline, a newer, larger cruise boat that hosts a variety of cruises along with private special events. The 120-foot-long, 15,000-square-foot vessel holds four decks for up to 300 visitors at a time. It arrived in the Cuyahoga River in May and started its leisure cruises in June. ladycaroline.com
Best Bathroom: Stone Mad Pub
Stone Mad Pub's men's restroom is a work of art. No, really. It's like a museum piece, with abstract illustrations of the wilderness, complete with depictions of horseback riders and open fields. "The bathrooms are amazing and we're proud of that because it's not usually a point of interest for bars and restaurants," bartender Jimmy Sherry says. stonemadpub.com
Best VS Best: Best Ongoing City Traffic Development
Public Square Bollards
Finally, an eyesore will be removed from Downtown, hopefully by the end of the year. Approved by the Cleveland City Planning Commission in May, a $3.5 million plan to replace the concrete barriers in Public Square with sleek-looking stainless steel bollards is moving forward.
Smart Meters
Anyone who's ever struggled to find some quarters to park around the city likely rejoiced last year when Cleveland announced its intentions to replace coin meters with smart parking meters that can accept credit cards or payments online. In March, the city pushed those plans forward when it proposed Flowbird and ParkMobile as companies to manage the new parking system, with a price tag of $5 million on the project.
Editor's note: This story has been updated to reflect that Lindsay Chapman took ownership of Next Level Skate Shop in 2017.
Start your day the best way by signing up for our free daily newsletter. Arriving in your inbox every morning to keep you in the loop on the best guides, home and style tips, and news briefs for all things Cleveland. Click here to subscribe.