TikTok is a place of dance moves, stunts, comedy and storytelling. If you scroll through enough videos (which is not hard to do), you might also come across a bit of Cleveland, too.
Northeast Ohio is a home to plenty of the social media platform's creators — and they're making videos on every topic imaginable. Since 2018, TikTok has been available for download in the United States, and it's boomed in recent years, regularly rated as the number one social media app with more than one billion downloads.
We dug around on TikTok to find some local content creators worth following for music, travel, Cleveland sports and even roller skating. Also, be sure to follow us (@clevelandmag) for videos about ways to spend your time in the city.
Here are 10 local TikTok channels you should check out. (All follower counts as of Jan. 10.)
@banakula
Followers: 2.2 million
Location: Kent
Perhaps you haven't seen him directly, but you've likely heard the music and relaxed, somewhat raspy voice of Hal Walker. The Kent-based musician rose to prominence on TikTok by way of Laos — or rather, the rare, handmade instrument he brought back from the Southeast Asian country. The Khaen, or khene, resembles something from a fantasy book, with a cluster of bamboo pipes sounding off multiple tones at once: a mouth organ. Walker's song "Lowkey Gliding" resonated across thousands of accounts seeking the sound for its languid vibe and several lo-fi-inspired remixes. Many others will have heard Walker from a TikTok sound where he describes various DIY shakers, often used in videos to represent increasing chaos, dissent, happiness — whatever fits.
(Photo courtesy Brandon Tharp)
@brandonthedm
Followers: 343,300
Location: Youngstown
Brandon Tharp drew headlines this past year when he hosted an in-person Dungeons & Dragons game with several Cleveland Browns players. The Youngstown-based dungeon master also regularly posts about D&D culture, his D&D campaigns and his design company The Cantrip Cast.
"It's been kind of surreal to see the type of audience I was able to grow, that has supported not just myself but also my business," Tharp says. "[We can] continue doing adventures and completing tasks that we never would have thought would be possible, when I first started doing this stuff a few years ago."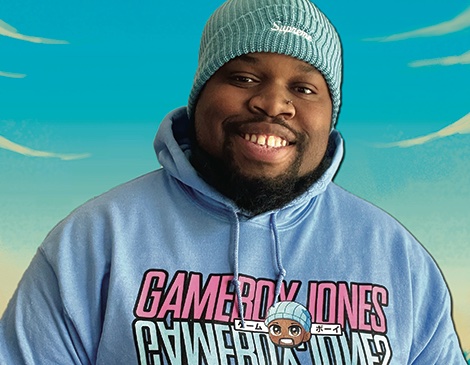 (Photo courtesy Austin Jones)
@gameboyjones
Followers: 328,000
Location: Kent
Austin Jones (aka GameboyJones) finds inspiration from his favorite games and pop culture, and he promotes his original music and collaborations on TikTok. Some of his mixes have gone viral, including his song about My Hero Academia characters (used in more than 13,000 videos). Beyond TikTok, you can also find him on Instagram, YouTube and other sites.
"Growth is very fast once you get a hit on here, and it really helped grow my music career more," Jones says. "I'm lucky because a lot of fan bases on TikTok don't stick around to the people they follow, but a lot of them moved over to other platforms with me."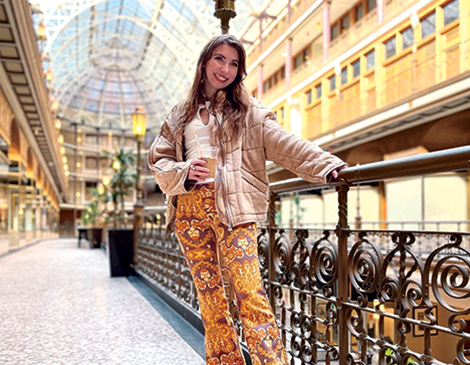 (Photo courtesy Hannah Hines)
@hannah_unlost
Followers: 54,100
Location: Cleveland
Hannah Hines, a recent Cleveland resident, has been getting to know the city and its suburbs real-time on her TikTok channel. Her trips hunting for vintage finds and checking out new restaurants and businesses have amassed quite a following, with millions of views on her videos.
"I thought it would be fun to bring people along on the adventure but I did not have any expectations," Hines says. "It's the local impact and community building I really appreciate. There are a lot of stereotypes people have about Cleveland or Ohio, and I love proving people wrong because there is so much beauty here."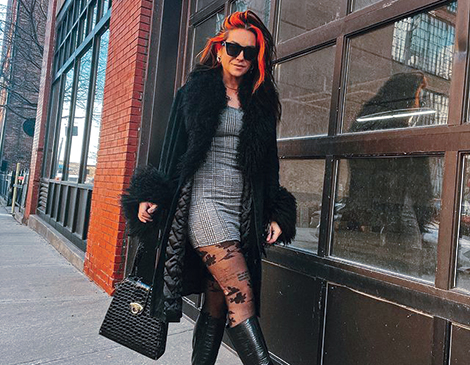 (Photo courtesy Rebecca Maxwell)
@itsrebeccamaxwell
Followers: 46,000
Location: Cleveland
Rebecca Maxwell's three most-viewed TikToks exemplify Cleveland well: outfits curated for Browns games made from her own DIY Etsy pieces, memes poking fun at the local bar scene and a November wine and cheese party that could have you hibernating until June. Perhaps you showed up for the quirky Cleveland gear, courtesy of her business Two One Thrift, but you'll stay for that sense of humor only found in a Rust Belt city. According to Maxwell, she resisted joining the app, and especially posting to it, for a while. Caving in helped connect her to the city and bolstered her already extroverted nature.
"Just start, because you don't know how comfortable you're gonna get," she says. "Now, you know, that part of my personality is coming out and that's what people want to see. And that's how you really grow, is [by] showing your true personality."
An added bonus for Maxwell comes in the form of patrons recognizing her while she bartends, an instant connection to people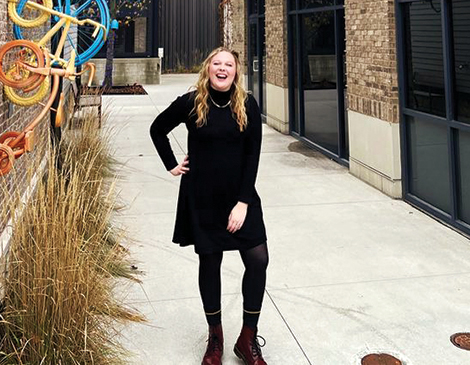 (Photo courtesy Laney Hendershot)
@laneyintheland
Followers: 107,000
Location: Akron
Laney Hendershot may as well be a hired guide with TikTok videos focused on Ohio shopping, dining, nightlife and more. You can skip the guidebooks thanks to her videos; like a condensed vlog, travel with Hendershot to Easton for a boutique spree, to Cordelia in downtown Cleveland for brunch or, simply, to Hendershot's couch, where she dishes about Tim Misny's infamous new billboards.
"When people think about Ohio or like, Cleveland, they think about it being the 'mistake on the lake,' or they think about the fact that 50 years ago, we had a river catch on fire," Hendershot says. "They're very out-of-date stereotypes that have stuck around. And what TikTok [does], because it's so visual, it's so quick … you can really capture people's attention within a couple of seconds. It's so important to highlight what our city has to offer."
On an app where many users take negative shots at Ohio, Hendershot serves as one of The Land's loudest champions.
@onlynishaa_
Followers: 172,800
Location:Cleveland
Nish Godfrey initially broke through to the masses by way of E. 81st St. Deli — yes, she's the infamous chicken salad person — but she's leveraged that sendoff into more than 190,000 followers on TikTok and over 35,000 on Instagram. Head to her pages for everything from grocery tips to boutique looks.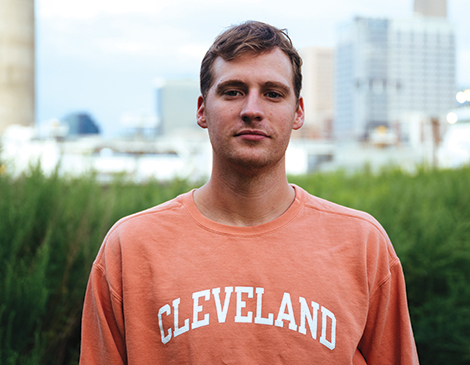 (Photo courtesy John Ventura)
@SirYacht
Followers: 471,800
Location: Cleveland
Joey Kinsley, or SirYacht, provides antics you'd only find in Cleveland, including, but not limited to, drinking a hot chocolate every time a team scored a touchdown at a recent Browns game, spending 24 hours on a raft in Lake Erie or showcasing the "weirdest" Ohio towns. Kinsley creates a slew of sketches and homages that'll hit home for Ohioans.
"I think people appreciate when they're represented," he says. "When they feel like 'Oh my god, like, they're talking about me. They're talking about my town,' like Chardon, Ohio."
While the content creator stays incredibly active on TikTok, you can find him nearly anywhere, from YouTube to Instagram, even his podcast named "Hard Knots" (formerly, the "Sir Yacht Show").
Since achieving fame, Kinsley finds it funny the way people regularly don't know his real name.
"I never really even hear my name anymore" he says. "I don't have my real name on social media like I used to, people come up and are like 'So, should we call you Sir?'"
(Photo courtesy Izeonme Photography)
@temptestnicole
Followers: 213,100
Location: Cleveland
Temptest Nicole Hall spends much of her free time skating at Greater Cleveland rinks when she's not working at her full time job as a flight attendant. Hall started skating in 2016 and hasn't slowed down since, gaining new skills, tricks and moves while gliding across the rink floor. You can see it all on her TikTok and Instagram channels, highlighting her versatile moves, which include the unique "Cleveland Style" of roller skating, incorporating twists, swaying, jumps and drops.
"If you were to describe Cleveland Freestyle, I swear, it's like artistic skating with swag," Hall says.
Her videos have amassed millions of views, making her one of the city's biggest skating stars. Recently, Hall's even been recognized in public, thanks to her strong TikTok following.
"I went to the Steelyard Walmart a couple of months ago, and I was getting a cheap watch for training," Hall says. "This lady looked at me and was like, 'Oh my god, I know you. Aren't you on TikTok? Don't you roller skate?'"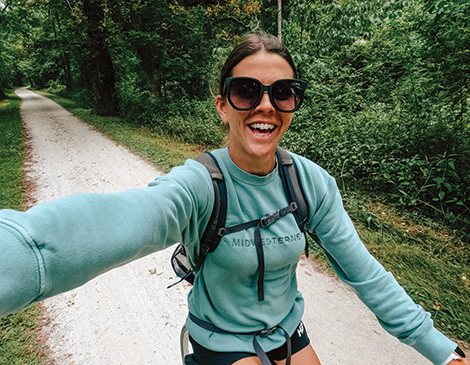 (Photo courtesy Mady Stoner)
@wanderlustinohio
Followers: 78,500
Location: Cleveland
Mady Stoner joined TikTok in 2020, using the platform to share videos of her travels around the state of Ohio. She quickly gained followers for showing the highlights and hidden gems of the state, often encouraging people to get outside — all while defending Cleveland against its haters.
"It always confuses me when I get a ton of comments bashing Ohio or making jokes about it. But hey, any comments boost my posts," Stoner says. "But in all seriousness, the intent of my page was to show people you don't have to go on these extravagant vacations or trips to have an adventure and get out there and explore."
Get ahead of the weekend by signing up for our free weekly "In the CLE" newsletter — your guide to fun throughout The Land. Arriving in your inbox every Wednesday, this weekend to-do list fills you in on everything from concerts to museum exhibits — and more. Click here to subscribe.