Pinball might have reached peak gameplay decades ago, but the arcade game remains as popular as ever here in Northeast Ohio.
The robust Cleveland Pinball League – of which I'm a member – brings about 100 competitive pinball players to play every week at various venues. Other leagues, like the Belles & Chimes women's league, give plenty of opportunities to play competitively.
If you're hoping to check out the scene in Greater Cleveland, or just find a place with a few pinball machines, grab some quarters and head to these spots: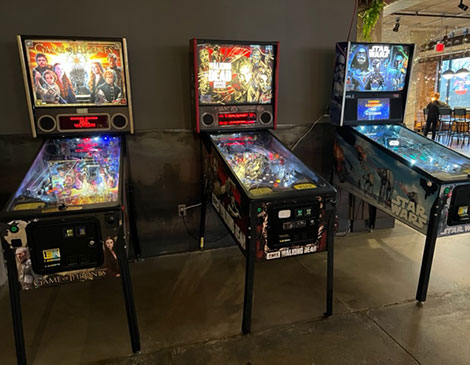 (Photo courtesy of Brewdog)
Brewdog
Check out all three pinball machines in Brewdog's expansion to Northeast Ohio. The space, which opened in late 2021, also offers various arcade games, shuffleboard and outdoor games. With 28 taps of beer, there are plenty of drink options, too.
1956 Carter Road, Cleveland, brewdog.com/usa/cleveland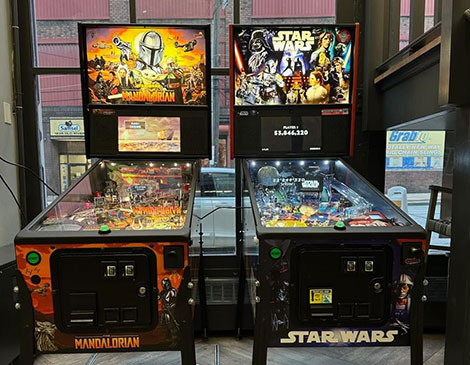 (Photo courtesy of Collision Bend)
Collision Bend Brewing Co.
This Flats brewery became the recent home to a few new pinball machines, including James Bond, Star Wars and Mandalorian machines. While there, enjoy views of the Cuyahoga River and a glass of locally brewed craft beer.
1250 Old River Road, Cleveland, collisionbendbrewery.com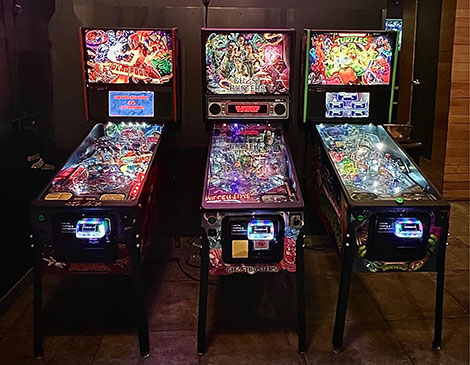 (Photo courtesy The Corner Alley)
The Corner Alley
The main attraction at this downtown spot might be bowling, but three pinball machines are also available to play at this East Fourth Street institution.
402 Euclid Ave., Cleveland, thecorneralley.com
Happy Dog
Two pinball machines reside in the back corner of Happy Dog, and three are in the basement Underdog space. Work up an appetite, get a hot dog or a basket of tots while you're playing, and enjoy the venue's jam-packed schedule of concerts, trivia nights, educational series and more.
5801 Detroit Ave., Cleveland, happydogcleveland.com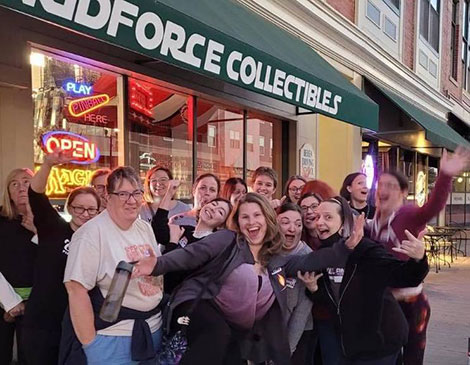 (Photo courtesy Kidforce Collectibles)
Kidforce Collectibles
Along with shopping for comics, board games and toys, you can play pinball all day long at Kidforce Collectibles in Berea — you can even join the shop's robust pinball leagues for more competitive play.
103 Front St., Berea, kidforcecollectibles.com
Level Two Games
Eight pinball machines are available for play at Avon's well-stocked Level Two Games, a shop which also sells card and board games, and offers up other arcade games to enjoy.
37319 Detroit Road, Avon, facebook.com/leveltwogames
Mister B's
At this Parma Heights restaurant, order a burger and fries, and follow up your meal with some entertainment at one of three pinball machines.
6887 W. 130th St., Parma Heights, facebook.com/profile.php?id=100063633786994
(Photo courtesy Mariana Edelman)
Pins Mechanical Co. and 16-Bit Bar + Arcade
This new Ohio City space hosts a sleek, modern room of mostly modern pinball machines in its basement. While you're there, you can also enjoy duckpin bowling, classic arcade games and giant Jenga. Though some attractions (like the arcade games) are free, bring some quarters for pinball here.
1880 W. 25th St., Cleveland, 16-bitbar.com/cleveland
Punch Bowl Social
This Flats center of fun hosts three or four pinball machines at a time, along with other attractions like bowling, foosball and karaoke. The massive space, at 27,000 square feet, also hosts a lively rooftop patio in Cleveland's warmer months.
1086 W. 11th St., Cleveland, punchbowlsocial.com/location/cleveland
Round 1
Head to the Great Lakes Mall and stop at Round 1, across from Dick's Sporting Goods, to enjoy five or six pinball machines that are regularly available to play. The entertainment space also features bowling alleys, karaoke booths, darts and other fun.
7850 Mentor Ave., Suite 200A, Mentor, shopgreatlakesmall.com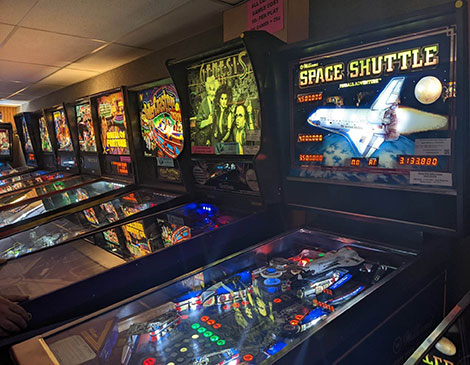 (Photo by Annie Nickoloff)
Southland Lanes
Tucked in a side room of this Middleburg Heights bowling alley is a pinball player's paradise. You wouldn't expect it, walking down the stairs to this old-school joint, but the pinball selection is downright impressive. Bring some dollar bills for the change machine and be ready to play all day.
6800 W. 130th St., Middleburg Heights, facebook.com/southlandbowlingcenter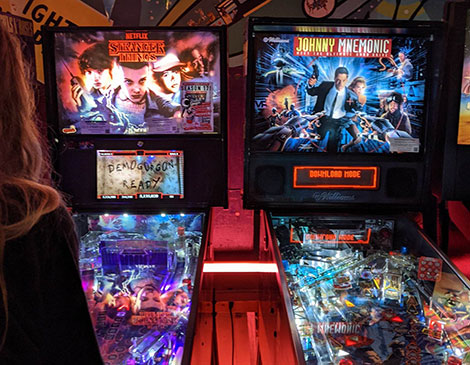 (Photo by Annie Nickoloff)
Superelectric Pinball Parlor
This Gordon Square bar is one of the biggest pinball hotspots in Cleveland, bringing a rotating selection of classic and brand-new pinball machines to try out. With $6, visitors can enjoy all-you-can-play pinball and several other arcade games.
6500 Detroit Ave., Cleveland, superelectric.tv
Get ahead of the weekend by signing up for our free weekly "In the CLE" newsletter — your guide to fun throughout The Land. Arriving in your inbox every Wednesday, this weekend's to-do list fills you in on everything from concerts to museum exhibits — and more. Click here to subscribe.