During a visit to Chardon's historic downtown square, you'll see families strolling down the brick sidewalks and vendors selling produce at the Friday farmers market. The small-town way of life is what makes this Geauga County gem a destination, one that city and civic groups are working to preserve by converting the square's second-floor offices into residences and passing a ballot initiative allowing Sunday liquor sales. Now visitors can sip mimosas with weekend brunch. "It really feels like a throwback here," says Mary Glauser, executive director of Chardon Tomorrow, a nonprofit organization that aims to retain Chardon's character and create a vibrant community by encouraging investment and partnerships. "It's a great little place."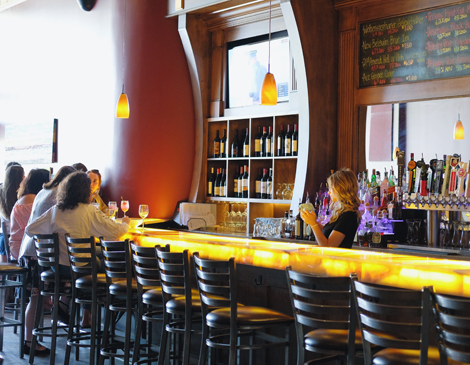 1. Antiques on the Square: The three-floor, multi-dealer emporium is packed with antique finds. Come here for military memorabilia, including ammo boxes and uniforms from various eras. 101 Main St., 440-286-1912, chardonantiquesonthesquare.com
2. Beans Coffee Shop & Bistro:
Blend in with the regulars at this cozy spot with a street-side patio. Beans bakes cookies, muffins and other treats in-house daily (including gluten-free options). Try a freshly baked Bronx-style bagel with a coffee or tea sourced from Solstice Roasters.
121 Main St., 440-279-4230, beans-coffee.com
2. Circa:
"Quirky is cool" is the motto here, as evidenced by the Elvis lamp base tucked into a corner of the store. The offbeat, ever-changing inventory includes a collection of antique and vintage furniture, housewares and clothing.
115 Main St., 440-477-5618, circachardon.com

4. Element 41 Kitchen & Bar:
Visit Chef Paul Mendolera's restaurant for happy hour, date night or weekend brunch — don't miss the chicken and waffles with a buttermilk-fried Amish chicken breast, a Belgian waffle and Ohio maple syrup.
141 Main St., 440-214-9011, element41chardon.com
5. Geauga Lyric Theater Guild:
See live, local theater at this 300-seat, art deco playhouse. The nonprofit arts education organization puts on a full season of main stage productions, including musicals, mysteries and family-friendly performances. Catch Disney's Newsies
Aug. 2-18. 101 Water St., 440-285-7701, geaugatheater.org
6. The Mane Street Shoppe:
Horse lover? Tack up with saddles, stirrups and more or shop for apparel and decor at this unique consignment and resale store for equine-related items.
115 Main St., 440-279-3532, themanestreetshoppe.com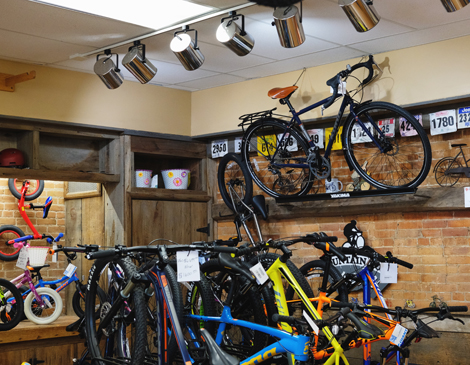 7. Mountain Road Cycles:
Every small town needs a bike shop — especially Chardon, which will boast the last phase of the Maple Highlands Trail in 2020, a path providing bike access from Painesville to Middlefield. Buy used or new bikes or get a tune-up from the knowledgeable staff.
109 South St., 440-279-0374, mtnroadcycles.com


8. The Nest:
Pick up the perfect gift at this home decor store that sells repurposed furniture, handmade signs, cards, apparel, jewelry, bath and body products and craft kits. Check out the selection of Ohio, Chardon and "440" items.
153 Main St., 440-862-1441, thenestchardon.com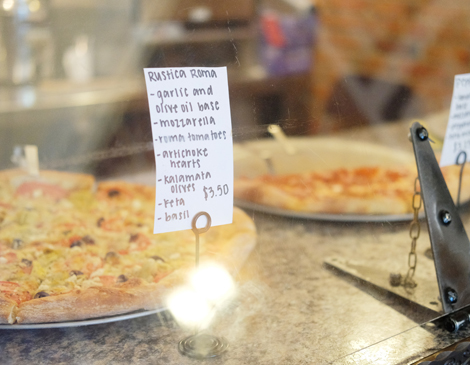 9. Noce Gourmet Pizzeria:
Grab a Peroni and a pie at this pizza place. Selections include cheese, pepperoni and margherita, plus adventuresome flavors such as Thai shrimp and Caribbean. The atmosphere begs you to stay awhile with crayons and a deck of cards on every table.
125 Main St., 440-279-0303, nocegourmetpizza.com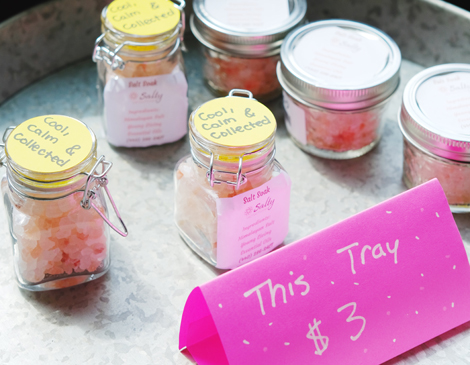 10. Salty:
Recharge with a halotherapy session in Geauga County's first salt cave lounge, which opened earlier this year. Treat allergies, respiratory illnesses, skin irritations and more while relaxing among 23,000 pounds of Himalayan salt.
102 E. Park St., 440-286-7258, visitsalty.com
11. Square Bistro:
Inside this upscale-yet-casual eatery, chef Jaret Havanchak serves sushi, seafood, steaks and weekly specials, such as a 40-ounce tomahawk ribeye served with house-made steak sauce and blue cheese fondue.
205 Main St., 440-279-0101, square-bistro.com

12. Square City Tattoo:
Itching for some ink? Stop in or make an appointment at the only tattoo parlor in Geauga County. Owner Mike Martini is trained to do sound wave tattoos, which play audio when scanned with a smartphone app.
129 Main St., Suite C, 440-286-4657, facebook.com/squarecitytattoo


Quick Picks:


Lavender latte ($3.45), Beans Coffee Shop & Bistro: Espresso and milk are lightly sweetened with lavender syrup and topped off with lavender buds, giving a floral
fragrance to your morning joe.
Salt booth session ($35), Salty: If you don't have time for the full salt cave experience, try a 15-minute salt booth treatment. In addition to the respiratory benefits of halotherapy, it provides light therapy for relaxation.
Chardon roll ($7), Square Bistro: You can't pass up this maki roll, featuring fresh salmon, cream cheese, spiced pecans and, of course, local maple syrup.