Comedian Gheramy Demery recalls life before the secret. Things felt a bit boring, unfulfilled.
He'd quit booze just a couple of years before, and that meant going straight home after comedy events. With his wife working late as a bartender, he often found himself alone in front of the TV. Demery needed something to do.
"I just was kind of bummed out," he says. "I didn't want to watch TV … what good am I doing if I'm not trying to further myself or become a better comic?"
In a town where most entertainment creeps to a halt after 11 p.m. — and a malaise Demery couldn't stand — an idea struck in the form of Secret Society Comedy. The weekly, late-night show provides a joke-fueled haven for comics and anyone else in need of something to do as the city dozes off.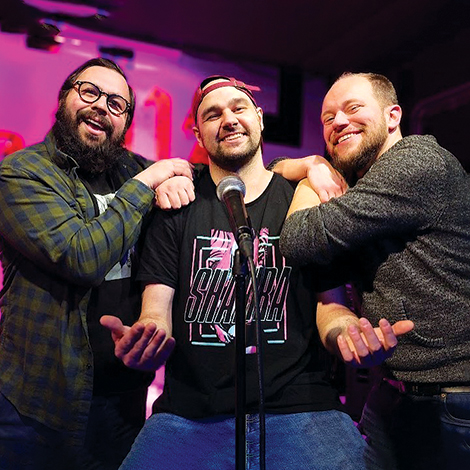 But wait, there's a twist: The venue changes every week, keeping establishments like XYZ the Tavern open well past closing. This, says event's co-founder David Horning, lends itself to the air of secrecy and an easier commitment for the venues.

After its start in January 2022 at Heart of Gold, Secret Society finished the year with more than 50 shows across 22 Northeast Ohio venues, each garnering anywhere from around 10 to more than 100 guests. For founders Demery, Horning and Bryan Sternik, a newfound sense of community and unique performance opportunity keeps the ball rolling.
"I'm thrilled with the way it evolved," Horning says. "We kind of leaned into and expanded this 'nomad' comedy club."
For that very reason, the founders gained traction outside of the usual comedy haunts, mainly Downtown and a peppering of spots on the east and west sides. Now, Secret Society Comedy takes local artists a bit further, to venues like ThornCreek Winery & Gardens in Aurora, where the trio filled 125 seats.
The loose, after-show nature of the society's weekly meeting provides local comedians the chance to grow, utilizing the lax vibe to work out new material. The environment emulates the trial-and-error ethos of nightly comedy clubs in cities like New York City and Los Angeles, famous establishments like Comedy Cellar and The Comedy Store, respectively.
"It's not original to those cities, but it's original to Cleveland," Horning says. "We wanted to bring big-city comedy to Cleveland."
Despite the year of success, Demery recalls the difficulty he faced prior to takeoff. "Everyone told me it wouldn't work — called it a pipe dream," he says with a laugh. "I'm not even convinced [David] thought it was a good idea when he agreed."
Secret Society's founders knew their late-night comedy show would be a hard sell — they consider Hilarities 4th Street Theatre one of the greatest comedy houses in the nation and acknowledge Cleveland's early bedtime — but the idea persisted and eventually thrived, and won't go quiet until "comics stop showing up," Horning says.
"This is building that community, it's building that society part of Secret Society. We want people to feel like they're in on something together … kind of getting in on a secret together. And the secret is that Cleveland has a killer comedy scene."
Get ahead of the weekend by signing up for our free weekly "In the CLE" newsletter — your guide to fun throughout The Land. Arriving in your inbox every Wednesday, this weekend to-do list fills you in on everything from concerts to museum exhibits — and more. Click here to subscribe.