As Women's History Month begins, we turn our attention to those who have pushed boundaries, smashed stereotypes and created a path for future generations of artists and creators — and all right here in Cleveland. The conversation wouldn't be whole without hearing from those women who fight for the arts both on and off stage. Here, we look behind the curtain at the owners of many of Northeast Ohio's biggest venues: the women carving out safe spaces for performance and culture in every corner of the city.
Cindy Barber
Co-Owner of Beachland Ballroom & Tavern
Cindy and her partner Mark Leddy bought the old Croatian Liberty Hall more than 20 years ago, back when the Collinwood neighborhood wasn't a Clevelander's first choice for a night out. But Barber saw the potential.
"I had moved to this neighborhood in, like, '85-'86 and the neighborhood was changing," she recalls. "I felt like if I could create a destination location, it might start to bring the neighborhood back, because this neighborhood had a history of music."
Now, Beachland stands proud in a burgeoning arts district on Waterloo Road. And Barber gives back even more with her recent nonprofit, Cleveland Rocks: Past, Present & Future, providing performance and recording opportunities for local artists.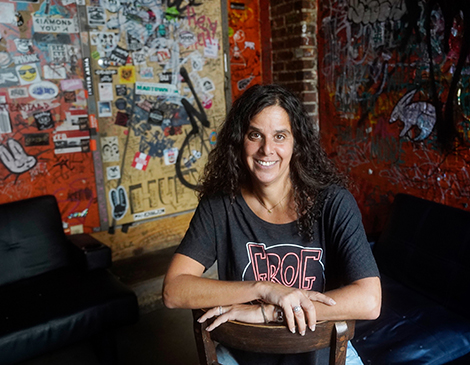 Kathy Blackman
Owner of the Grog Shop
You can't talk Cleveland music without mentioning the Grog Shop. Adorned in a Jake Kelly mural and three decades of a history that includes the likes of Oasis and the Flaming Lips, Blackman and her venue have watched the local scenes shift through the years. She recalls a time when Grog Shop was the newbie among now-defunct staples like Peabody's Down Under and the original Phantasy Nightclub.
"[Venues] were all doing their niche things, and we sort of picked up everything else," Blackman says. "We were trying to just give everybody a chance ... keep it diverse. And people around town were helpful to me; said, 'Hey, she's starting out. Give her a chance.'"
Thirty years later, fellow venue owners like Cindy Barber and Roseanna Safos from Little Rose Tavern call Blackman an inspiration.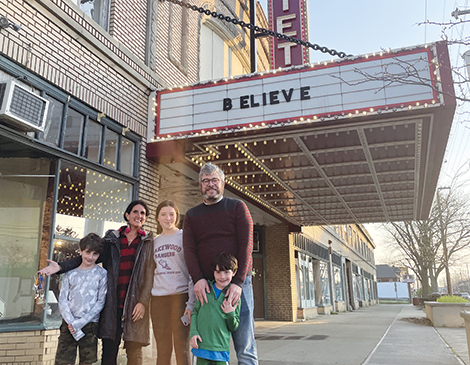 Kelly Flamos
Owner of Variety Theatre; Former co-owner of Mahall's 20 Lanes
Until selling her half of the beloved bowling alley venue in 2021, Flamos established Mahall's as a cozy space to grab a specialty cocktail and have their choice of a punk show downstairs and perhaps a comedy show upstairs. Flamos attributes the variety in programming to entering the industry later than many.
"Because I wasn't part of the network originally, I was getting very creative about the different things that we were booking in that space," she says. "It wasn't just music. We had poetry, comedy, theater, dance, community events."
After selling Mahall's, she put that money toward purchasing the Variety Theatre, excited to preserve the space as a piece of history and a future hub for entertainment and commerce, she says.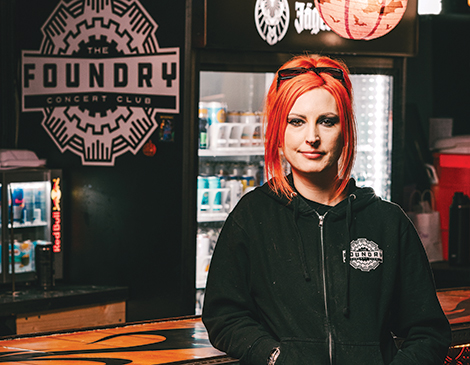 Rae Gentry
Owner of The Foundry Concert Club
In 2013, Lisa Marie Covelli purchased The Foundry Concert Club almost on a whim. The previous owner was talking about selling. "I opened my big mouth and said, 'I'll buy it,'" Covelli remembers. Nearly a decade later, she passed the business to longtime general manager Rae Gentry, who had frequented the Foundry as a patron even longer than she'd been working there. With such deep ties to the space, passing the club down to Gentry felt fitting.
"I actually had been working here off and on for about 18 years under the different names," Gentry reminisces. "It was kind of a free-for-all, there were no rules. You didn't really know what was going on. From a management perspective, that's a nightmare. But we still have fun, it's now a very family-oriented kind of business model here."
Emma Jochum
Owner of No Class
Similar to Rae Gentry, Jochum cut her teeth booking at The Foundry Concert Club and occasionally at Now That's Class. When the latter's owner, Paul Shlacter, was looking to sell, Jochum says the venue "just kind of fell in my lap." After changing the name to No Class, Jochum moved her shop Black Market Records to the basement and has focused on diverse programming and making the community feel at home.
"I want everyone to feel welcome," Jochum says. "We don't f— around when it comes to respecting each other. Nobody will walk in here and harass anyone based on gender, race, sexuality. We take safety of all staff, patrons and artists seriously — we have security seven nights a week whether or not there is an event."
Colleen Miller
Co-Owner of Music Box Supper Club
When she arrived in Northeast Ohio
after nearly two decades booking artists in Chicago, Colleen Miller and husband, Mike, didn't have a game plan. That is, until their realtor tipped them off about a vacant space on the West Bank of the Flats.
"It was in very bad shape. It was crazy," Miller recalls. "But one thing led to another and we just were like, 'OK, we're going to open a venue here in Cleveland.'"
Since opening its doors in 2014, Music Box has provided a haven for Clevelanders looking for a rotation of delectable themed brunches "and [to] listen to music that they're familiar with," Miller says. "So we're just trying to sort of provide that fun night out."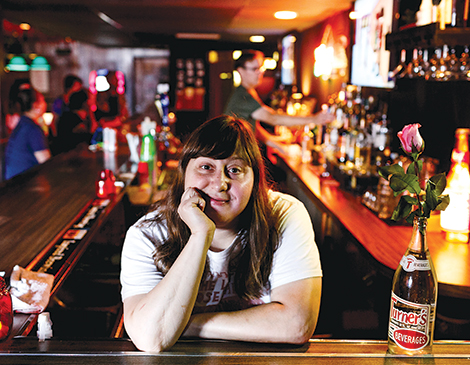 Roseanna Safos
Owner of Little Rose Tavern
Safos got her start booking talent at Happy Dog before opening her quaint dive bar. Partnering with chef John Haggerty, the bar serves up some of the tastiest vegan bites in town with performances that feel like "a house show but at a bar," Safos says, referencing a compliment from Grog Shop's John Neely.
While she appreciated her time at Happy Dog and maintains close ties, she wanted to create her own space: "a home for anybody that's passionate about music — especially local," she says.
"I didn't want to take away anything from the Happy Dog or any other venue, [so] I didn't want to do only music. I have a lot of DJs, I do this thing called Reverse Male Review," Safos says. "Everybody's been supportive. "
Get ahead of the weekend by signing up for our free weekly "In the CLE" newsletter — your guide to fun throughout The Land. Arriving in your inbox every Wednesday, this weekend to-do list fills you in on everything from concerts to museum exhibits — and more. Click here to subscribe.