For Bruce Springsteen, Cleveland was a home away from home. With Springsteen playing in Cleveland 36 times over his storied career, some of his fans have begun to dub the city "Asbury Park West."
"If you asked him in a quiet moment what cities meant the most to him during his career, Cleveland would be near the top of that list — if not at the top," says author Peter Chakerian.
Chakerian's new book out July 8, Bruce Springsteen: Live In The Heartland ($45, ACC Art Books), weighs Northeast Ohio's impact on The Boss. Centered around full-page, never-before-seen images from famed Cleveland concert photographer Janet Macoska, the book uses vignettes of 10 concerts between 1974 and 2016 to track the city's "most prolific performer" as he propels to superstardom.
As label disputes and slow sales threatened to derail his career in the 1970s, Springsteen found a receptive audience in the economically struggling Rust Belt for his blue-collar anthems of political disillusion and hope. Springsteen parlayed a stage-stealing show opening for Wishbone Ash at the Allen Theatre in 1974 into a decade of sold-out headliner slots at local venues including the Agora Theater, a legendary show that would be released as a live album nearly 40 years later.
"It was a perfect storm," says Chakerian. "He was talking about things that people in Cleveland could really identify with. Everything he was singing was for them and about them."
But along with a blue-collar message came a charged, dramatic and energetic performer, says Macoska, who unearthed decades-old photo film for the project. "No matter what's going on in his life, he puts his heart and soul out there," she says. "It's amazing how much of his energy and charisma you could capture on film."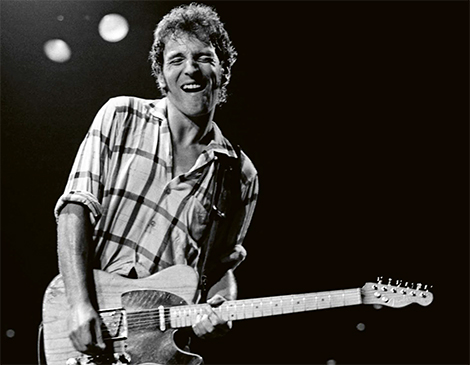 We asked Chakerian and Macoska to expand upon Springsteen and Northeast Ohio's mutual love.
Q: Why was Cleveland the perfect place to receive Springsteen?

Peter Chakerian: He comes from a blue-collar background like a lot of Clevelanders do and came up during a time where Cleveland was very much a blue-collar town. I mean it really still is, but in the '70s, when he was getting popular, there was a lot of business flight and migration from urban centers into the suburbs. Industry was sort of moving overseas and closing up. He was their mouthpiece. In general, when you look at what was really popular in Cleveland at the time musically speaking, there was a sound of grittiness that really stood out. I think that's why he really connected here. The folks at Belkin Production and WMMS, which were both influential in the music industry at the time, really got behind him in a way no one else did. That's ultimately what led to that WMMS' 10th Anniversary Show at the Cleveland Agora, where anywhere between eight and 1,200 people were there but 3 million people will tell you that they were there because they were with their ears. It was simulcast everywhere. He was going through some challenges and really had to reboot his career. After the Agora show, when he played at Richfield Coliseum, somebody tossed a firecracker on stage and damn-near put his eye out. Under normal circumstances, any artist of lesser stature would say I'm never coming back to Cleveland again. But I think Springsteen just recognized that people were super excited at the time. Now, he can come to town and he's sold out in no time.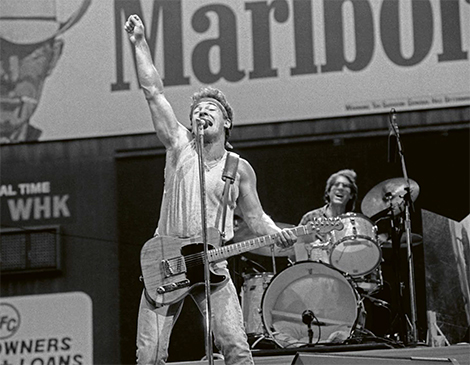 Q: On the flip side, why did Springsteen fall in love with Cleveland?
Janet Macoska: Cleveland was really a rock 'n' roll crowd with a sophisticated taste. They heard the music and jumped on it earlier than most people in America. He used to start his tours, not necessarily in Cleveland, but we were always the third or fourth show that he did on a tour. He preferred to start in the heartland, where he didn't have to face the critics in New York or L.A., where they might just get all snobby. It let him get his feet under him. He felt more at ease about playing new music here, things from the latest album, because he knew we weren't going to point fingers or judge or be snobby about it, and we're going to listen and accept it and him as one of us. He's the kind of guy who could kind of fall flat with trying something out, and the fans here would absolutely eat it up because he was absolutely going for it.
Q: What makes Springsteen such a great performer and, in turn, a great photo subject?
PC: He's electric. That's the simplest answer. And even now in his 70s he's still electric. He's still got charisma. He's still got stature. He's almost this mythical creature. I think in the book you see how that sort of has grown over time. He understands exactly what it means to be a rock star and has fully embraced that and channels that energy with everything he's got.
JM: That show in 1974 is the first concert that I ever shot. Bruce is opening for a British guitar band called Wishbone Ash, and he impresses right away. The audience has never seen him. I've never seen him. But I use half of the only roll of film I have on him because I can't not take photographs of him. He's just way too interesting and charismatic, even in those early days. He was just born that way.