It started as a joke: Artist Arabella Proffer began taking iPhone photos of eccentric bathrooms around the city, many a bit — excuse us — dumpy? "I noticed that around Cleveland, there are a lot of janky bathrooms that haven't been updated since the '60s," says Proffer, a Michigan native.

"I like that because I'm tired of the subway-tiles-and-Edison-bulbs thing." She started posting the pics to Instagram with the hashtag #restroomsofcleveland, attracting a small following. With friends' encouragement, she decided to self-publish Restrooms of Cleveland ($19.99), a picture book highlighting about 75 of her fave local loos. From the bizarre to the truly gorgeous, the tome acts as a history lesson, oddity item and art book all in one, and has become a bit of a hit.

"I was like, 'I'll print 100 copies and my friends will buy it,' but then it kind of went crazy," says Proffer. As of late January, she's printed 600, with more on the way. Here, Proffer spotlights four powder rooms of note.


Stone Mad Pub
Next time you've gotta go at this popular Gordon Square pub, you've gotta go downstairs. The basement-level restroom and waiting area are tiled, floor to ceiling, in a painstakingly precise mural that took local artist Colleen Fraser more than seven years to create. "You find little characters hidden in the tile job all over the place — Pegasus, racehorses, angels ..." Proffer says. "I recently tiled my bathroom floor with my brother and almost had a heart attack, so I don't know how this girl did this." The impressive undertaking even earned a spot on the cover of Proffer's book. 1306 W. 65th St., Cleveland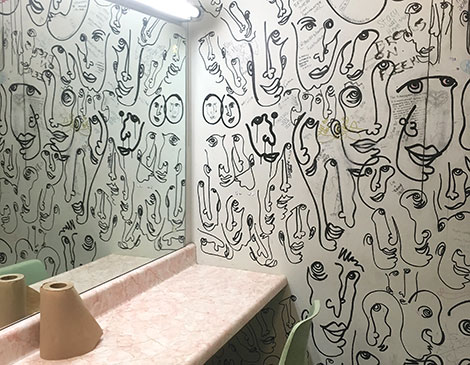 Mahall's 20 Lanes
"Mahall's is probably the most iconic bathroom in Cleveland," Proffer says of the bowling alley restroom, an Instagram favorite covered in abstract line drawings of hundreds of faces by Peter J. Lawson. "I just love that they also have the weird pink counter and the elementary school chair." She's not the only one who loves the doodle-adorned bathroom. After publishing the book, she was delighted to learn that this women's room is particularly popular among Cleveland's single ladies. "Apparently having Tinder photos with Mahall's in the background is actually like a signal boost to say that you're looking for guys in bands and you're hoping that guys in bands won't swipe left," she says. 13200 Madison Ave., Lakewood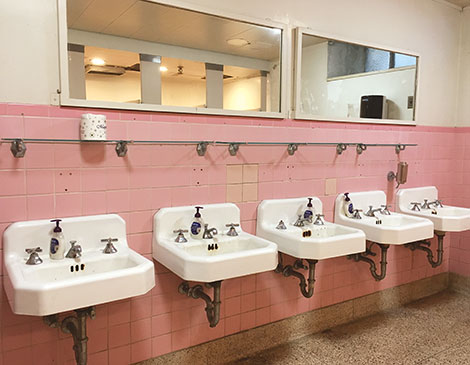 78th Street Studios
This bathroom was the subject of Proffer's first potty pic. "I like it because it's very midcentury modern and institutional-looking, even though it's inside a creative building," she says. "They're making due with what they have and giving it character — and it's got those Mamie pink tiles!" The "Mamie" here is former First Lady Mamie Eisenhower. While researching quirky bathroom characteristics, Proffer learned about the 1950s trend of styling women's restrooms in a shade of pale pink named for the White House occupant. "It was thought to give you a youthful glow when you looked in the mirror," she says. There's even a website, savethepinkbathrooms.com, dedicated to preserving these vintage lavatories. 1300 W. 78th St., Cleveland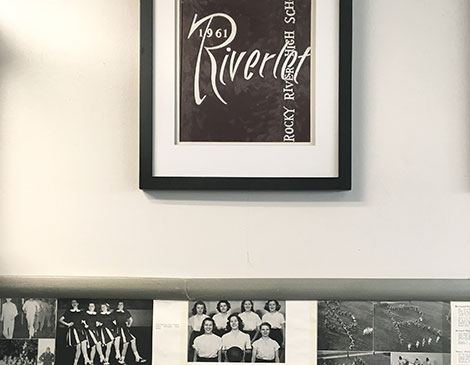 Bearden's
Opened in 1948, this beloved Rocky River diner boasts an appropriately retro women's restroom — complete with a dash of sentimentality, especially for anyone who grew up in the area in the mid-1900s. "They have all the yearbook pages of Rocky River High School from the '50s and '60s on there," Proffer explains, "so while you're sitting in there, you can see who was in glee club and who was on the state champion basketball team." The yearbook pages have been meticulously set into frames and hung in a plexiglass border around the entirety of the restroom, rather than being decoupaged or simply framed on the walls. "They really put some effort into that," she marvels. 19985 Lake Road, Rocky River