Dispatches From Cleveland hits you with an emotional sledgehammer in the opening credits. Footage of a crane ripping through the Cuddell Commons Park gazebo where 12-year-old Tamir Rice was killed by a Cleveland police officer in 2014 is interspersed with somber reminders of lost innocence: kids on the swings nearby, construction crews removing stuffed animals left in memoriam of the "Young Black King."
But this is not a story about defeat. Emmy-nominated director and producer Catherine Gund shows us Clevelanders, who despite being broken, fight for justice in the wake of police violence. Playing at the Cleveland International Film Festival March 31 and April 1 as part of a new race relations sidebar, the film emerged from how Cleveland's response differed from cities such as Ferguson, Missouri, where riots occurred.
"Cleveland was more uncoordinated and less visible," says Gund, a New York City resident who lived on Cleveland's East Side as a child. "What became the story for me was seeing how everyday people still had a voice and could collectively make a difference."
Yet she quickly realized the issues were much deeper than police violence. "Cleveland is historically segregated," she says. "The divisions are built by people not knowing each other. We need to erase that ignorance."
The 51-year-old filmmaker split the documentary into five parts, alternating between chapters exploring police violence, poverty and equality. A moving interview with Rice's mother, Samaria, helps fuel the story. "She knows that the only way anything will change is if she doggedly pursues justice," Gund says.
Along the way, we also hear from activists such as Fred Ward of the Khnemu Foundation Lighthouse Center and transgender DJ and photographer Zoe Renee Lapin. "We need to start celebrating the leadership of people who have been most threatened by the system and therefore have the most ideas," Gund says.
The narrative shifts from people left powerless by the system to finding ways to exercise power. We get glimpses of the movement to defeat prosecutor Timothy McGinty, who recommended a grand jury not bring charges against the officers involved in Rice's death.
Gund was moved to see so many groups band together to elect a new prosecutor. "That was one of the reasons I went back to Cleveland," she says, "to be empowered, and I was, from their resilience and tenacity and seeing their dedication."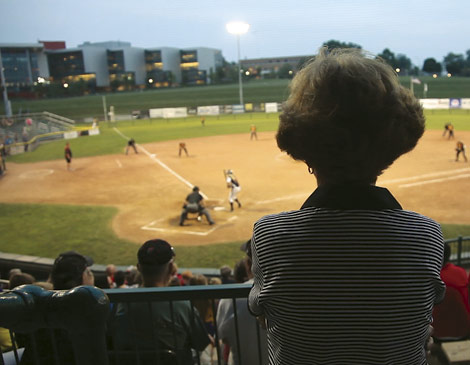 + 3 Sports Film To See
Check out these films in the new sports sidebar at the film festival this year.

Burn the Ships
This documentary steps up to the plate with the Akron Racers, the oldest team in the women's pro fast-pitch softball league. "It's an unknown world," says artistic director Bill Guentzler. March 31 at Akron-Summit County Public Library; April 2 & 3
Miles
Shaker Heights native Molly Shannon plays the mother of a gay son who joins the women's volleyball team to get a scholarship since his high school doesn't have a men's team. "We still haven't moved past that," Guentzler says. April 1 & 4; April 5 at Cedar Lee Theatre
Requiem for a Running Back
After the death of Cleveland Browns player Lew Carpenter, his daughter, Rebecca, searches for answers about his chronic traumatic encephalopathy. "How much money is made by [the NFL] just to ruin people's lives and health?" Guentzler asks. April 7 & 8

*If not noted, film plays at Tower City Cinemas