The House of Wills, the former long-running Black-owned funeral home in Cleveland, now stands as an ominous building in disrepair, with quite a reputation in the paranormal investigation and ghostly communities.
If you haven't seen it in real life, you might have come across it in TV shows, podcasts or web series; the space is rumored to be haunted, and has appeared on shows like The Ghost Brothers, Death Walker with Nick Groff, online docuseries Resident Undead and even the Kristen Stewart-produced Hulu series Living for the Dead. (That last one, which launched on Oct. 18, has a unique premise: "Five fabulous, queer ghost hunters crisscross the country, helping the living by healing the dead.")
So, yeah: The historic building has quite a reputation among those who believe in ghosts. That reputation was further solidified when former Ghost Hunters paranormal investigator Daryl Marston opened up about his experience visiting the House of Wills for an investigation in 2014. Though he visited the building independently and not for the show, the spooky experience has stuck with him for almost a decade.
This fall, he penned a book about his experience, titled The Horrors of the House of Wills. We caught up with Marston to hear more about his time in the building, and its reputation in the paranormal-obsessed world.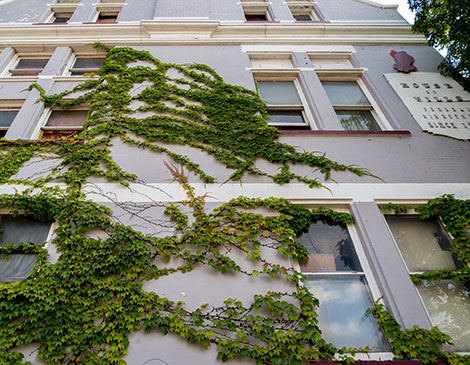 (Photo courtesy Johnny Joo)
Cleveland Magazine: What was your first impression of the House of Wills?
Daryl Marston: The energy of the building; I can only explain it to people as if it was a living entity itself, a living, breathing organism, which I've never experienced before on any investigation I've ever been on at that point.
CM: Did you go to the House of Wills for Ghost Hunters?
DM: That was before Ghost Hunters. I actually tried to get Ghost Hunters to go there, and they refused to go. It was something they put on the backburner, and they thought about it. They had actually filmed there before with another TV show and it didn't go very well for the people who went. I'm friends with some of the production who went there, they're actually production for Ghost Hunters, and they refused to go back, just from creepy experiences or what they saw, just the feeling of being in that building. It's not in the greatest neighborhood either, in Cleveland. There are all these different layers, reasons why they refused to go back.
CM: Tell me a little bit about the House of Wills' history.
DM: The building was constructed by a 33rd degree sonic architect. They don't have an actual date on it, but most people believe it was built around 1890. After being a Masonic Temple, it was a German social club for many years. Then it was rumored to be a speakeasy during Prohibition; it was a Hebrew hospital for two or three years. Then around the early 1940s, around World War II, it became Cleveland's largest African American funeral home, where it ran all the way up until the 2000s — when it shut down due to fraud. It sat vacant for about 10 years until Eric Freeman came in and bought the building, around 2011, 2012. He purchased the building from the city of Cleveland.
If anybody knows Eric Freeman, he's a member of the Church of Satan. He's one of the high priests; he left the Church of Satan and started his own group, his own organization, the New Church of Satan. He moved all his artifacts into the building, like statues and things of that nature, that have to do with satanic rituals, satanic beliefs, things of that nature. He's still the owner to this day.
I was there maybe two or three years after he had purchased the building. I knew nothing about Eric at the time. I found that all out after I left. If I were to have known before, I may not have gone, I feel, because of the kinds of rituals and things that are done, not that he does any of that — and I have no proof of that — but just being around that energy is not my thing.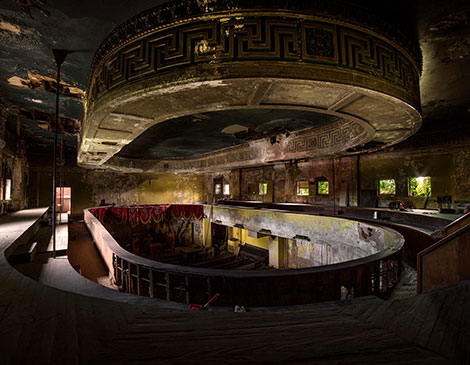 (Photo courtesy Johnny Joo)
CM: It sounds like you had some interesting experiences there. Could you share more about that?
DM: My experiences in the building were like no other investigation I'd been on at that point. There were four of us there during the investigation, myself and three others who are in the book. We had experiences that you always see or hear about in movies, especially afterward; the fallout of what followed me home to my own home, that's what the book is basically about. I had something attach itself to me while I was there, I actually felt it happen, in real time. The three other investigators who were with me witnessed it.
When we were there, it was August, so it was pretty hot. There's no electric in the building, so there's no AC or anything like that. I started feeling ill, like I had food poisoning, or something was coming on, out of nowhere. I got really cold and I started feeling almost a fever come on. You can actually see my breath at one point — in August. They witnessed it, there's actually video of that as well. Soon after that, it's when I started really feeling weird and I actually at one point yelled out for whatever it was to get off me. There's a guy who was videotaping behind me with a hand camcorder, and we were walking up a flight of steps when I said it, and you could see a black mass shoot from my back into a wall that was directly to the right of me.
That's the type of stuff that was happening in the building. We were seeing shadow anomalies, shadow figures, wherever you want to call them, in the hallways. We were getting all kinds of weird audio, things of that nature. It was a gamut of all kinds of paranormal activity going on in that building at the time.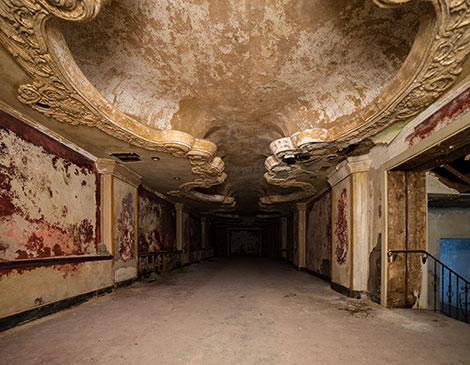 (Photo courtesy Johnny Joo)
CM: Could you talk more about the House of Wills' reputation in the paranormal investigation community?
DM: It's one of those places that is mentioned in whispers. A lot of people don't want to go there. A lot of people are afraid of it. And then you have the hardcore people who want to go there; at least they say they want to go, until they have the experience.
When I went there, I'd been investigating for almost 10 years at that point, and I was not ready for it. It really played havoc on my life. My book's been out now for just over a month. I'm getting a great response from people who said, 'You want to go?' and then say, 'Yeah, I don't know if I want to put myself through that.' Because it could happen to them, and I've heard of it happening to other people since and before I went there.
CM: What made you want to write specifically about the House of Wills?
DM: It was honestly the only place it ever followed me home. I had an attachment and it messed with me for a good five or six weeks. I didn't have a book deal at the time, and me sitting down and writing that during COVID was more like therapy for me. I always talk about it on podcasts and radio shows and things; a lot of people say you should write a book about that place. They always ask me what the craziest location I've ever been to, it's always the House of Wills, is what I would tell them. During COVID, when I started writing, I didn't stop for three months, and it was literally like therapy for me to rehash it all, get it off my chest and put it on paper. In that way, I could walk away from it.
The Horrors of the House of Wills is available to purchase at Oktober's (12611 Madison Ave., Lakewood) or online.