If Cleveland were a color, what would it be?

Maybe Edgewater blue, West Side Market green or Millionaires' Row red? Thanks to Plum City Paints, which offers about 20 shades creatively named for notable aspects of the city, you get to decide.

The line began in 2016 as an offshoot of Ron and Amy Cseh's Mentor-based architectural-salvage business, Schoolhouse Salvage. The duo wanted an acrylic-based furniture paint for restoration projects that yielded the matte finish of old-fashioned milk paint, originally made with milk, lime and pigments. But their Texas wholesaler did not offer any in the modern grays, tans and reds they were seeking.

"We really wanted to pair the color palette with the iconic Cleveland images to give us the more urban paint line," says Amy, the company's creative director. Pencil sketches and bold swatches of color help tell the story of the name on each can. So a 1940s-era Hanna Theatre marquee plays prominently on the Hanna dusty yellow, while smokestacks rise above the Steel Town sooty gray.

While the inspiration for some are self-explanatory (the grayish white of dirty steam for Steamship), others are less obvious. Cseh tells the stories behind three standout shades.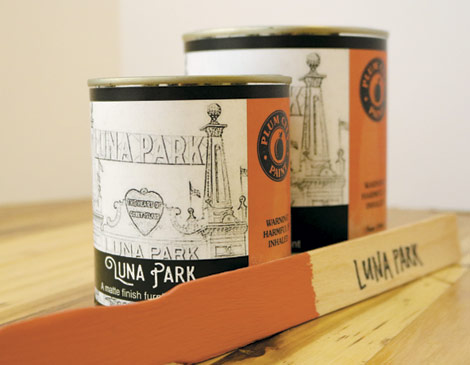 Luna Park
Cseh had a vintage postcard from the early 20th-century amusement park depicting women in elaborate turn-of-the-century attire strolling through the 35-acre East Side attraction. "It was in black-and-white," she says. "I thought a nice coral dress kind of went with that."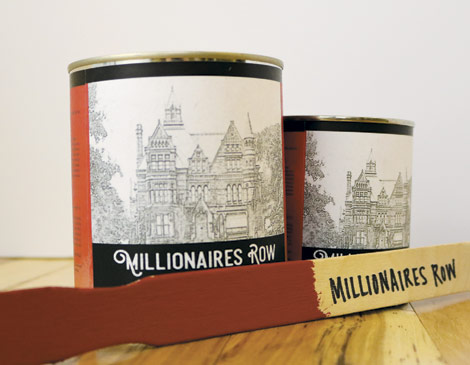 Millionaires Row
Like Luna Park, Millionaires' Row — a stretch of Euclid Avenue lined by lavish turn-of-the-century mansions — no longer exists. "To me, rich red always symbolizes opulence," she explains. "I envision a front door on one of those mansions painted a really deep, rich red."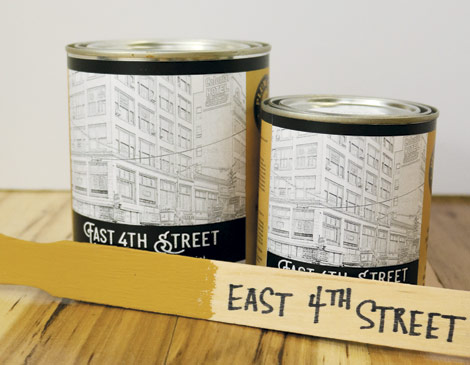 East 4th Street
This mustard yellow traces its origins to a picture of the dining-and-entertainment district. "It's a current photograph of an angle of some of the really cool buildings," she says. "One of them has this yellow hue to it."