As a 7-year-old taking a sick day from school, Brian K. Vaughan was intrigued by the comic books his parents brought home to him. "I thought they were kind of activity books," says Vaughan. "In my fevered state, I cut them up and rearranged them. And I've never stopped."
Today, the young boy who was born in Rocky River and raised in Westlake is a comic superhero in his own right. Vaughan has written for virtually every DC Comics and Marvel Comics major character from Batman to X-Men and is often compared to comic book legends such as Sin City creator Frank Miller and Watchmen co-creator Alan Moore. His popular comics Y: The Last Man, Ex Machina, Saga, Runaways and Paper Girls are as impressive as his TV credits, which include writing and producing stints for Lost and Under the Dome.
"When I was 12, I read Watchmen in one sitting, and it made me realize there was a potential to do this," says the 41-year-old Vaughan from his Los Angeles home. "As it turned out, I was very much in the right place at the right time."
Thanks to such blockbuster films as X-Men, Iron Man and Captain America, comics have become a staple of the film and TV industries. Vaughan's own Runaways, the story of children who leave home after discovering their parents are supervillians, has been adapted into a live action TV series that debuted last month on Hulu. The St. Ignatius High School alum talks with us about the new show, the appeal of the medium and working with Stephen King.

Q: You're serving as a consultant for Runaways. How does it feel to see your comic transform into a TV series?
A: This is my very first thing that's being adjusted to another medium. It's like seeing one of your kids grow up. It looks terrific. It's really expanded the role of the evil parents. I'm more sympathetic to them. My parents are not evil; they are wonderful human beings.
Q: How does writing comics compare to scripted TV?
A: Working on TV made me appreciate comics. Show business is really a business, but comics are an art form being made without thinking about commerce. There's no editorial constraints, no budget and no advertisers. Comic books only succeed when they take risks — they let you do human drama on one page and the next page has a guy assaulting God.
Q: What was it like working with Stephen King on Under the Dome?
A: He once said Y: The Last Man was the best graphic novel he had ever read. And one of his characters in Under the Dome was a teenager who was "addicted to skateboards and Brian K. Vaughan comic books." To have my name pop up in one of his books was a surreal confluence. I got to know him very well. He's a funny, kind, well-adjusted man. He gets all his demons out in his books.
Q: You still collect comic books. How many do you have?
A: It's an obscene number. I have comics sitting all over the house. Before our kids could read they were looking at them. I have comic books at my parents' house, much to their dismay. I'm a giant nerd.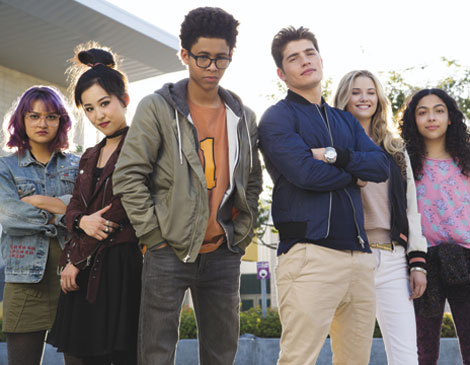 Three To Watch: Get to know Vaughan's work by bingeing on these shows.
Lost
Vaughan's first TV job came soon after he moved to LA on the advice of Joss Whedon. "He encouraged me to dip my toes in the Hollywood waters. I in no way anticipated getting the job, but ended up writing for seasons 3, 4 and 5."
Under the Dome
"It was challenging for me to take a beloved novel and translate it for one of the biggest networks in the world," says Vaughan, an executive producer for show's first season on CBS. "I pitched the scene of the cow getting sliced in half to Stephen King. I think it got me the job."
Runaways
In his role as a consultant for the new Hulu series, Vaughan visited the set several times during the shooting schedule. "I got to bring my kids on the set, which I've never done before. It was fun for my actual children to meet my fictional children."