Cleveland native Turney Duff didn't know Wall Street from Sesame Street when he was looking for a job in New York City in 1994.

"I thought Goldman Sachs was a fancy department store," says Duff, who was fresh out of Ohio University's journalism school. "My uncle got me an interview at Morgan Stanley, and I told everyone I was going to Stanley Morgan."

That naivete didn't last long. By 2003, he had earned $1.9 million as a hedge fund trader for Argus Partners and was living the wild life — bingeing on alcohol, cocaine and sex. Three years later, most of his money was gone, and he was ready for the first of two stints in rehab.

Duff's second act began in 2013 with the publication of The Buy Side, his best-selling Wall Street memoir. It led to a consulting job on the Showtime drama Billions, a look at the underbelly of high finance starring Damian Lewis and Paul Giamatti. As the show premieres its second season Feb. 19, we talk to Duff about Cleveland sports, finding his muse and his work on the critically acclaimed series.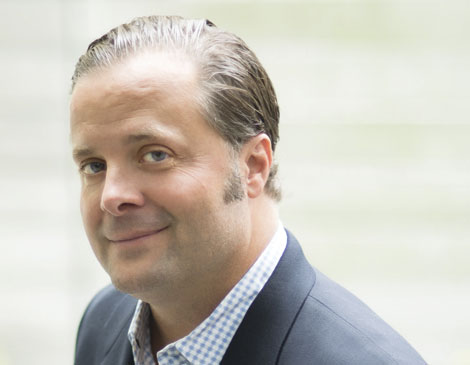 Q. You were born in Cleveland but moved to Maine at age 7. Are you still a Clevelander at heart?
A. I'm a Clevelander and I'm very proud of it. I'm a very loyal person to begin with so it seemed like a natural fit. I got a Chief Wahoo tattoo when I was 19. First and foremost, I'm a Browns fan, but I thought an orange and brown helmet on my ankle wouldn't look that good.

Q. What did you learn about yourself when you bottomed out?
A. Things didn't start to get dark until I was making a lot of money. In high school and college I had always enjoyed being the center of attention, so it seemed natural. It sounds hokey, but I learned that what I thought would make me happy never did. I got everything I wanted, but it wasn't what I needed. The creativity of writing filled a void I had.

Q. Billions is a story of greed and corruption, similar to the themes in your book. How did you come to work on the show?
A. When I first heard about the show, I thought, This is the competition, because Sony had already optioned my book. I developed a relationship with co-creator Brian Koppelman on Twitter and ended up meeting him for coffee. That led to a consulting gig for the pilot.

Q. Now you're in the second season. What does consulting entail?
A. My job is to make it as authentic as possible. The show is as close as you can get to working at a big hedge fund. The writers have really done their homework. It's the kind of show my mom can understand and my acquaintances on Wall Street know is real. When something rings true, the audience appreciates it.