From floral compositions moving in the wind to jazz playing saxophonists and ships swaying out in the harbor, Malcolm Brown's paintbrush never failed to capture the movement of the world around him. Before he died in October, he had a long list of accomplishments in his 89 years of life.
Primarily known for his modernist landscape watercolor and acrylic paintings, Brown was elected in 1973 to membership in the American Watercolor Society, a prestigious honor only bestowed upon 10 artists a year since the late 1800s. His work can be found in corporate collections around the country as well as the Cleveland Museum of Art.
But for all he did, it was his work supporting other Black artists that garnered him the most attention. An arts educator who taught at Shaker Heights High School from 1969-2000, Brown and his wife Ernestine opened the Malcolm Brown Gallery in Shaker Heights in 1980, the first for-profit African American gallery in the country.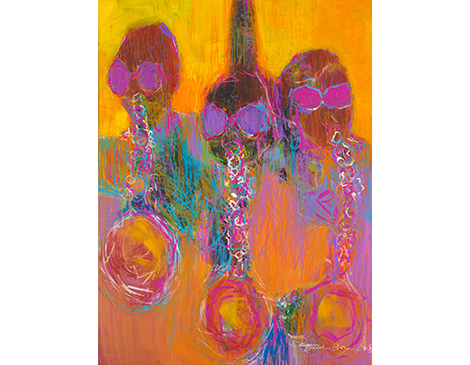 At a time when Black artists were vastly underrepresented on the walls of Midwest museums and galleries, the Browns showcased and amplified Black artists from up-and-comers to luminaries including Romare Bearden, Elizabeth Catlett, Selma Burke and Carolyn Mazloomi. David Lusenhop, one of the foremost art dealers in the country, saw his first Bearden collage in person at the Malcolm Brown Gallery, an offering that stood in contrast to the dearth of education on African American art.
"Sadly, most high schools, colleges and universities did not offer courses that focused on the deep and rich history of African American visual artists and visual culture," says Lusenhop. "The Browns knew this was a problem and likely more than an oversight, and they committed themselves as much to teaching us as selling art to us."
Visitors to the gallery didn't just enter into a passive experience, but instead were greeted by Malcolm and Ernestine who stood at the ready to provide context to each piece on display. Charles Debordeau, a Solon-based art collector, was a frequent patron of Brown's gallery and remembers Malcolm as a bit shy, but quick to open up when talking about the artists on the walls.
"Malcolm and Ernestine welcomed everyone into their space as old friends," recalls Debordeau.
Despite all of his teachings and time dedicated to lifting up other artists, Rhonda Brown, Malcolm's daughter and a notable artist, recalls that her father was content not having anyone notice his own artistic talent, even as his work should be celebrated. It's a quality of his character she remembers most. Although the Cleveland Museum of Art is closed as of this writing due to the ongoing pandemic, his work is part of their permanent collection and on display in their contemporary art wing for viewing through Februrary if they're able to reopen.
"I look at his brushstrokes and his ability to create movement in a two-dimensional piece of paper, and think Gosh, this person was so good," says Brown. "The gallery and its impact perhaps had a bigger meaning, but his own talent should never be undervalued."