At the 2017 Whitney Biennial in New York City, Raul de Nieves' work was impossible to miss. A 50-foot, 18-panel stained glass window he created overlooked several of his whimsical, humanoid sculptures crafted with plastic beads and vibrant fabric. A closer look at the stained glass, however, revealed a surprise: De Nieves crafted the panels using colored cellophane, with subtle paper, wood and beaded accents.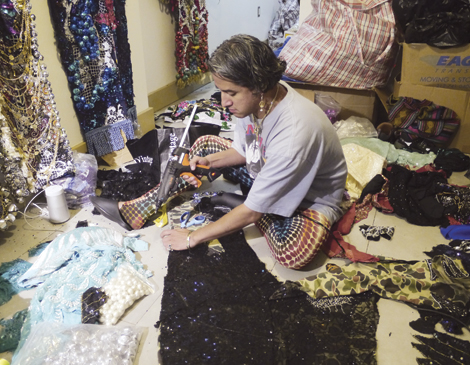 The intricate, beguiling details stuck with Emily Liebert, associate curator of contemporary art at the Cleveland Museum of Art. Last summer, she asked the New York City-based artist to do a takeover of Transformer Station, a contemporary art space in Ohio City.
"I've been interested in the way that he transforms humble materials into spectacular objects," she says. "He uses accumulation and excess as these ongoing strategies in his work to make things more than they might appear to be at first glance."
Running Feb. 2 to April 27 as the first solo museum exhibition from the artist, Raul de Nieves: Fina features both new work specifically created for the high-ceilinged main gallery (including a central mirrored structure populated by figure sculptures, illuminated in blue tones that recall a cloudless sky) and existing pieces in the Crane Gallery, which uses a lighting scheme simulating nighttime.
"His work is such a celebration of material and color, and it's so exuberant," Liebert says. "There is a real generosity to his work and a real invitation to engage."
Born in 1983, de Nieves grew up in Mexico, where he learned to sew and crochet in school. At 9, he immigrated to the U.S. with his mother and two brothers, a profoundly transformative experience that informs his work. "A lot of the value that he associates with his family's journey is at the core of his work," says Liebert. "He's creating work that references artisanal traditions in Mexico that he grew up surrounded by. It's interpreted through a current-day lens."
That description fits one of Fina's main gallery centerpieces, the surreal Day(Ves) of Wonder. Named for the day care his mother established in San Diego after arriving in America, the mixed-media sculpture came together slowly between 2007 and 2014. The stout, kaleidoscopically colored figure kept growing more detailed as de Nieves painstakingly added rows of plastic beads. From afar, the jaunty, coral-esque figure looks draped in a suit of candy-colored bubbles.
"He thinks of a lot of his work as an homage to [his mother] and her courage and her strength in bringing him and his brothers over to the U.S.," says Liebert, who notes "Fina" is also his mother's nickname. "He really finds her as a maker, as a life force, to be an inspiration."