Art shouldn't be bound to the anointed halls of a museum. At least, that's the guiding principle behind the new Akron Art Library. The Akron Art Museum program allows Akron-Summit County Public Library patrons to use their library cards to check out framed, ready-to-hang artwork from the Main Library for a 28-day period and renew the pieces up to five times. The current collection features more than two dozen pieces created by artists who either hail from Northeast Ohio or have previously shown work at the Akron Art Museum. "The goal of this partnership between the library and the museum is to support people living creatively," says Akron Art Library program coordinator Jessica Fijalkovich. "We'll be offering programs about collecting, displaying and caring for art to make sure that art is as accessible as it is inspiring." With Fijalkovich's guidance, we handpicked four works from the collection to help you select the right piece for your pad.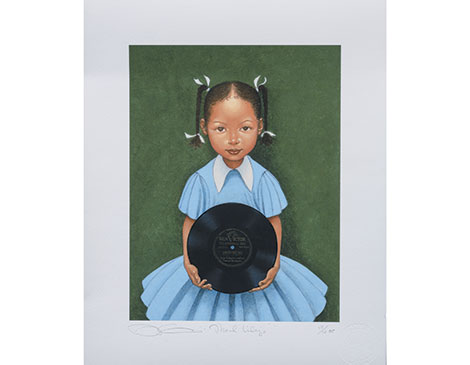 Mood Indigo (2004), Kadir Nelson: An internationally recognized artist whose work has been featured on covers of The New Yorker, album art and in the Akron Art Museum, Kadir Nelson wrote and illustrated several best-selling picture books on African-American history, including We Are the Ship: The Story of Negro League Baseball and Heart and Soul: The Story of America and African Americans. This giclee-on-paper serves as the cover of his book ellington was not a street, in which Nelson brought vivid color to the poem Mood Indigo by Ntozake Shange. "With its theme of heroes [living] all around us, this painting could hang in a classroom to inspire each student who lays eyes on it," says Fijalkovich.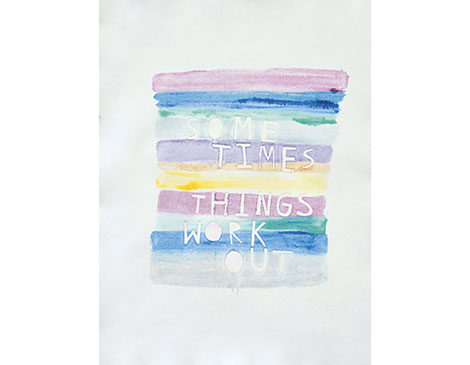 Sometimes Things Work Out (2017), Erin Guido: Cleveland native Erin Guido is known for making art that's bright with friendly encouragement, from words of inspiration to general good cheer. Her work can be found on the walls of Mason's Creamery and in Love Doves, her globally recognized West 25th Street mural created with Joe Lanzilotta to celebrate LGBTQ culture and Pride Month. The Akron Art Library piece has a similarly uplifting spirit: Guido uses mellow pastels in the monoprint to gently encourage the viewer to look for the half-full glass. "Whether in a bedroom or a children's playroom, this piece would be the perfect upbeat message to start the day in a positive frame of mind," says Fijalkovich.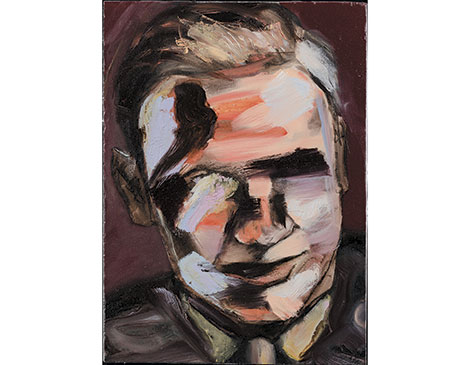 Abstract Portrait (2016), Melissa Markwald: Celebrated artist Melissa Markwald also juggles gigs as a security guard and exhibition technician at the Akron Art Museum. In her visual art, her muse is often everyday people captured in found photographs. Markwald tests abstract techniques in smaller compositions before painting their faces in larger-than-life canvases that make the ordinary figures seem towering and iconic. This oil-on-panel painting is one of those early experiments, where Markwald drew inspiration from a photograph of an anonymous soldier in an unknown war. "With the muted tones, you could hang this portrait in your home office where you are inspired to work, as you are not distracted by little details," advises Fijalkovich.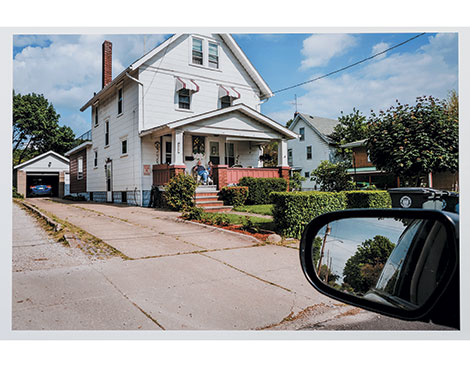 Parents Waving Goodbye at Door (2013), Angelo Merendino: Photographer and Akron native Angelo Merendino, a regular contributor to Cleveland Magazine, uses his lens to capture environments where people feel like their most authentic selves. This inkjet print is part of his series Goodbye at the Door, a photo collection documenting his parents' farewell gestures throughout the years, taken as he left their home in Akron's North Hill neighborhood. This photo comes before the last image in the series, which features Merendino's mother standing alone after his father passed away. "This photograph would fit right into a family room or cozy space where loved ones gather," says Fijalkovich. "It's a great reminder to cherish the family we have around us."