"Hope," Cleveland's Underground Railroad code name, signified that the dangerous journey north for freedom seekers was almost at its end. "It's a story of courage," says Chris Ronayne, president of University Circle Inc. UCI's new interpretive center inside the Cozad-Bates House will tell the tale of fugitive slaves, their expedition and the abolitionists in the Cleveland area that aided in their escape. While we wait for it to open its doors in April, here are three things to know about the Cozad-Bates House.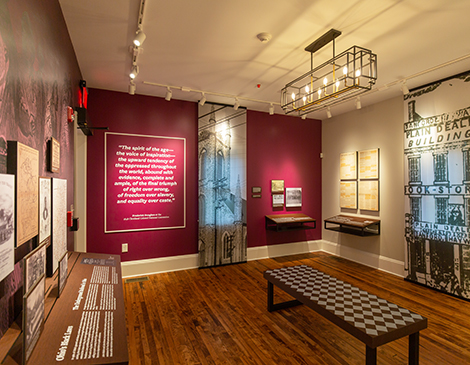 There's plenty of history here
The Cozad-Bates House is the only pre-Civil War home still standing in University Circle. The first two sections were built in 1853 and the 1860s for Justus Cozad by his father, Andrew Cozad. Justus built the third and largest Italianate wing in 1872. The Cozads were one of the leading anti-slavery movement families in the area during the Underground Railroad. "We know that the Cozads helped freedom seekers find freedom," Ronayne says. "They were known to be abolitionists."
Renovations have given it new life
Phase one of the multiphased renovation cost about $1.5 million. Much of the work done was to the structure of the building, restoring rooms to their original sizes before the home's time as a boarding house and to address overall safety, as it stood empty until University Hospitals donated it to University Circle Inc. Original stones on the site were used to make some of the outdoor installations and the indoor exhibits are housed in the restored Gund Foundation, Cleveland Foundation and Key Bank Community rooms. "There's one more piece left to go, and that's the 1872 Italianate [wing]," Ronayne says.
It'll be a place to learn
The three different rooms and outdoor exhibits will encourage conversation regarding the important topics of slavery, voter suppression and human rights. Expect guided and self-guided tours, concerts on the porch, live discussions on the 13th, 14th and 15th amendments and more when COVID-19 guidelines allow. "It's truly a new cultural institution in the Circle," Ronayne says.