The Wolfs Gallery is no stranger to change. After starting in the 1970s as an auction house, Wolfs changed its mission, growing into one of the area's premier art spaces, due in large part to its ever-changing collection of fine arts. Last summer, the Wolfs Gallery moved from Larchmere to Beachwood, giving it more space to exhibit work. Before you spend an afternoon getting lost in the world of the new space, here are three things to know.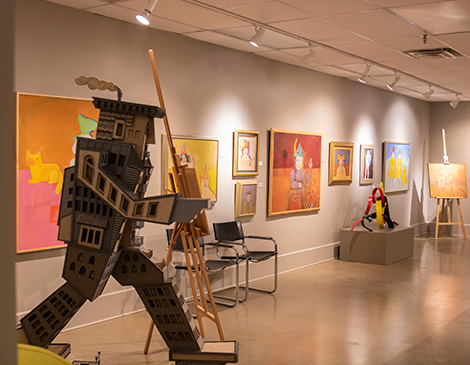 Its history is on display. Wolfs Gallery has a rich history, starting with its aforementioned establishment as an auction house in the 1970s. Although the gallery still sells and appraises art, founder and director Michael Wolf credits Cleveland's art history for its collection of paintings, sculptures and decorative pieces. "A lot of galleries are very specialized and we're not, which is why the gallery is more exciting for me," Wolf says. "This new space fits our needs perfectly."
The new space has a purpose. Wolfs Gallery upsized to a new 10,000-square-foot location in Beachwood to accommodate its ever-growing collection of more than 1,000 pieces. While the new space was originally a smattering of small offices, Wolf took most of the interior walls down to turn the space into an open collection of galleries. "There are 15 galleries in the space, most of which cover a different medium," Wolf says. "We've got one of the biggest fine art collections and inventories in this part of the country."
There's a new exhibition. Wolf's fall exhibition, which opens in September, highlights Cleveland native Ken Nevadomi, a Cleveland Arts Prize winner known for his neo-expressionist and mysterious abstract figures. The retired Cleveland State professor's work has appeared in more than 40 juried shows and 10 one-man shows since 1975. "Nevadomi's show is going to serve as the introduction to some more exhibitions we're going to do with him," says Wolf.