You know that autumn is just around the corner when clambake season arrives in Northeast Ohio.
Plenty of local restaurants, clubs and charity organizations host their own versions of this dining event — typically, served with plenty of steamed clams and scoops of clam chowder.
We gathered a sampling of the restaurant scene's offerings this year.
Alley Cat Oyster Bar
For its annual clambake, Alley Cat Oyster Bar will look away from oysters and hone in on clams. This year, the event will include a beer garden on the patio, courtesy of Collision Bend. Plus, patio games like cornhole, giant Jenga and beer pong. Besides the patio fun, the meal will include steamed middleneck clams, clam chowder, salad, Old Bay chicken, baked sweet potato, corn on the cob and bread. Customers can also add on salmon, steak, crab legs or lobster. $50+. 1056 Old River Road, Cleveland, 11:30 a.m.-5 p.m., Sept. 16, alleycatoysterbar.com
(Photo courtesy Lost Trail Winery)
Lost Trail Winery
Manna Food Truck will bring a clambake to Canton's Lost Trail Winery. A dinner ticket will cash in for a dozen clams, roasted potatoes, clam chowder, corn, a quarter chicken and broth. Of course, sip some Lost Trail wine with dinner for an extra cost. $40+. 5228 State St. NE, Canton, 5-8 p.m., Sept. 16, facebook.com/losttrailwinery
Gunselman's Tavern
Head to Fairview Park for a great burger, or for one of a few different clambake events, at Gunselman's Tavern. The restaurant will serve up long neck clams, clam chowder and vegetable accompaniments — with seatings both inside the restaurant or on its patio.
$35+. 21490 Lorain Road, Fairview Park, 1 p.m. on Sept. 17, Oct. 14 and Nov. 4, gunselmans.com
Strongsville Brew Garden
For two days, Brew Garden will have a clambake special on its menu. For $30, customers can get a dozen clams, a half chicken, roasted potatoes and sweet corn. 16555 Southpark Center, Strongsville, Sept. 22-23, brewgarden.com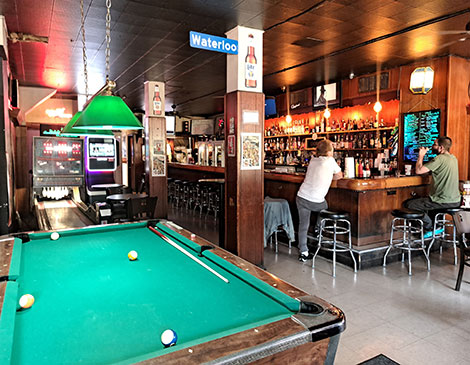 (Photo courtesy SSW Boardwalk)
SSW Boardwalk
Get to the Waterloo Arts District for the SSW Boardwalk's second annual clambake — and also enjoy the Browns vs. Titans game on TV. Tickets will get diners a dozen clams, sweet potato, corn, chicken, Slovenian sausage and either New England clam chowder or Manhattan chowder. $50. 16011 Waterloo Road, Cleveland, 1 p.m., Sept. 24, facebook.com/thesswboardwalk
Hoppin' Frog
One clam-filled day with three separate dinner seatings will serve up a heaping serving of clams, clam chowder, a half-chicken, corn and sweet potatoes at Hoppin' Frog. This year marks the Akron brewery's fifth annual clambake event. Tickets $60+. 1680 E. Waterloo Road, Akron. 1 p.m., 4 p.m. and 6:30 p.m., Sept. 30, hoppinfrog.com
(Photo courtesy Flight Cleveland)
Flight Cleveland
Flight Cleveland will welcome Patron Saint chef David Kocab for its fifth clambake, this time serving up a coastal Italy-inspired menu. Meals will include a dozen clams served with herbed tomato broth, chicken and sundried tomato meatballs, white bean salad, corn salad, focaccia and added enhancements for those who want some extra flavors. $55. 5712 Detroit Ave., Cleveland, 2-8 p.m., Sept. 30, flightcleveland.com
RELATED: Marie Artale Opens Patron Saint in The Vitrolite
Debonne Vineyards
Pair your clambake with a glass of vino from Debonne Vineyards. The Madison vineyard will host a one-day clambake, offering strip steak, chicken and clams — paired with all the fixings (corn on the cob, clam chowder and cole slaw). Carry-out is available. $44.95-$54.95. 7840 Doty Road, Madison, 5 p.m., Oct. 6, debonne.com
Solid Gold Lounge
Stop by Solid Gold Lounge for dinner and a show on Oct. 8: The ElectriCats will perform 2-5 p.m., during the restaurant's seventh annual clambake and steak roast. 15005 Snow Road, Brook Park, 2-6 p.m., Oct. 8, facebook.com/15005snowroadBrookParkohio
(Photo courtesy the Rustic Grill)
Rustic Grill at StoneWater
Head to the Rustic Grill at StoneWater for its annual clambake, held twice this October. Enjoy a dozen middle neck clams, a cup of clam chowder, smashed Old Bay potatoes, sweet corn, and half a roasted chicken or a strip steak — plus, a dessert of apple cinnamon spice cake. $49-$59+, 1 Club Dr., Highland Heights, 5-9 p.m., Oct. 13 and Oct. 18, stonewatergolf.com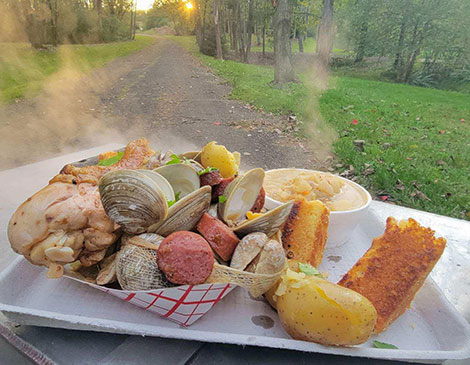 (Photo courtesy Lakewood Truck Park)
Lakewood Truck Park
Stop at Lakewood Truck Park for outdoorsy dining vibes, and a clambake on Oct. 14, courtesy of Smoke This food truck. Get a dozen clams, smoked chicken, red skin potatoes, clam chowder, cornbread, corn, broth and a beer with a ticket. $50. 16900 Detroit Ave., Lakewood, Oct. 14, 4 p.m., lakewoodtruckpark.com
Margaritaville
Join the Parrotheads at Margaritaville in the Flats for a one-day-only clambake event. Enjoy a dozen clams and a half-chicken ($42) or a dozen clams and a 10-ounce top sirloin at the event. (Both meals, available through pre-sale only, come with sweet potato, clam chowder and corn on the cob.) 1150 Front Ave., Cleveland, 4 p.m., Oct. 21, margaritavillecleveland.com
Main photo courtesy of Flickr user Joyosity.
For more updates about Cleveland, sign up for our Cleveland Magazine Daily newsletter, delivered to your inbox six times a week.