STARTERS | BEVERAGES | BREAKFAST | SMALL PLATES | BURGERS | PIZZA | ENTREES | DESSERTS
*All prices subject to change.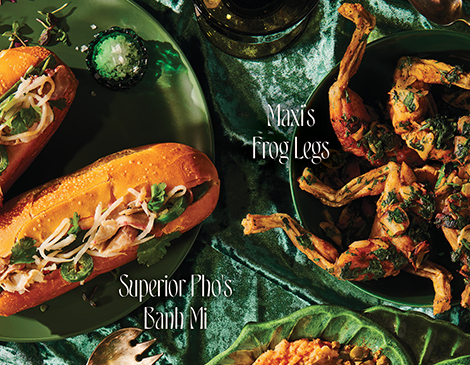 Notso Fries · Yours Truly · $7.10-$10.30
Since 1981, Yours Truly has been a cozy respite for simple breakfasts and lunches — with one exception. Silver dollar-sized cottage fries absolutely smothered in gooey melted cheese and smoked bacon, Notso Fries' fame has nearly eclipsed that of its humble home. For many, that oblong plate of decadence is a longtime family tradition — though we get it if you keep it all for yourself. "They're a uniquely shareable dish to satisfy your comfort food craving," says Yours Truly spokesperson Coleen Piteo. If the craving strikes when you can't get into one of Yours Truly's nine locations for a sit-down meal, you can enjoy your Notso Fries from the comfort of home, thanks to the joys of modern technology. In fact, a ranking by UberEats recently revealed Notso Fries to be the most popular delivery dish in Northeast Ohio. Notso common indeed! Multiple locations, ytr.com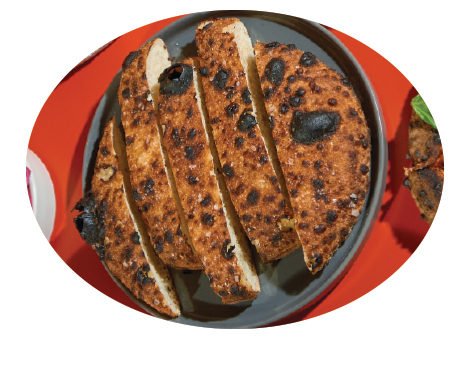 Wonder Bread · Cent's Pizza + Goods · $6
There are those who skip the crust and those who wouldn't dare. This puffy, domed wood-fired bread dish, which is elevated by house-cured butter ($2) or creamy Stracciatella ($10), is designed for the latter. 5010 Lorain Ave., Cleveland, centspizza.com
Sourdough · Leavened · $5.25 for plain, $6.50 for flavors
Scratch-made on a daily basis, this Cleveland bakery's sourdough has a nice, crunchy dark crust, with a chewy, soft interior. 1633 Auburn Ave., Suite 1, Cleveland, leavenedcle.com

Garlic Naan · India Garden · $3.95
Flavorful, pillowy and perfectly paired with any entree, the flatbread appetizer is made fresh, per order, in a tandoor oven. 18405 Detroit Ave., Lakewood, indiagardencleveland.com
Biscuits · The Roaming Biscuit · $4.50
Since starting her biscuit-based pop-up in 2019, head biscuit baker Shawnda Moye has evolved her menu offerings and her business name (originally CLE Biscuitheads). But one truth remains: These biscuits are the bomb. "They're biscuits that would make your grandma proud," says Moye. Honestly, Grandma will understand if you prefer Moye's biscuits to hers, given how fresh and freaking good these are. There's the Humble ($4.50), classic and buttery, and the Cinny ($4.50), lightly iced and cozy. If you go the sandwich route, options include thick bacon, smoked ham and juicy brisket. Moye and her crew have established a home base at The Bake Shop & Café in Tyler Village. True to her roots, though, Moye still hosts pop-ups around town, ensuring that the best biscuit of your life is never far from reach. 3615 Superior Ave., theroamingbiscuit.com

White Bean Puree · Salt · $13
This small plate topped with a salty olive kick, one constant on chef Jill Vedaa's seasonally shifting menu, warms the soul. 17625 Detroit Ave., Lakewood, saltcleveland.com
Stromboli · Presti's Bakery · $4
Cheesy, packed with pepperoni, sausage or vegetables and dunked into a cup of marinara – a must – this savory turnover makes for a filling lunch. 12101 Mayfield Road, Cleveland, prestisbakery.com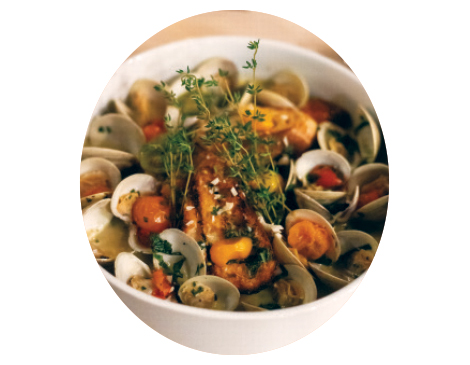 Mare · Acqua di Luca · $90
Mahogany clams, tender mussels, fresh calamari, shrimp, scallops, Alaskan king crab and whole lobster swim in a white wine broth and offers a taste of the sea's best offerings. 500 W. St. Clair Ave., Cleveland, acquadiluca.com
Frog Legs · Maxi's Bistro · $16
This simple, traditional dish sauteed in butter, garlic and parsley tastes just like a chicken wing. 12113 Mayfield Road, Cleveland, maxisbistro.com
Soup Dumplings · LJ Shanghai · $7
The AsiaTown eatery's most popular dish is its authentic soup dumpling: a nugget of pork enveloped in tangy broth, best eaten as fresh as possible. 3142 Superior Ave., Cleveland, ljshanghaicle.com
CLASSIC & MODERN
Matzo Ball Soup · Corky and Lenny's · $5.95-$7.95
This straightforward chicken broth-bathed matzo meatball has warmed our bones since 1956. 27091 Chagrin Blvd., Woodmere, corkyandlennys.com
Matzo Ball Soup · Larder Delicatessen and Bakery's · $6.50
The Hingetown deli's new-school take includes a deep purple veggie-based broth with house-made matzo ball and dill. 1455 W. 29th St., Cleveland, larderdb.com
SNACKS & INGREDIENTS
Citrus Garlic Blend · Adun Spice Co. $15
In the Yoruba language, "adun" means "flavor" — and you'd better believe that Ramat Wiley, owner and spice-blender-in-chief at Adun Spice Co., knows a thing or two about flavor. Her popular Citrus Garlic spice is one of many that she hand-mixes and sells in her Van Aken shop. Part of its splendor is in its simplicity: toothsome roasted garlic and onion meet the acidity of lemon peel and lemon juice powder, rounded out with a little bit of heat from black pepper and red chili flakes. "Citrus Garlic is the perfect spice blend for just about everything," Wiley says. "It's bright, balanced, delicious and flavorful, and it releases the full potential of any dish you add it to." So what's it for? Well, anything. Use it to season salmon or give pizazz to potatoes, sprinkle it over salad or garnish your garden-fresh veggies. Adun Spice Co. is not likely to lead you astray. 3441 Tuttle Road, #103, Shaker Heights, adunspiceco.com
Marcelled Potato Chips · Ballreich · $1.19+
ballreich.com
Dichotomy Popcorn · Campbell's Sweets · $9+
campbellssweets.com
Garlic Dill · Cleveland Pickle · $6.99
thepickleco.com

---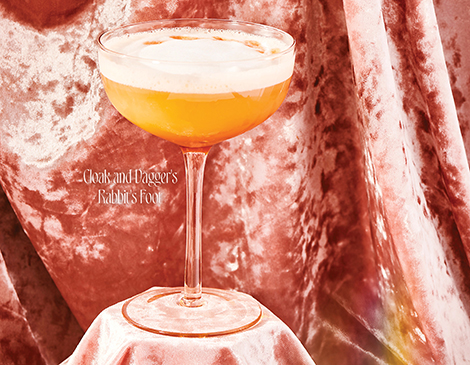 Rabbit's Foot · Cloak and Dagger · $15
At Cloak and Dagger, the only constant is change — and the Rabbit's Foot. Though the swanky Tremont cocktail lounge releases new menus regularly, this particular drink has been a staple since the start. "We think the flavors are very accessible, but the combination is so balanced in all areas," says owner Cory Hajde. It's as pretty as it is strong, bright pink and frothy with a base of Espolòn Tequila Blanco and aromatic bitters. Pineapple and lemon lend a citrusy brightness, while ginger agave and cayenne offer a bit of a kick. And like everything else on the menu, it's also vegan, with aquafaba serving as a stand-in for egg whites. The Rabbit's Foot originated with Book One: The Tales of Life and Death , and it's safe to say that this is one drink with a deservedly long life. 2399 West 11th St., Cleveland, cloakanddaggercle.com
Cocktail Wheel Experience · The Spotted Owl · $17
In your feels? Find a cocktail fit for any mood or vibe, expertly crafted with fine flavors at this Tremont bar. 710 Jefferson Ave., Cleveland, spottedowlbar.com
Spiked Slushies · FunHouse · $5-$7
Fruity icy beverages, spiked with your favorite booze. It's your childhood, reimagined, at this quirky bar. 1539 W. 117th St., Cleveland, funhousecleveland.com
Bloody Mary · The South Side · $7
Crafted with spicy house-made bloody mary mix, these brunch-favorite beverages are available with various toppings, including cucumber, bacon and grilled cheese. Or, order the "Mother Mary" ($25) for a 27-ounce drink topped with every garnish imaginable, including pierogi, jalapeno poppers, mozzarella sticks and a hard boiled egg. 2207 W. 11th St., Cleveland, southsidecleveland.com
Albino Stout · The Butcher and the Brewer · $7.50
We're OK with being tricked when it's by this blonde, creamy and sweet white stout that made us reconsider the typically scary and dark beer genre. 2043 E. Fourth St., Cleveland, butcherandthebrewer.com
Hellhound · LBM · $13
This fruity gin cocktail has depth and texture, using aquafaba to thicken a guava and pineapple syrup mix. 12301 Madison Ave., Lakewood, lbmbar.com
Zombie Cocktail · Porco Lounge & Tiki Room · $18
We beg to differ with Porco's menu description of its zombie cocktail, calling it "not fit for the living." No: it's just fit for an exceptional night of drinking at this bar. 2527 W. 25th St., Cleveland, porcolounge.com
CLASSIC & MODERN
Barrel-Aged Christmas Ale · Great Lakes Brewing Co. · $24.99
The recipe of ginger, cinnamon and honey ignited a holiday beer phenomenon three decades ago. 2516 Market Ave., Cleveland, greatlakesbrewing.com
MiraCLE · Avon Brewing Co. · $24.99
Mathias Huck brewed this winter warmer with caramel notes and malty hops in 2017. 37040 Detroit Road, Avon, avonbrewingcompany.com
THREE WINES TO TRY

Crimson · Hough Winery · $20
Based out of Cleveland's Hough neighborhood, this winery crafts eight varieties, including Crimson — a red infused with blackberry and raspberry. 1650 E. 66th St., Cleveland, chateauhough.com
Murray Hill Pinot Grigio · CLE Urban Winery · $25
This light white wine carries citrusy notes, reflecting Little Italy's history with a label that bears Murray Hill's brick street. It's won multiple Ohio Wine Competition medals, including a gold medal in 2019. 2180 Lee Road, Cleveland Heights, cleurbanwinery.com
Vidal Blanc Ice Wine · Debonne Vineyard · $40
Picked after grapes freeze on the vine at this Madison vineyard, expect peak sweetness with hints of honey and apricot in this regional specialty. 7840 Doty Road, Madison, debonne.com
NON-ALCOHOLIC
Strawberry Milk · Hartzler Family Dairy · $6.49
Nothing brings us back to childhood more than Hartzler Family Dairy's beloved strawberry milk. One sip of the rich, farm-fresh strawberry sweetness brings us back to the childhood cafeteria. Though it's been in production since the 1950s, in recent years it's catapulted to cult-favorite status, as social media has spread the word about this creamy concoction. "We're committed to sourcing our milk from local farms, which not only helps to support the local community but also ensures that the milk is fresh and full of essential nutrients," says third-generation owner Jace Hartzler. All of Hartzler's milk undergoes a low-temperature vat pasteurization process, which preserves the milk's natural flavors and its natural nutrients for a fresh, authentic taste. It's also bottled in glass, which isn't just a marketing ploy to tap into old-timey nostalgia. It's a more environmentally friendly option that ensures no chemicals can leach through and contaminate the product inside, as with plastic. Enjoy it with breakfast, lunch or dinner — or simply pour a glass for dessert. 5454 Cleveland Road, Wooster, hartzlerdairy.com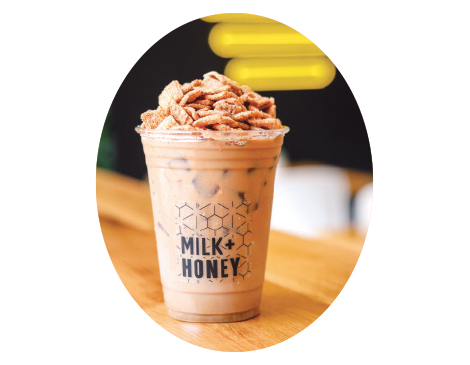 Cinnamon Toast Latte · Milk + Honey · $5
Munch on a bit of cereal with this uniquely sweet latte, featuring vanilla syrup and two shots of espresso. 1100 Superior Ave., Ste. 110, Cleveland, milkandhoneycle.com
Mango Lassi · Indian Flame · $6.49
This creamy fruit drink is an essential beverage when ordering some of this Indian restaurant's spicier entrees. 11607 Euclid Ave., Cleveland, 216-791-5555
Coffee · Rising Star Coffee Roasters · $3
Lattes can be great, but so is plain black coffee, especially when brewed with this brand's expertly roasted beans. Various locations, risingstarcoffee.com
---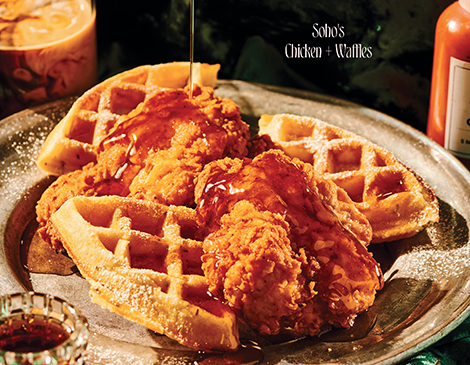 Chicken + Waffles · Soho Chicken + Whiskey · $17-$19.50
Drizzled with Ohio maple syrup, these crispy bites of chicken are delectable atop waffles that give a hint of rosemary. Vegetarian? Try the tofu option. 1889 W. 25th St., Cleveland, sohocleveland.com
Egg Sandwiches · Martha on the Fly · $8-$14
The square egg patty sandwich takes the best parts of your breakfast quick fix and elevates them with house-made pork sausage, baloney or vegan sausage and sunshine sauce. 2173 Professor Ave., Cleveland, marthaonthefly.com
Bagel with Schmear · Cleveland Bagel Co. · $4
Dan Herbst and Geoff Hardman's boiled and hand-rolled Cleveland-style bagels are crispy on the outside, fluffy on the inside and topped with specialty cream cheeses. 4201 Detroit Ave.; 7501 Carnegie Ave., Cleveland, clebagelco.com
THREE CLASSIC BREAKFASTS TO TRY

Grumpy's Cafe
It's worth the wait at this Tremont standby. Try anything off the menu for a hearty breakfast or brunch, especially the huevos rancheros ($14), cinnamon apple walnut French toast ($13) or fluffy Belgian waffles ($10). 2621 W. 14th St., Cleveland, grumpyscafe.com
The Inn on Coventry
Straightforward breakfast platters, served at approachable price points: The Inn on Coventry has been a Coventry breakfast staple for good reason for more than 40 years. 2785 Euclid Heights Blvd., Cleveland, 216-371-1811
Luck's Cafe
Want to go to Lucky's for brunch on the weekend? Be ready to wait in line. This Tremont staple is well-loved for its inventive takes on candied bacon ($6.50), skillets ($16.95) and breakfast burritos ($16.75). 777 Starkweather Ave., Cleveland, luckyscafe.com
---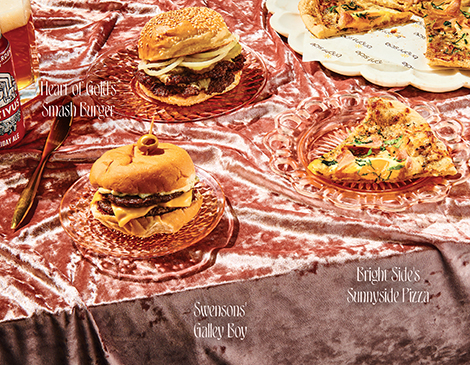 BURGERS
Galley Boy · Swensons Drive-In · $4.50
This olive-topped burger slathered in barbecue and tartar sauce is a local delicacy. Various locations, swensonsdriveins.com
Black & Bleu · Gunselman's Tavern · $13
Cajun dry rub, spicy bleu cheese butter, onion straws and steak sauce turn up the heat. 21490 Lorain Road, Fairview Park, gunselmans.com
Romanburger · Mr. Hero · $7
Atop multiple patties, this cross between a burger and a sub sandwich is stacked with salami, Swiss cheese, Italian meats and the chain's special sauce. Various locations, mrhero.com
CLASSIC & MODERN
Big Guy · Stevenson's · $8.95-$11.95
Since the 1920s, this 200th Street staple has planted its flag as one of the city's best, centered around American cheese and special sauce. 800 E. 200th St., Euclid, stevensonsbarandburgers.com
Smash Burger · Heart of Gold · $15
On a Good Co. bun, two beef patties join maggi mayo, pickles, onions and American cheese. 4133 Lorain Ave., Cleveland, heartofgoldcle.com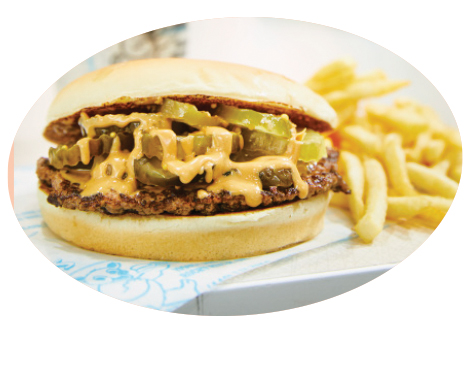 Peanut Butter Bear · Bearden's · $8.34
How often can you say you're eating something that's been on a menu for three quarters of a decade? This burger is a true classic, one that's been a staple since the old-school Rocky River restaurant opened in 1948. It's still made just as it was then — a fresh (never frozen) 4-ounce steak burger layered with creamy, melted peanut butter and sweet pickles, sandwiched between a toasted bun. "It's been around for 75 years, and it doesn't need to be messed with," says proud owner Jim Griffiths. "It's something that's been popular and enjoyed for decades." And Bearden's itself is just as popular and enjoyable as it's ever been, too. It's the rare but real all-American diner, with its sparkling black-and-white tiling and bright teal, vinyl booths radiating wholesome nostalgia. Eating this burger, in this time capsule of a spot, is just about the closest you can get to time-traveling to the 1950s. 19985 Lake Road, Rocky River, beardens.com
Pizza
Sunnyside Pizza · Bright Side · $19
When Sam McNulty's Bar Cento/Bier Markt rebranded, fans of the runny eggs and pancetta pizza rejoiced when they saw it on the new menu. 1948 W. 25th St., brightsidecle.com
Margherita DOP · Vero · $22
Neapolitan pies are carefully crafted by pizzamaker Marc-Aurele Buholzer at Cleveland Heights' Vero. It's first-come, first-served at this spot. 12421 Cedar Road, Cleveland Heights, verocleveland.com
House Special Pizza · Angelo's Pizza · $19.95-$29.55
One bite of the house special gives a taste of homemade meatballs and sausage, paired with mushrooms, onions and provolone. 13715 Madison Ave., Lakewood, angeloslakewood.com
Speck Pie · Il Rione · $19-$24
Pistachio and hot honey add a splash of flavor to this white pizza topped with speck and lemony ricotta, served at a beloved Gordon Square pizzeria. 1303 W. 65th St., Cleveland, ilrionepizzeria.com
SAUCES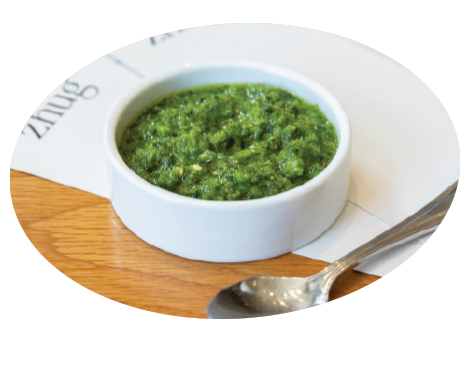 Zhug · Zhug · (Free with entrees)
Just a little bit of this zesty green hot sauce gives an explosion of flavor. It's so central to Zhug's menu, the restaurant is named after it. 12413 Cedar Road, Cleveland Heights, zhugcle.com
Hot Sauce · Killik Hot Sauce Co. · $10
These unique, zippy hot sauces have skyrocketed in popularity. They're created through the process of fermentation, making them spicy without being too salty. Available at various locations, killikhsc.com
Signature Spice Rubs · Bronco's Western BBQ · $10
Available in-store, these spice rubs are packed with flavor and showcase exactly how Bronco's co-owner Gary Carrino has consistently won rib cook-offs around the country. 3765 Ridge Road, Cleveland, broncoswesternbbq.com

Hot Sauce · Aladdin's Eatery · $0.75-$6.95
You can order it on the side, but we recommend getting a container of this iconic hot sauce to take home. Citrus and a perfect splash of spice pack a punch to any of the restaurant's Lebanese-American fare. Various locations, aladdins.com

Ballpark Mustard · Bertman's Original · $5.79
Play ball! A true, longtime staple of Cleveland baseball, Bertman's is a spicy must for any Guardians game. Available in most local grocery stores, bertmanballparkmustard.com
Cleveland Caviar · Old Brooklyn Cheese Co. · $7.50
Mustards are on tap at this award-winning cheese shop, originally known for its cave-aged goudas. Tangy, spicy, zesty — the Cleveland Caviar is like a perfect mix of ketchup and mustard, enhanced by applewood smoked mustard seeds. 4464 Broadview Road, Cleveland, oldbrooklyncheesecompany.com
Fermented Garlic Italian Dressing · Cleveland Kitchen · $4.99
The dressing, at just 40 calories per serving, is at home on about anything, from chicken salad to chicken wings. Like all of Cleveland Kitchen's dressings, its base is fermented veggies (namely cabbage), which lends a rich, umami flavor and all the benefits of prebiotics. 7501 Carnegie Ave., Cleveland, clevelandkitchen.com
---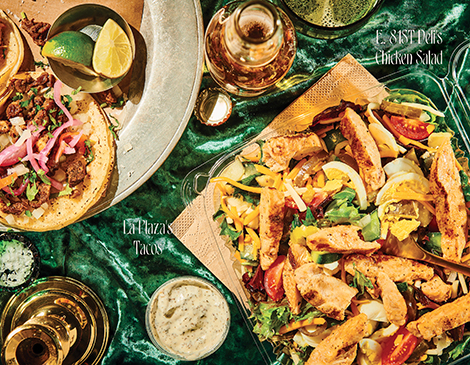 Chicken Salad · E. 81st St. Deli · $10-$15
Thank TikTok for this salad's meteoric rise in popularity. This layered creation has impressed Clevelanders — and even visitors from outside the state — for the past year. 8033 Superior Ave., Cleveland, 216-860-0559
Fromage A La Carte · Le Petit Triangle Cafe · $6-$8
Pick from a prime collection of cheeses, paired with nuts, fruits, crackers and bread, for the ultimate charcuterie board. 1881 Fulton Road, Cleveland, lepetittriangle.com
Chicken Wings · Boss ChickNBeer · $12
Super-crispy, these chicken wings can be smothered in "boss sauces" made in-house. Various locations, bosschicknbeer.com

Shawarma Salad · Sittoo's · $9.95
A crisp Lebanese salad topped with seasoned beef or chicken is packed with citrusy, fresh flavor. Various locations, mysittoos.com

Dim Sum Selections · Li Wah · $4.95+ Per Piece
You don't need to endure a long, long plane ride to enjoy the culinary wonders of Southern China. Since 1991, Li Wah has set the standard for Cantonese cooking in Cleveland's Asiatown. The restaurant's dim sum draws diners from as far as Columbus and Pittsburgh. If you're new to dim sum, think of it like Chinese brunch. "In China and Hong Kong, they don't serve cereal, bacon and eggs for brunch," says owner Ed Hom. "They serve dumplings that are steamed, baked and fried, and you pick directly off of the carts as they wheel by your table." He recommends that newbies try ha kau (shrimp dumplings) ($5.50), sui mei (shrimp and pork dumplings) ($5.50) and sticky rice, along with anything else that strikes your fancy. And more adventurous diners will love delicacies like braised chicken feet, spicy beef tripe and jellyfish served cold. 2999 Payne Ave. #102, Cleveland, liwahrestaurant.com
Banh Mi · Superior Pho · $6.95
The classic sandwich is luxurious yet comforting with pate, mayo and roast pork and topped with jalapenos, cucumbers and pickled veggies. 3030 Superior Ave., Cleveland, superiorpho.com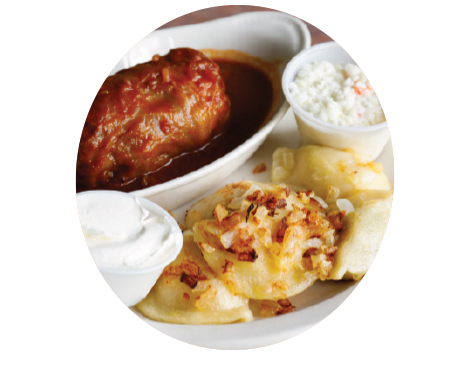 Pierogi · Little Polish Diner · $10-$13 for a dozen
You know these buttery pierogi, served on platters with sauerkraut and kielbasa, are the real deal. 5772 Ridge Road, Parma, 440-842-8212
Pierogi · Jukebox · 3 for $9
Hingetown's hipness collides with the classic Polish dish, offering dynamic, vegan-friendly flavors like buffalo chickpea and sweet potato black bean. 1404 W. 29th St., Cleveland, jukeboxcle.com
Al Pastor Tacos · La Plaza · $4
Here, find Mexican-style tacos topped with your choice of cilantro, salsa and more at the toppings bar. Simple, but so delicious. Various locations, plazataqueria.com
Build-Your-own Tacos · Barrio Tacos · $4+
A big advantage of a build-your-own taco is slapping some queso or guacamole into a double-walled shell. Various locations, barrio-tacos.com

Bratwurst Sandwich · Frank's Bratwurst · $3.50-$4
For more than 50 years, we haven't visited the West Side Market without choosing between a soft or hard roll, brown or yellow mustard, sauerkraut or plain. G-3, 1979 W. 25th St., Cleveland, 216-344-2180
Bravocado Sandwich · Beet Jar · $10
Everyone knows that a good sandwich need not include meat. But Beet Jar, Hingetown's little smoothie shop, continues to prove just how mind-blowing the vegan sandwich experience can be. 1432 W. 29th St., Cleveland, beetjar.com
Chicken Tenders · The Crispy Chick · $10.50-$14.50
Senayt Fekadu, who opened The Crispy Chick in late 2019, has intentionally kept her menu small so that she can focus on doing one thing really, really well — and that thing, of course, is chicken. Originally from Eritrea, Fekadu herself prefers her food on the hot side, so it took her 17 tries before she landed on a recipe that was right for the masses. Spiced, but not spicy, it's prepped with garlic and black pepper then soaked in buttermilk overnight, and it's always made fresh to order. "I want The Crispy Chick to be like the Chik-Fil-A of our inner-city neighborhood," she says, "high-quality not only in food but in customer service." 5618 Woodland Ave., Cleveland, thecrispychick.com
THREE SUSHI SPOTS TO TRY

Pacific East
Freshly made sushi, sashimi and other Japanese delicacies don't get much better than this Coventry restaurant. 1763 Coventry Road, Cleveland Heights, pacificeastcoventry88.com

Ginko
Specializing in nigiri, chef Dante Boccuzzi's basement sushi bar delivers a transformative experience. 2247 Professor Ave., Cleveland, danteboccuzzi.com

Ninja Sushi
A top-notch sushi and hibachi joint, offering a wide range of rolls. 7873 Munson Road, Mentor-On-The-Lake, ninjainmentor.com
CLASSIC & MODERN
Johnny's Hot Dog · $2.50
A vestige of the old-school West Side Market, this is one of Cleveland's oldest hot dog stands. 1979 W. 25th St., Cleveland, 216-664-3387
Happy Dog · $7.50-$8.50
Top your dog with dozens of toppings including, yes, Froot Loops, at this Detroit-Shoreway venue. 5801 Detroit Ave., Cleveland, happydogcleveland.com
---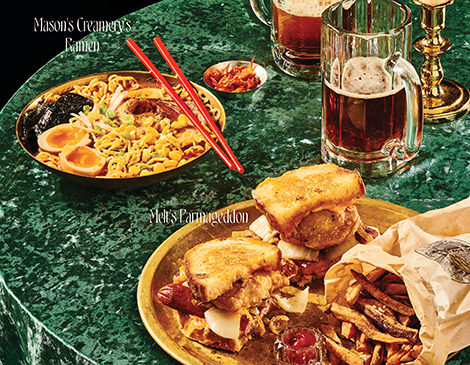 Parmageddon · Melt Bar and Grilled · $16
When chef Matt Fish first conceived of Melt's menu back in 2006, he hoped to create a sandwich that would pay homage to Northeast Ohio itself. And what better centerpiece than the humble but hearty pierogi? "I wanted to create a sandwich that looked, tasted and smelled like Cleveland, a sandwich that represented Cleveland and all its beauty, flavors and diversity," Fish says. Enter the Parmageddon, a stout sammy stuffed with four potato and onion pierogi and everybody's favorite accoutrement, sauteed onions. But instead of going the traditional sauerkraut route, Fish opted to finish the Parmageddon with a slightly more accessible adaptation; his special vodka kraut is made with brown sugar, apple cider vinegar and a custom blend of spices like caraway seeds, chili powder and ground coriander. Oh, and don't forget the sharp cheddar to top it all off! The result is the ultimate Cleveland comfort food, like the city itself in sandwich form. This seasonal special isn't always on the menu, but if you can snag it, you're in for a feast — and then probably a nap. Multiple locations, meltbarandgrilled.com
Seasonal Ramen · Mason's Creamery · $14-$16
Hey, Guy Fieri, we loved Mason's Creamery first. The big Guy made his visit to the Ohio City ice-cream-and-noodles stand last winter, fawning over the seasonal ramen — something Clevelanders have been doing since 2018, when owners Jesse Mason and Helen Qin first decided to make the summer-to-winter switch. Now, it's a highly anticipated annual affair. "Our ramen is unique because we make it all from scratch, from the broth to the marinated soy egg and everything in between," Mason says. "It's based on the many ramen shops we used to eat at when we lived in Los Angeles and many hours of recipe testing." All that handmade love takes time and effort, so everything on the small, curated menu is made in small batches. Choose from pork, chicken or veggie options, each made with spring onions, pickled radish, corn and dried seaweed — not to mention that soft, jammy egg on top. And whichever you choose, you can customize it to your liking, including going gluten-free or asking for extra spice. 4401 Bridge Ave., Cleveland, masonscreamery.com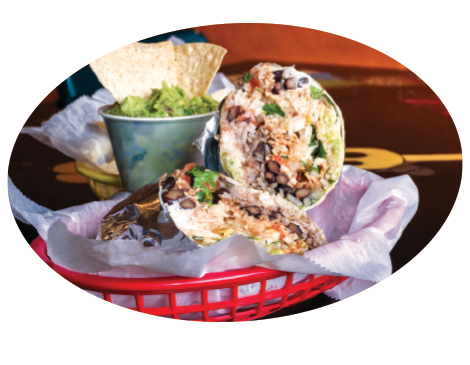 Burritos · Ohio City Burrito · $9-10
Who needs Chipotle when we have Ohio City Burrito? Take your pick from fillings like chicken tinga, veggies, shrimp, chorizo and carnitas, then pile on toppings from there. Various locations, ohiocityburrito.com

Seafood Sausage · Edwin's Leadership and Restaurant Institute · $16
It doesn't get more decadently French than this rich blend of lobster, white fish, scallops, shrimp and pine nuts swimming in a pool of shallot beurre blanc sauce, perfect for bread dipping. 13101 Shaker Square, Cleveland, edwinsrestaurant.org

Chicken Piccata · Guarino's Restaurant · $20-$28
Cleveland's oldest restaurant has served Italian dishes like its standout lemony chicken piccata, loaded with capers and roasted red peppers, for more than a century. 12309 Mayfield Road, Cleveland, guarinoscleveland.com
Tomahawk Steak · Marble Room · $135
Move over, Fred Flintstone. Bone-in steak has come a long way since the Stone Ages, and Marble Room is serving up a Tomahawk that will have you feeling utterly primal. "It looks like a caveman piece of meat," says executive chef Brandon Veres. "It's really a spectacle." Sourced from Allen Brothers, a 130-year-old meat purveyor out of Chicago, this high-class cut boasts more than 2.5 pounds of USDA prime ribeye beef on a long, French-trimmed bone. Also known as a cowboy steak, the Tomahawk is cooked to be eaten as-is and truly needs no enhancement — but if you're feeling extra-indulgent, it pairs well with just about any of Marble Room's scratch-made sauces and butters. Veres recommends the peppercorn demi-glace, cooked in 100-pound batches for 14 to 16 hours. He's seen some diners eat a whole Tomahawk themselves, while others order it as a swanky appetizer to split among their party. Got a pup waiting at home? Ask for a literal doggie bag so you can take that giant rib bone home as a treat for your favorite good puppy.
623 Euclid Ave., Cleveland, marbleroomcle.com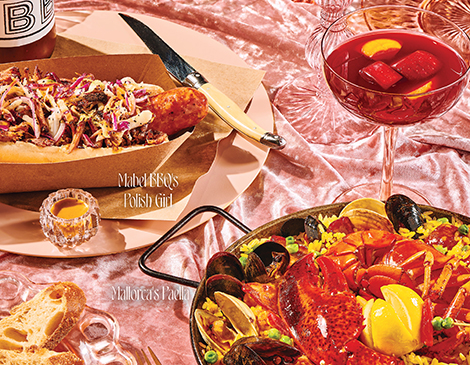 Polish Girl · Mabel's BBQ · $17
Michael Symon's take on our most famous dish is kielbasa with vinegar-based barbecue sauce, coleslaw and pulled pork. 2050 E. Fourth Street, Cleveland, mabelsbbq.com
Paella · Mallorca · $28 for lunch, $48 for dinner
Pour some sangria and gawk at this hearty and gorgeous spread of yellow saffron rice, bright-red lobster, shrimps, clams, mussels, chicken and chorizo at Downtown's 26-year-old Spanish restaurant. 1390 W. Ninth St., mallorcacle.com
Bibimbap · Seoul Garden · $15
A rice base is topped with ground beef, a variety of veggies, kimchi and, most important, a fried egg at this small-but-mighty Korean restaurant. 5270 Pearl Road, Parma, 216-661-5990

Gyro · Greek Village Grille · $8.75
Greek Village Grille makes gyros the classic way, shaving off thin slices of lamb from rotating columns to land in a pita slathered in tzatziki sauce with onion and tomato. 14019 Madison Ave., Lakewood, greekvillagegrille.com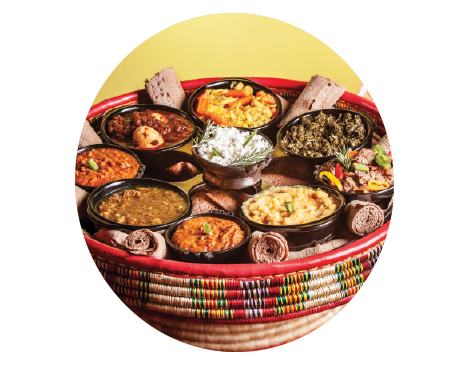 Veggie Combo · Zoma · $18.99
Ethiopian food is especially vegetarian-friendly, and that's certainly true at Zoma. Pinch a bit of bubbly injera bread around spiced lentils, kale, sauteed cabbage or green beans and carrots for a warm, filling meal. 2240 Lee Road, Cleveland, zomacleveland.com

THREE EASTERN EUROPEAN CLASSICS TO TRY
Weiner Schnitzel · Das Schnitzel Haus · $18-$22
This Parma standby showcases crispy, seasoned veal and pork. 5728 Pearl Road, Parma, dshrestaurant.com
Fish Fry · Prosperity Social Club · $18
Hand-dipped in beer batter, this crispy haddock is best served paired with a brew at this Tremont pub. 1109 Starkweather Ave., Cleveland, prosperitysocialclub.com
Cevapcici · Dubrovnik Garden · $15.75
A traditional Croatian sausage blend of beef, pork and veal, served with potatoes. 34900 Lakeshore Blvd., Eastlake,
dubrovnikgardens.croatianlodge.com
THREE CORNED BEEFS TO TRY
Corned Beef · Slyman's Restaurant · $17.49
Since 1964, Slyman's has been slinging up massive corned beef sandwiches. Order it on rye, and top it with mustard or horseradish for a little zing. 6901 Rockside Road, Independence, slymanstavern.com
Reuben Classic · Joe's Deli · $16.25
This family-run company has been serving Rocky River on St. Patrick's Day since 1994. 19215 Hilliard Blvd., Rocky River, myjoesdeli.com
Reuben Wrap · Express Deli · $12.50
Pro-tip: skip the Downtown crowds on St. Paddy's Day and try this unconventional take at this convenience store, which opened in 1998. 5185 Smith Road, Brook Park, express-deli.com

---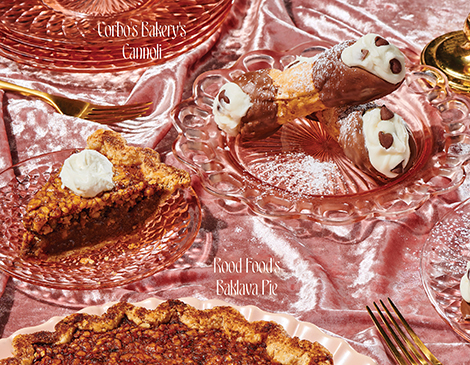 Cannoli · Corbo's Bakery $2-$4.50
Sweetened ricotta cheese fills hard dough shells, some with a chocolate dipping, at this traditional bakery. A perfect dessert for a night out in Little Italy. 12210 Mayfield Road, Cleveland, corbosbakery.net
Baklava Pie · Rood Food · $7.75-$34
Baklava spices pair with a sweet honey custard and nuts, in this popular Rood Food specialty. It's available for order by the slice in the shop, or by whole pie orders to take home. 17001 Madison Ave., Lakewood, rfpie.com
Pączki · Rudy's Strudel · $2.25+
This year, Parma's preeminent pączki place celebrates 75 years of churning out countless Eastern European goodies. And on Pączki Day (Feb. 21), owner Lidia Trempe and her team will be hard at work creating hundreds of the popular Polish pastry in no fewer than 30 flavors. "Pączki" translates to "package," and indeed, Rudy's Strudel is delivering packages of doughy goodness stuffed with just about every filling imaginable. Each batch, which starts with 100 pounds of dough, is individually shaped, fried and filled with traditional flavors like prune, poppyseed and rose petal jelly. "These are old-school family recipes that we're so honored to be able to share with the community," says Trempe, whose parents bought the bakery in 1978. Since taking over, she's made some modern additions to the flavor list, including marshmallow, pineapple and even a Hurricane-flavored filling inspired by the classic New Orleans cocktail (created in partnership with Porco Lounge and Tiki Room). If savory's more your style, indulge in options like The Clevelander, stuffed with sauerkraut and kielbasa, or The Westparker, which features corned beef and cabbage. Whichever one(s) you choose, you might just say that Rudy's is the whole package. 5580 Ridge Road, Parma, rudysstrudel.com
Bubble Tea · Koko Bakery · $5.75-$6.75
Punch a straw into this sweet beverage, filled with plenty of chewy boba and served in a ton of fruity flavors. 3710 Payne Ave., Ste. 102, Cleveland; 1767 Coventry Road, Cleveland Heights, kokobakerycleveland.com


Milkshake · Tommy's Restaurant · $5.99
We recommend the sweet, decadent black cherry flavor, but you can't go wrong. 1824 Coventry Road, Cleveland Heights, tommyscoventry.com

Macarons · Kelsey Elizabeth Sweets Boutique · $2.50-$3
Chewy and crunchy cookies; these French macarons come in sweet options like birthday cake, Neapolitan and strawberry milkshake. Various locations, kelseyelizabethcakes.com

Pretzel Crunch Bars · Malley's Chocolates · $1.65
Salty and sweet, a nostalgic pair. With a history dating back to 1935, the Northeast Ohio institution packs a salty pretzel into each creamy milk chocolate bite. Various locations, malleys.com
THREE ICE CREAM SPOTS TO TRY
Honey Hut Ice Cream
Nothing defines summer like a scoop of in-season ice cream from Honey Hut. The local shops have been making locally beloved sweet frozen treats since 1974. Various locations, gohoneyhut.com
Mitchell's Homemade
Don't skip the seasonal flavors like campfire s'mores. And don't forget the delightful bing cherry chocolate chunk and the vegan peanut butter chocolate pretzel yogurt. Various locations, mitchellshomemade.com
East Coast Custard
Take one lick of a cone, concrete or loaded-up sundae from East Coast Custard, and you'll taste the creamy difference. The custard cakes and cookies are worth a try, too. Various locations, eastcoastcustard.com
Editor's note: This story has been updated to correct the price for Adun's spice blends.
Bite into the Cleveland dining scene by signing up for our free weekly CLE Food & Drink newsletter — your guide to food and drink throughout The Land. Arriving in your inbox every week, this coverage fills you in on everything from mocktails to shareable plates — and more. Click here to subscribe.