Sure, our summer travel plans have been a little interrupted, but we're making the most of it with our favorite afternoon getaway on the patio at Battery Park's newest neighborhood bar. All Saints Public House's old English-inspired patio dining space and bar offers a socially-distant outdoor dining and drinking experience that feels otherworldly. "In England, the neighborhood pubs are the type of place where you can come out and watch a game with your kid during the day, your grandparents can come out in the evening and listen to Sinatra, and then the kids come out at night to party, and that's kind of what we're going for," says co-owner Christopher Brauser. "We have three different bars with three different vibes." Here, we talked to Brauser about a few features of the new spot.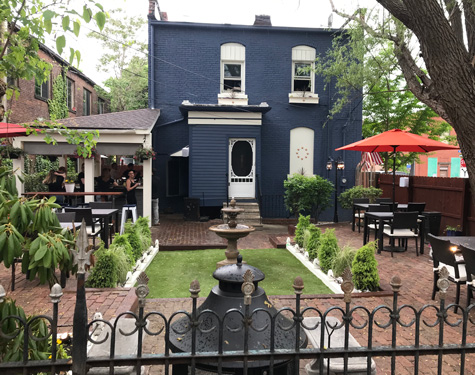 What's Old Is New Again.
Before All Saints, this West 76th Street building was previously home to Battery Park Pub, Graffiti, Reddstone and Snickers. After opening in February, owners Brauser and Steve Stopko used their quarantine time to renovate the original patio into a new urban oasis before reopening in May. They removed sections of the former brick patio and installed artificial grass, resurfaced the deck and added a fountain as a "focal point." The investment paid off as outdoor dining has gained popularity as a safer dining-out option. "Everyone in this neighborhood has known this building for decades," says Brauser. "[Snickers] was the creator of the original patio. Our goal was to bring it back to that former glory but in a new modern way."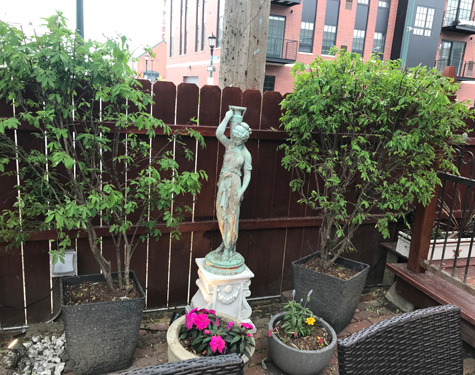 English Garden Vibes In A Cleveland Backyard.
With hanging chandeliers, exposed brick, a trickling fountain and plenty of flowers and shrubs that grace the tables and lounge areas, Brauser designed the patio to mimic an English garden in a country pub, inspired by his time spent living abroad. The patio offers 100 seats at full capacity, which is now socially distanced for 70 people, and a full bar with craft cocktails and beer. Frozen cocktails, such as the frozen bourbon berry basil sour, are currently on-special, including a few for Fourth of July, but will be produced daily starting July 12. In all, though situated in the heart of Battery Park, the fenced-off and tree-surrounded patio offers a secluded outdoor escape. "It's outdoor classy," says Brauser. "It's not supposed to be something where you feel like you have to wear heels or a sport jacket. The idea was to give people a cool, comfortable place to hang out that's not too intense."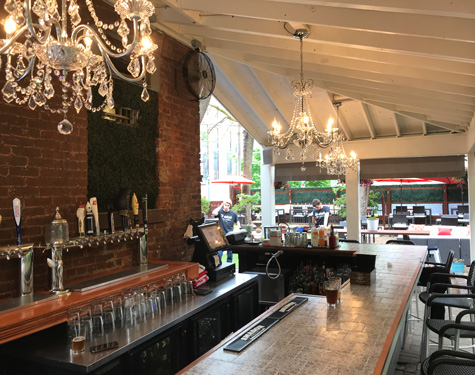 Elevated Pub Food Offers Something For Everyone.
A variety of pub food, from casual sandwiches and appetizers to upscale entrees, mean there's something for everyone. Try the lobster risotto for two ($18) or the PBR beer-battered fish and chips ($14) served with creamy slaw. "When you hit a traditional pub in the country, [it] serves everyone in the neighborhood — it's a community pub," says Brauser. "That was the same vibe I wanted. What I enjoy most is seeing a table of folks in their 70s sitting next to a table of folks in their 20s, and they're all having a good time." And don't forget your pup — the restaurant is dog friendly with treats on deck.