Liu Fang, the Chinese-born chef behind Abundance Culinary in Cleveland Heights, never expected to live in the U.S. — and even when she moved here in early 2020, she certainly didn't do so with intentions of opening a restaurant. She only started cooking dumplings and steaming buns from her Wickliffe home as a coping mechanism, an effort to ease her worried mind while her husband, Carl Setzer, a Chardon native, was being held in a government-run detention facility back in Beijing. "I tried to be awake whenever he was available to text," she says. "I would stay awake by making buns and dumplings, both to feed the children and to help with my anxiety."
(Photo by Daniel Lozada)
In February 2020, with the COVID-19 pandemic already looming large, Liu Fang had taken one of the last flights out of China with Setzer and their 10-year-old son. Setzer hadn't lived in the U.S. for nearly two decades, but the couple hoped that Liu Fang, then pregnant with their second child, would have better access to quality prenatal care in Ohio than in an already-locked-down Beijing. It was a deeply stressful time, and they left behind a vibrant life in China that included friends, family and a flourishing brewery they'd built from the ground up.
The couple thought they'd eventually move back. But in December 2020, shortly after the birth of their daughter, Setzer made a short trip back to Beijing to tend to business affairs — and tested positive for COVID-19 on the border of Shanghai. He was thrust into a nightmare scenario, detained for more than a month in a windowless medical facility and allotted just 800 calories' worth of food each day. He could only communicate with his wife via text.
Back in Wickliffe, Liu Fang was a new immigrant raising two young children alone. Endlessly worried about Setzer's health and safety, she turned to cooking to soothe her nerves.
When he finally returned to the U.S., traumatized and grateful to be reunited with his family, the couple decided to leave their old lives behind and commit fully to a future in Cleveland.
"We needed to try to make something out of what we had, and we wanted to turn to a mindset of abundance, rather than scarcity," Liu Fang says. "We started looking at how we could make Chinese foods and flavors with the abundant resources of this area."
At the time, northern Chinese cuisine didn't yet exist in Northeast Ohio — or anywhere in the U.S., really. While dishes like kung pao chicken, sweet-and-sour pork and wonton soup are delicious, they're actually not representative of the modern diversity and depth of contemporary Chinese cuisine.
"This type of food comes from southeast China and doesn't actually represent the largest cuisine culture in the country," Setzer says. "It's just the one that had the closest connection to the American immigration pipeline."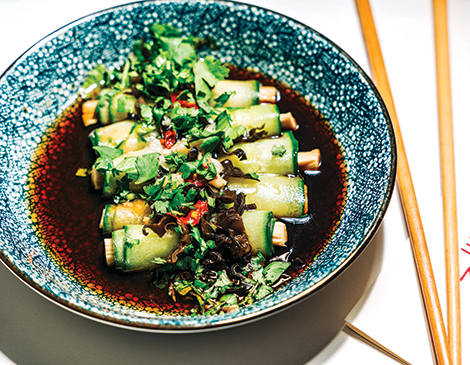 (Photo by Daniel Lozada)
It wasn't until 1961 that north and south China weren't even easily accessible to one another, so now cuisines from the two regions differ greatly. Only southern Chinese food traveled across the world, though, as immigrants opened restaurants here and then promptly stopped updating their repertoire — sort of like if you traveled abroad and discovered that the only American-style foods available were beef stroganoff, Watergate salad and other staples of the 1970s.
"The wave of Shanghai- and Cantonese-style food that is still popular here is one that most Chinese citizens have grown out of, thanks to a booming economy, culinary education and better logistics," says Liu Fang, who grew up on Shandong province in northern China. "When I came to America and found that Chinese food here still tastes the same as from 34 years ago, I wondered: What more can we do?"
Throughout Northeast Ohio, they found hospitality from strangers who were eager to assist. A few well-timed connections (and Setzer's outgoing personality) helped Liu Fang land catering jobs at fundraisers for Refugee Response and then-mayoral candidate Justin Bibb. They also started making regular treks to the West Side to eat at Larder Delicatessen and Bakery, where they befriended chef Jeremy Umansky.
Larder was closed for two days each week, which gave them an idea: Could they borrow the space to try selling Liu Fang's buns and other Chinese dishes?
"Hearing their story and how they were trying to rebuild here, we were open to hosting them indefinitely," says Umansky, a James Beard nominee with a bit of a cult following. "It gave them time to get themselves out there, to build an audience and to make sure it was what they wanted to do here."
It was. Liu Fang's Sunday popup, aptly named Abundance, became an immediate hit. She sometimes sold up to 4,000 dumplings in a day, with a line that spilled down the block.
Soon, Abundance expanded to Mondays, and its menu expanded, too, staying true to Liu Fang's Chinese roots while also incorporating local flavors.
In April, after a wildly successful residency at Larder, Abundance said goodbye to the popup life and moved into a home of its own. Chef Douglas Katz, owner of Amba and Zhug, offered them rental space in his diner in Cleveland Heights, also partially occupied by Rising Star Coffee Roasters.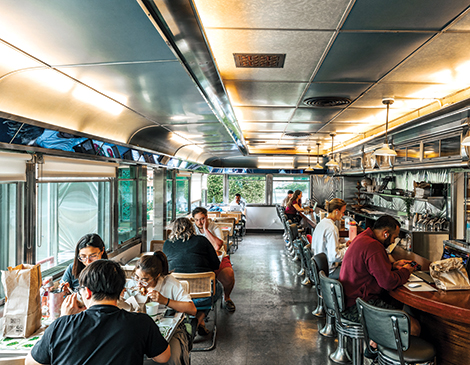 (Photo by Daniel Lozada)
When you walk through the doors of Abundance's and Rising Star's shared diner space, it's at first an almost jarringly peculiar combo: a kitschy, 1950s-era American diner serving up authentic, elegant Chinese food alongside minimalist, modern coffee. Once you've settled in, though, you realize how charmingly Cleveland it all is.
Liu Fang has adapted to cooking Chinese food in a kitchen outfitted with distinctly Western equipment, one with limited space and no woks. She's also overcome a major initial challenge: lack of access to Sichuan peppercorn, a cornerstone of Chinese cuisine and an ingredient she couldn't go without.
For decades, it was illegal to import to America because it carries a bacteria called citrus canker, which scars the peels of oranges.
The ban was lifted in 2004, but the way it's stored and shipped changes its flavor and renders it more dried spice than fresh produce. Liu Fang, not content to use a subpar ingredient, took the initiative to create an alternative.
In their brewery days, they had partnered with Chinese farmers to change the way peppercorns were packaged and shipped, which enabled them to use it in their beers. In Ohio, Liu Fang reached out to those same farmers, who agreed to ship to her directly.
"Now she literally has the best source of Sichuan peppercorns in the world," Umansky says. "That's the kind of quality standard she's set for her food."
That level of excellence means that Abundance's food is unparalleled. Now, she's introducing local diners to a style of Chinese cuisine that previously hasn't existed in Northeast Ohio — or anywhere in the U.S.
"One of the most exciting things for me is when people say they didn't know that Chinese food could taste or look this way," says Liu Fang, proud yet ever humble.
Start your day the best way by signing up for our free daily newsletter. Arriving in your inbox every morning to keep you in the loop on the best guides, home and style tips, and news briefs for all things Cleveland. Click here to subscribe.