Art of Bread Bakery is a full-time home bakery business no longer.
On Aug. 13, owner Victoria Narby soft-launched the news that her cottage foods business would be partnering with Scoot! Cold Brewed Coffee, utilizing the coffee shops' extra square space as a ghost kitchen for the baked goods brand.
"I've been working with Scoot for a little over a year now," says Narby. "I've been doing events since 2021 as a full-time home bakery business. Then in 2022, my friend and I stumbled upon Scoot coffee shop and just fell in love with it. They're a wonderfully awesome cafe that serves really quality cold brew.
"We discovered that they were hosting these events called Second Sundays. It's where they have their side yard filled up with all kinds of vendors and artists. They have a DJ with food carts and stuff like that, so it was easy to get really involved. We actually got to host a few events with them and kept that collaboration going over the course of the winter."
Then in early June, one chat opened the door to another level of partnership.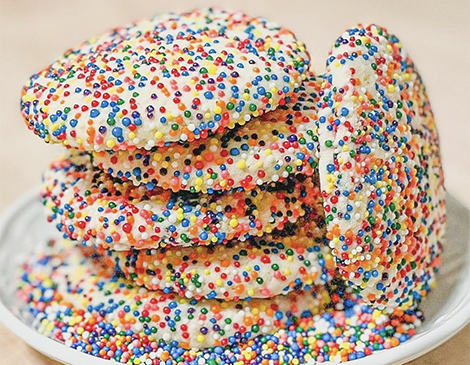 (Photo by Art of Bread Bakery)
"I was talking with the manager of Scoot, and she offered to have me rent one of the rooms inside of their building," says Narby who jumped at the opportunity to take on the extra kitchen space. "It took several months, though. That conversation started in the beginning of June, but we were not fully moved in until August 8, so it was a huge, long process of going back and forth on getting my certifications, all of my equipment gathered, our layout approved by the Health Department, all these different things — not to mention the physical move."
Since transitioning into Scoot's brick-and-mortar, Narby shares that the relationship has only thrived. The coffee shop buys her baked goods, from fresh bagels to delicious muffins, wholesale and continues to run events that Art of Bread Bakery attends. "We're still promoting each other whenever we can," says Narby, "and it's that mutually beneficial business relationship that is so amazing."
How To Order
Art of Bread Bakery sells wholesale as well as via online order. You can place an order through their website found here. Apart from this, Narby encourages those curious to just walk right into Scoot. That way, you can grab a java-filled cup and a coffee cake muffin along with a wide variety of seasonal items and chef specialties.

"We're definitely a ghost kitchen, but since we're stationed in a coffee shop that buys wholesale from us, we get to reap the benefits of customers walking in [to Scoot]," laughs Narby.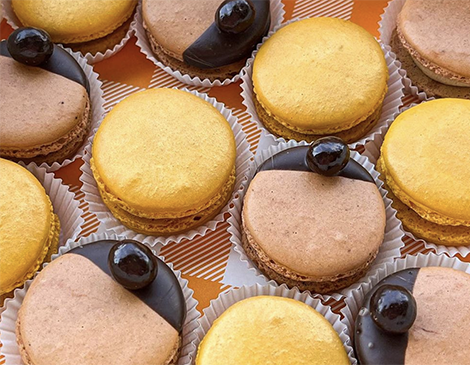 (Photo by Art of Bread Bakery)
Fall Menu (Seasonal) Additions
With an impressive list of offerings, you'd think Narby wouldn't have time to brainstorm unique, and timely baked goods, but according to her, she's constantly in creative mode. "We're entering into my favorite time of the year, which is fall and, more specifically, Halloween. Those stereotypical flavors are always fun to play around with. One thing we're planning on rolling out this year is a pumpkin curry focaccia. It's our sourdough focaccia so it's nice, crackly and bubbly. We're thinking of tossing in mushrooms and other kinds of vegetables and serving it with pumpkin curry hummus."
Other seasonal flavors that patrons can expect to see back on the menu for the fall include a carrot cake latte macaron, and scratch-made jam.
Popular Purchases
Cake pops ($36 for a dozen) and sourdough pretzel cheese buns ($32 for a dozen) remain popularly sold items from the bakery, as well as sourdough focaccia rounds ($38 for a dozen) that make perfect sandwich buns when sliced in half.
For more Art of Bread Bakery up-and-coming news, including its official grand launch in early October, follow the bakery's social media account here.
Start your day the best way by signing up for our free daily newsletter. Arriving in your inbox every morning to keep you in the loop on the best guides, home and style tips, and news briefs for all things Cleveland. Click here to subscribe.