Beer flights aren't just for people with indecisive tastes. The groupings of brew samples are the best way to get a look at how different breweries approach beer, says Richard Skains, brewmaster for Working Class Brewery and Taproom, which is expected to open in May in West Park. "I always do flights when I go to a brewery," he says. Skains has a few tips on the best way to approach flights like a brewer.

Order it up: When ordering a flight, go for beer styles you like, but keep in mind that heavier beers such as stouts or porters and hoppy beers such as IPAs can overpower your palate. Taste pilsners or Kolsches first, then lagers, then stouts, and lastly IPAs or spiced beers. "It keeps your palate more objective as you're drinking different beers," Skains says.

Take a whiff: Tasting like a pro means getting a good blast of the beer's aroma. But that's hard to do when sampling glasses are filled to the brim. "It doesn't let you swirl it, and try to get it to release its aromas," Skains says. Ask a bartender not to fill the glass up all the way, which gives the brew room to breathe. "I do that all the time at festivals," Skains says.

Drink in twos: It's probably best to drink about half and then move on to the next sample, Skains says. "You don't have to knock each one back to find out what it's about," he says. Sips of water between each beer can help refresh your palate. After tasting all the beers, go back to the one you like best. "I usually knock the whole thing back," Skains laughs.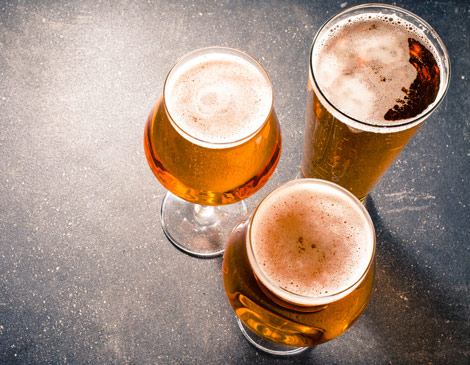 Funky Town
Just when we got our beer heads wrapped around the trendy concept of brews such as fruity saisons and sour beers, hop culture takes another turn to introduce a new batch of funky styles. Experts give us a jump-start on beers you may see frothing up.


Gose: Made with salt, the German beer dates back to the early 1500s. The light brew usually only comes in at 3.5 or 4 percent alcohol by volume. "This is way out in left field," says Shaun Yasaki, Noble Beast Brewing Co. brewmaster. "They're light, salty, refreshing and a little sour."

Maibock: We're used to rich, malty and darkly colored bocks, but this one shows up in more golden or amber hues and with just a bit more bitter bite. "It's still really malty," says Luke Purcell, Collision Bend Brewing Co. brewmaster. "But it has less of those caramelized flavors and more of a pale malt flavor."

Belgian Gueuze: This lightly carbonated and complex brew actually results from a blend of different ages of lambic beer, which is fermented in an open-top flat vessel called a coolship. This process invites wild yeast to bring some funk to the concoction. "It's got a bit of sourness to it," says Skains. "But it's subtle. It's a very drinkable beer."


Ditch Out
We've all been there. You think you're ready for adventurous brews made with wild ingredients. But one swig and your face turns as green as that nauseous emoji. Instead of not-so-discreetly pouring it into the nearest potted plant, Purcell says, just let the bartender or brewer know that it's not your thing or not what you were expecting. "No brewer's going to get offended," he says. "That's why we make so many different kinds of beer because everybody doesn't like the same thing."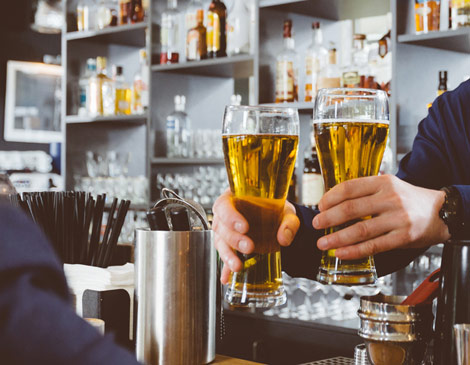 Beer Buds
Getting in good with the folks making the beer at your favorite brewery is a great way to learn about special limited beers or even get a brewhouse tour, says Nick Seagle, brewmaster for Headtrip Brewery, which plans to open this summer in Stow. "You just got to start talking to them," he says. Become a frequent customer and comment on a brewery's Facebook page. Then, do a little research — beyond tasting — to learn how certain beers are made. "It's always easier to talk to a professional brewer when you already have an understanding of [brewing]," he says.

Tap List
Order up one of these fresh brews.
Bad Tom Smith Brewing's American Outlaw Session IPA
1836 W. 25th St., Cleveland, badtomsmithbrewing.com
Collision Bend Brewing Co.'s Saison de Bruell
1250 Old River Road, Cleveland, 216-273-7879, collisionbendbrewery.com

Headtrip Brewery's Peanut Butter Oatmeal Coffee Stout
1634 Norton Road, Stow, 330-715-4688, facebook.com/headtripbrewery
Noble Beast Brewing Co.'s German Style Kolsch
1468 Lakeside Ave., Cleveland, 216-417-8588, facebook.com/noblebeastbrewingco
Terrestrial Brewing Co.'s Joey Rye IPA
7524 Father Frascati Drive, Cleveland, 216-465-9999, facebook.com/terrestrialbrewing
Working Class Brewery and Taproom's Tinner's Red Ale
17448 Lorain Ave., Cleveland, 216-544-8703, workingclassbrewery.com