Update: Cents Pizza & Goods' Italian wood oven is roaring and its pink-hued dining room is open for business in Ohio City. The space mixes modern and retro with a big screen playing classic movies and a cooler-than-you soundtrack spinning at all times. No liquor license yet — so BYOB — but that's not a problem with all the pizza, tinned fish and puffy bread you can eat.
Cent's Pizza & Goods founder Vincent Morelli wants to elevate life in Cleveland — and he's starting with the pizza.

Located in Ohio City on Lorain Avenue, Cent's Pizza launches takeout service this weekend, running Friday through Sunday. It's so anticipated the first weekend has already sold out. Morelli calls wood-fired 'zas "American style," a little crispier and thinner than a classic Neapolitan. Until the 30ish-seat dining room opens in July, Cent's' menu offers fun twists on classic pizza toppings, such as olive oil, basil, ricotta and even anchovies.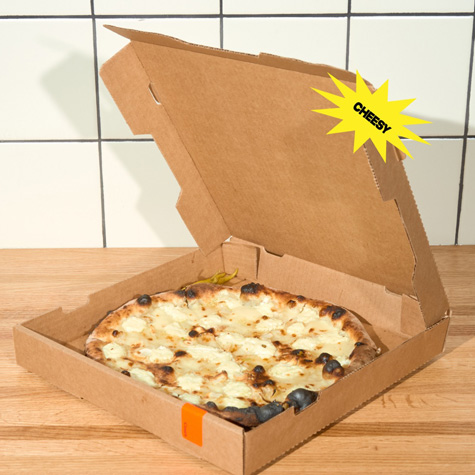 The tomato pizza ($14), for example, features garlic, oregano, extra-virgin olive oil and breadcrumbs with your choice to add Parmesan cheese and/or anchovies. Meanwhile, the pepperoni ($16) adds pickled chili and guests are encouraged to include honey as an add-on to this classic. In addition to the four pizza offerings, the restaurant is also offering a Deep House Salad ($8.00), featuring frisee endive, dill, red wine vinegar and olive oil; a Big Caesar Salad ($10.00), which features lacinato kale, Parmesan cheese, breadcrumbs and lemon; and pepperoni bites ($8.00).

"I like strong flavors — spicy, salty, sweet, hitting the notes," says Morelli, who makes the case for his high-quality Ortiz anchovies. "Anchovies are the stereotypical thing that people are scared of until they try them."
Morelli learned the pizza game in New York City. Though he graduated with a degree in fashion merchandising and worked in product development for a clothing line for six years, Morelli found himself more attracted to his side gig at Roberta's Pizza, a trendy pizza joint located in a faux storage container in New York's Bushwick neighborhood, and the dinner parties he hosted for his friends. After helping the company launch a few pop-ups in Los Angeles, he decided to bring his own twist on the pies to Cleveland.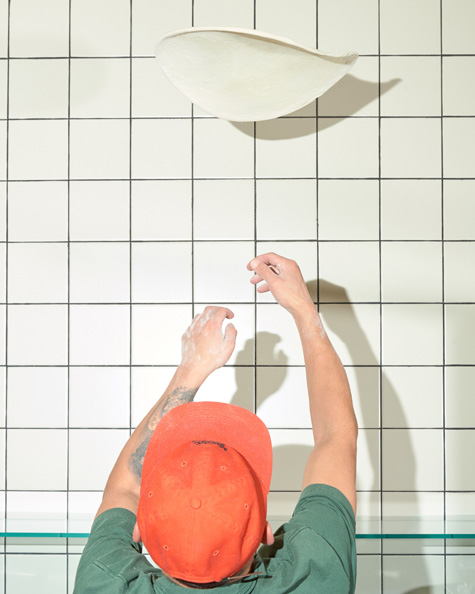 "We're using the best ingredients we can get, and we're having fun with the toppings but making sure everything is dialed in," he says. "We're going for the wow."

But when the dining room opens in July, there will be more than just expanded pizza offerings, a snack menu, a beverage list focused on natural wines and a la carte options on the menu.

That's where the '& Goods' part comes in. Morelli is leaning on his fashion training to add a retail element to the Ohio City shop, which features Instagrammable modern decor with checkered floors and a "visually appealing, Wes Anderson-movie" take on the classic pizza shop, he says. The products, which Morelli is holding close to the vest until the shop opens, will include "elevated lifestyle goods," gift shop-style stuff and branded merchandise, such as graphic tees.

"I've been describing it as like you're in a bodega and a corner store getting things you use on a daily basis, but like elevated and well-designed," says Morelli. "There will also be small-batch graphic T-shirts."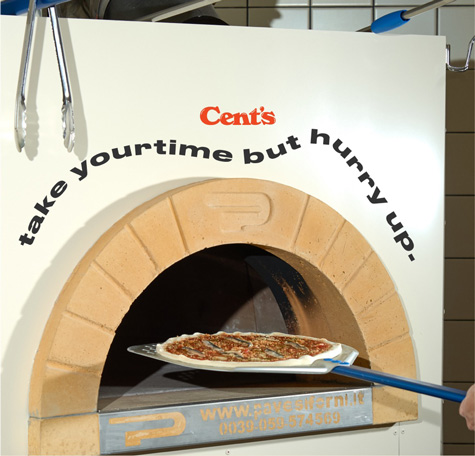 But until then, the focus is on the pizza, the lifestyle good of the food world, which is currently only available in takeout. Each week's pre-order for Friday, Saturday and Sunday drops on Monday, and the first weekend was already sold out by Tuesday evening — so act fast.

"Pizza is a really accessible thing, everyone loves it," says Morelli. "To me, that's an easy entry point to some of the unfamiliar ingredients and retail products we'll carry in the store."

Order Here: centspizza.square.site
When You Go: 5010 Lorain Ave., Cleveland, 216-862-6427, instagram.com/centspizza