When Meghann Hennen made challah for the Mandel Jewish Community Center's first virtual Shabbat on March 13 last year, she never expected that the simple gesture for her community during a devastating pandemic would ever evolve into a full-blown passion.

"I just felt like I needed to make challah because none of us had challah for Shabbat," Hennen says. "We found out we were going to be closed for maybe a few weeks or so, but we had our first online Zoom Shabbat, and I was like, Oh my god, I wonder if we're going to have challah."

Made by hand in celebration of major Jewish holidays, challah is a complex loaf filled with tradition. Made with eggs, water, flour, yeast, sugar and salt, it's braided, baked and shared among friends and family. Eager to ensure traditions were kept, Hennen quickly hopped to the challenge of learning how to braid and bake challah for those at the center and her students' families, starting with classic loaves.

Inspired by an assortment of online research and other challah baking influencers on Instagram, such as Mandy Silverman, Hennen quickly started experimenting with new techniques and flavors and opened Challah at Meg out of her home last March. Now, more than a year into the business, customers can either choose from an abundance of sweet and savory flavors or make custom requests through Hennen's website.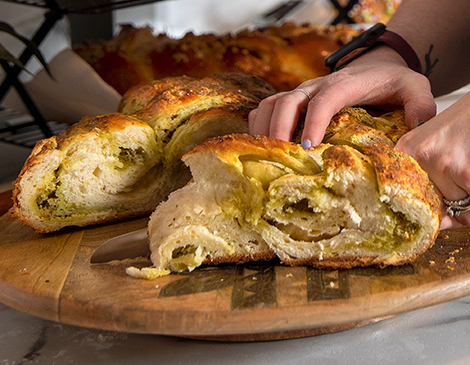 "I'm really open and flexible to what my customers want because, all in all, it's about what your taste buds are craving," she says. "So, if there isn't something that I have, you can just ask me and I will definitely want to try it for myself, and maybe put it on the menu."
Hennen offers challah that comes in single loaves or several combinations such as hazelnut and Nutella, fig with goat cheese, lemon curd and raspberry, and even a rainbow version speckled in sprinkles. In between a busy schedule as a teacher at Mandel Jewish Community Center in Beachwood and as a ballet instructor at Cleveland City Dance in Shaker Square, Hennen creates challah throughout the week, making the dough for each loaf on Sundays, Mondays and Wednesdays, baking on Tuesdays and Thursdays, and providing local deliveries on Wednesdays and Fridays.
Along the way, breadmaking has turned into a unique therapy for Hennen as she says it has helped her grow personally and spiritually.
"The stickiness of the dough helps you kind of go through the stickiness in life," says Hennen, who makes each loaf with particular attention to detail. "Every aspect of my life goes through my challah."
As the world progresses beyond the pandemic, Hennen hopes Challah At Meg can continue to strengthen community connections and bring about new kinds of joy.
"If there's one thing I've learned, it's that food brings people together," says Hennen.