Back when Adrian Ortega was a traveling salesman, he visited cities across the United States, always seeking out his native Mexican food. "When I used to come to the Cleveland area in those days, if you found 10 Mexican restaurants, that was a lot," he says.
Now, he estimates that there are more than 500 in Northeast Ohio, including La Plaza
Supermarket, the Hispanic market and taqueria he opened in Lakewood in 2011.
This fall, La Plaza got a much-needed upgrade to keep up with the high demand for its traditional Mexican tacos. The space used to be a market first, taqueria second, with a small-walk-up counter in the back. Now newly expanded, the taqueria offers seating for 60.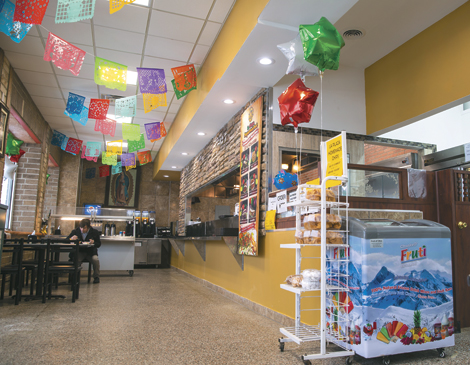 "You're part of the kitchen because you can see everything," Ortega says of the open-concept space that added 12,000 square feet to the Lakewood Heights Boulevard location. "We cook in front of you, almost. The smells, the ambiance — we created something that is very relaxed."
The delicious, cult-following menu has expanded, too, although it's still straightforward and traditionally Mexican. La Plaza offers eight kinds of meat-filled tacos, including carne asada, al pastor, barbacoa and chorizo. The market also sells empanadas, quesadillas, burritos, tamales and tortas, a popular Mexican sandwich.
"We're really concentrating on bringing authenticity to whatever we do," says Ortega, who's originally from Jalisco, Mexico.


Importantly, he says, the salsa makes the taco. La Plaza offers four for diners to choose from — salsa roja, green tomatillo, fresh pico de gallo and creamy avocado — and the staff is ready to dispense advice about flavor profiles and pairings. "Whatever taco you want to eat, I'm going to guide you," Ortega says. "Like, This is what you're going to put in it."
Ortega says he hopes La Plaza's authentic Mexican street food allows diners to feel like they've taken a quick trip to his home country.
"Not everybody has the economic ability to be able to leave the country," he says. "But you don't have to go, you don't have to travel. You can do it right here."