When a new restaurant or club opens up, the public is often made aware of it with a constant advertising bombardment, whether that be on the internet or in print. Ownership does this to ensure a successful opening that features a line out the door.
That wasn't the plan for Sam McNulty, owner of Clandestina and Smoke & Mirrors in Ohio City. While no establishment owner wants their venture to be a total secret, McNulty did want this to be different from your typical restaurant.
With a name like Clandestina, that's no surprise.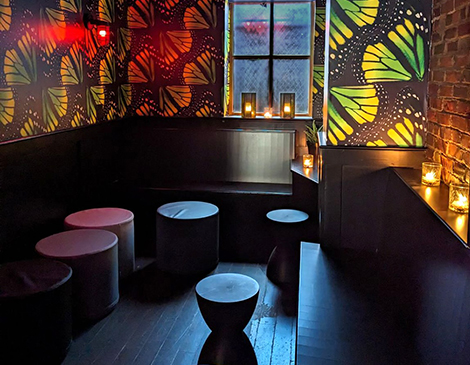 "You know, the Spanish word for clandestine, makes it you know, like, it wants to be a little bit secretive or wants to be a little special," McNulty says.
The vibe inside of the 1600-square-foot space that is Clandestina certainly captures what McNulty is aiming for. It's intimate, secretive and low-key, creating the perfect balance between a place that feels welcoming while also finding a way to be secluded, even on one of Cleveland's busiest streets.
The real secret, however, is what's in the basement. It's entirely possible to be enjoying a burrito or tlayuda at Clandestina's bar and not be aware of an entirely different party going on downstairs.
That's where Smoke & Mirrors comes into play.
If you're at Clandestina on a Friday or Saturday night, your best chance of realizing that there's a club with an entirely different focus may just be having to use the downstairs restroom and opening a door to a club by accident.
What's beyond that door is one of Cleveland's most intimate nightclubs: Smoke & Mirrors.
A heavy black door leads to an open room with brick walls and a low ceiling. There's a single bar to the right and a DJ booth to the left. There are bars on what used to be windows, when this was at street level, once upon a time. Now, it's become one of the cooler basements in Ohio City and one that's easy to miss.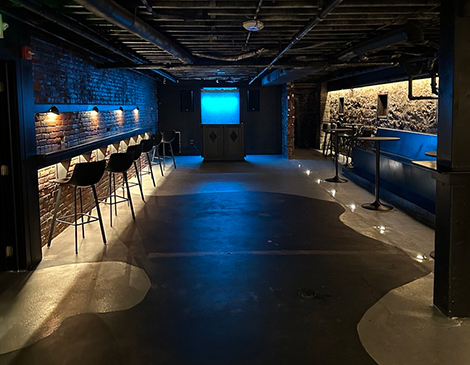 "It's a subterranean space, it's got a bit of a catacomb vibe to it, low lighting, brick and hand-cut stone from the 1800s," McNulty says. "And it's very much a raw, kind of like dance club feel to it.
The two different venues serve different purposes. Clandestina features terrific Mexican street food and focuses an extensive drink menu on tequila and mezcal.
The vibe there is intimate, as well, with seating for 70 guests and soft lighting from overhead. A friendly, educated staff awaits to help those who may be giving mezcal a try for the first time.
A great place to start at Clandestina is with the elote dip and salted plantain chips ($11) before having one of the house favorites as an entree. The BBQ carnitas burrito ($11) comes highly recommended, as does the pollo rojo tamale with the mole negro ($8).
To drink, you can't go wrong with an 'Of Mezcal & Other Demons' ($16) at the bar. It features el silencio espadin mezcal, ancho reyes chile liqueur, orange tiger liqueur, lime, pineapple, jalapeno and a pineapple wedge placed on the rim. The drink has a bit of a kick but smells spicier than it tastes.
If you're entering Clandestina but looking for something a little bit different, walk down the stairs to the left of the bar. There you'll find the underground rum and EDM hideaway that is Smoke & Mirrors. This 1,800 square foot club has space for roughly 100 people, features more than 15 types of rum on a list that continues to grow, says general manager Miriam McGinn.
Through four weeks of operation, Smoke & Mirrors has featured local DJs like DJ Nu ERA, Corey Grand and Sully playing some of the best dance music in the area.
Both venues are located at 1865 W. 25th St. in Ohio City. Clandestina is open at 5 p.m. Wednesday through Sunday, and the party at Smoke & Mirrors happens on Friday and Saturday nights, with the door opening at 8 p.m.
We've got your weekend plans covered with our free weekly "In the CLE" newsletter — your guide to fun throughout The Land. Arriving in your inbox every Wednesday, this weekend to-do list fills you in on everything from concerts to museum exhibits — and more. Click here to subscribe.