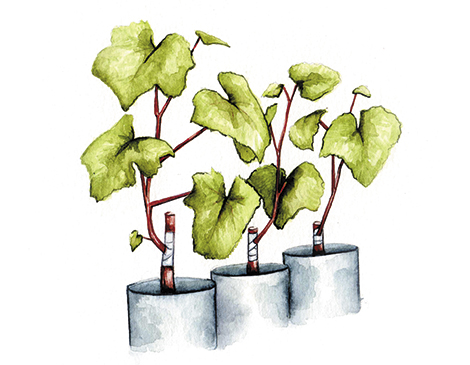 1. Planting: If every journey begins with a single step, then every bottle of wine begins with a single vine. Once a winery purchases the vines from a nursery, they'll level the ground to make sure the plot of land is even. When spring rolls around, the vine is grafted to a rootstock — the process of merging roots from different plants together to maximize growing potential — before it's planted in the ground and protected by a plastic carton. For the first couple months, winemakers keep a vigilant eye on the vines' growth by cultivating, pruning and organizing the vines so they'll be able to grow onto a trellis later in life. "There's a lot of handiwork and science involved in planting and raising grapes, " says Debevc.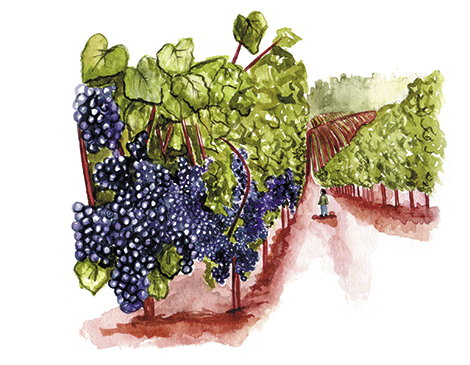 2. Growing: The grape growing process is not for the impatient, as most vines don't start producing fruit until they're three years into the growing process, with a full harvest occurring in the vine's sixth year of growing. For example, in Debonne's case, any wine that comes out this year will be from the grape class planted in 2014. "We'll get a little bit of fruit in the third year of growing and then in the fourth year we'll get about 30% of a normal year's production, but that fruit will be really young and immature compared to a full harvest," Debevc says. "Once we get into the fifth and sixth year, we'll be in full production."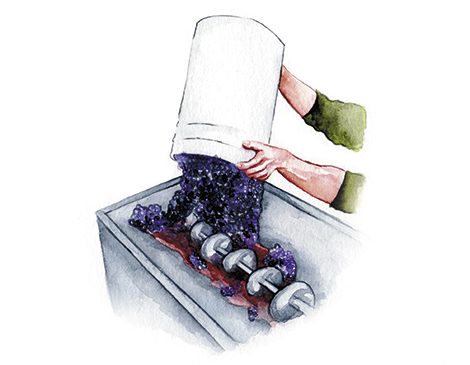 3. Crushing: Once the grapes are picked (mid-September for a crisp white and late-October for a full-bodied red), they head into a winery's mechanical crusher that separates the stem from the berries before breaking the berry's skin to remove the juice. For red wine grapes, it's much more critical that any stems are removed prior to the crushing to prevent any of the grape's vegetative portion getting in the mix. Depending on how good of a growing season it was, the crushing process can vary year to year. "If we have a poor growing season then we might take a grape that was meant for a red wine and press it a little earlier and use it in a rose," Debevc says. "The winemaker is only the caretaker of what Mother Nature provides."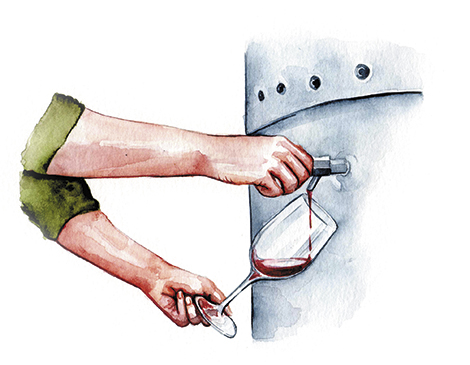 4. Fermentation: After being crushed, the different types of grape juice are put into a chilling tank, where they're infused with a specific type of yeast that amplifies the flavor of the juice. After two weeks of fermentation, the juice goes through its monthlong cold stabilization process to remove any excess potassium that might be left over. "For some wine we'll use a yeast that encourages a fruitier flavor while other ones might get a yeast that encourages a drier flavor," Debevc says.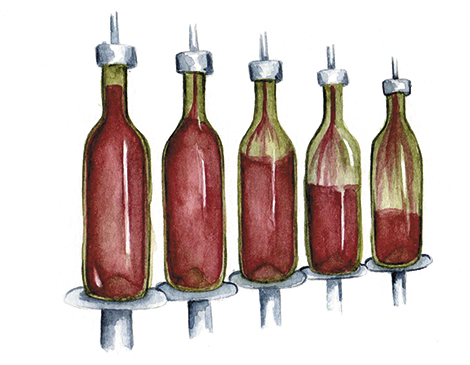 5. Bottling: After the fermentation process is over, the home stretch begins. Once the wine finishes the cold stabilization process, it begins the aging process by being placed in a different container at room temperature until the bottling starts the following summer. Almost all red wine is bottled with a natural cork — to create a gradual absorption of oxygen which darkens the color and adds to the flavor — while white wine can be bottled in a screw top, if necessary. "In a white wine you get some nice aromatics through the bottling process while in a red wine it'll create a more robust flavor profile," Debevc says.