Build it and they will come. That's been the idea behind Cocky's Bagels, which started out as a food truck back in 2017.

With a menu based on massive bagel sandwiches, owners Keene Cockburn, Kevin Cockburn and Natalie Bata have created a following of loyal customers who seek out their towering inventions for a hearty lunch or filling late-night snack.

In June, the trio parlayed their success into a brick-and-mortar spot in North Olmsted. Here are three of our fave bagel bites.

Cocky's Bagel, $8

The sandwich that inspired it all comes loaded with grilled turkey, salami, a fried egg, melted provolone, lettuce, tomato and onion on an everything bagel. You'll get a hit of heat thanks to Cocky's sauce, a secret spicy aioli. "It's a special one for me," says Keene Cockburn. "I was making this every day in high school and that's when I decided I needed to do something with it."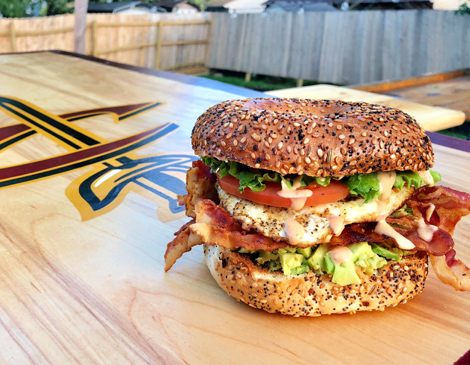 Love Is All You Need, $9

Inspired by Cavs guard Kevin Love, this lighter breakfast sandwich features an everything bagel with fried egg, bacon, avocado, lettuce, tomato and chipotle ranch. You can add turkey for $2. "The really cool thing about this bagel is that part of the proceeds from the sale actually go towards [Kevin Love's] mental health fund," says Bata.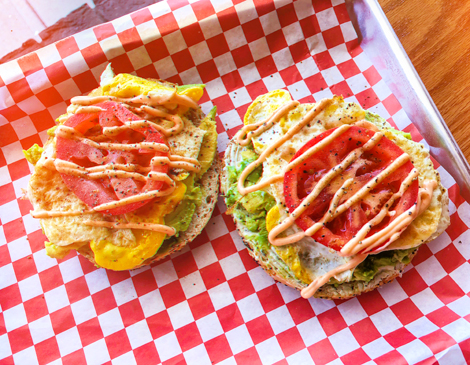 Avocado Toast Bagel, $9

One of the shop's "topless bagel" options, this take on the trendy avocado toast starts with just one half of an everything bagel. Freshly smashed avocado is layered with a fried egg and tomato and then drizzled with Cocky's sauce. "It lets you be healthy," says Bata. "The combination of ingredients works well."