When Lanning's Restaurant opened in Bath Township in 1970, it was the place to be seen, pop the question or celebrate a milestone. Great steaks, classic decor and high-end service made it that way.
But when Dean Martin and his wife, Bethany, visited years later, a lack of upkeep led them to say never again. "It was like a funeral home," says Martin.
So, you could imagine the reaction when, in 2020, a business broker suggested purchasing it. Reconsidering, the Martins had a hunch that once the pandemic waned diners would return to a higher-end, nostalgic experience.
"People want to feel like every detail matters," Martin says.
Since purchasing it in 2020 and rebranding to Dean Martin's Lanning's, the Martins have sunk about $2 million into renovating the 50-year-old space.
It's still old school: servers in tuxedos, martinis poured tableside, prime steaks (with Lanning's famed sauce) on an open grill in the 110-seat dining room and a strictly enforced dress code. Yet, a makeover has touched nearly every part of the interior, while the menu's 30 new items delight modern taste buds with even vegan additions such as the beet carpaccio ($16) and a vegan wellington ($40). A dry-aged rib-eye (market price) is even coated in a bourbon glaze and flambeed tableside.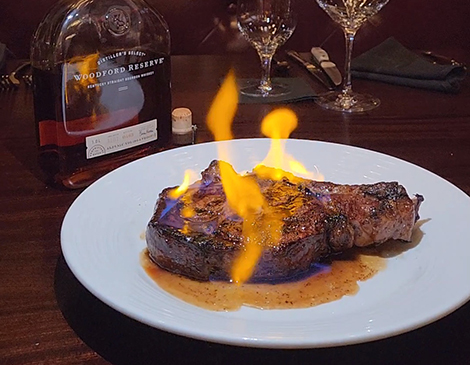 The 50-seat lounge, which features a Rat Pack mural, adds a place to grab a drink and a burger. Though the full menu is available, the vibe here is more casual. Shorts are allowed, and live music, which skews Rat Pack, jazz and blues, entertains Wednesdays through Saturdays, and some Mondays.
In a building with so many memories, the Martins hope a little bit of love can help diners create new ones.
"We want to reintroduce people to Lanning's," says Martin. "The experience is inspired by the past but reimagined for the future."
Start your day the best way by signing up for our free daily newsletter. Arriving in your inbox every morning to keep you in the loop on the best guides, home and style tips, and news briefs for all things Cleveland. Click here to subscribe.