Barley House
Why we love it: Outside of Cleveland Browns Stadium and a handful of tailgating lots, this Warehouse District spot is one of the hottest locales on game days. Pregame radio shows broadcast outside the bar and super fan Pumpkinhead hosts a raucous tailgate party here. Try this: The Perfect Fall Margarita ($10), served with honey, Grand Marnier, lime juice, Tres Generaciones and triple sec. 1261 W. Sixth St., Cleveland, 216-623-1700, barleyhousecleveland.com
Dive Bar
Why we love it: When Barley House is packed, the younger crowd enjoys this nightclub-turned-sports bar on West Sixth Street, which is open Thursdays through Sunday for all Browns home games, some away games and all OSU games. Try this: Market Garden Brewery's Franklin Castle Pumpkin Ale ($5) spiced with coriander, chamomile, cinnamon and brown sugar. 11214 W. Sixth St., Cleveland, 216-758-1413, divebarcleveland.com
Grindstone Tap House
Why we love it: Equipped with the NFL Sunday Ticket, Grindstone is the perfect spot in Berea to catch the game of your choice and the occasional live band on weekends. There's a regular open mic night if you're feeling courageous. Try this: The Five Spice Reuben ($14.50) on marble rye with Swiss cheese and thousand island dressing utilizes a secret recipe sure to blow your taste buds away. 826 Front St., Berea, 440-234-3455, grindstonetaphouse.com
Game On
Why we love it: You'd be hard-pressed to find a bar with more televisions than this Lakewood spot with 27 high-definition televisions and NFL+, so you can watch your fantasy players on the side. Try this: Keep it simple with the Cleveland Dog ($3.50), a frank topped with fries, coleslaw and barbecue sauce. 17103 Detroit Ave., Lakewood, 216-303-9700, facebook.com/gameonlakewood
Gillespie's Map Room
Why we love it: The wood-
paneled bar with maps on the walls provides an old-school, laid-back feel along with a plentiful draft list of local and international brews and great pizza. Try this: The Jersey Style pizza ($12.49-$15.49) with fire-roasted tomatoes, provolone and mozzarella cheeses and a healthy serving of garlic sauce. 1281 W. Ninth St., Cleveland, 216-621-7747, maproomcleveland.com
Hi and Dry Bowling & Beer
Why we love it: This Tremont spot parties hard every Sunday but especially during football season, when its game day party includes trivia, raffles, squares and great food. Try this: From the chef specials, fried cheese gnocchi ($9) stuffed with asiago and served with marinara sauce will have your mouth watering. 2221 Professor Ave., Cleveland, 216-566-9463, hianddrycleveland.com
Happy Moose
Why we love it: If being on time means halftime, you're still likely to find a seat at this huge Mentor and Streetsboro sports bar that serves "Moosetastic" food and tons of 70-inch HD TVs. Try this: Buffalo Moose Skins ($11.99) with homemade buffalo chicken dip for an elevated take on potato skins. 7693 Reynolds Road, Mentor; 9436 OH-14, Streetsboro, happymoosebarandgrill.com
Ironwood Cafe
Why we love it: With events like Saturday Brunch All Day and Monday Yuengs and Wings Night, it's hard not to love this West Side staple — and a weekend filled with mimosas. Try this: Served on a pretzel bun with brie cheese, caramelized onion and candied bacon, the Bistro ($15) is a burger to remember. 688 Dover Center Road, Westlake, 440-835-9900, ironwoodcafe.com
Johnny Malloy's
Why we love it: The name of the restaurant comes from a respected mounted policeman who grew up in 1920s Cleveland. He was known for his love of horses and penchant for getting along with his fellow Clevelanders. Now, the name lives on in the form of this staple Irish pub. Try this: The Criminal Sandwich ($8.99) uses Texas toast for a delicious grilled cheese topped with two over-easy eggs. 1038 N. Court St., Medina, 330-723-4100, johnnymalloysmedina.com
Lino's
Why we love it: This best-kept-secret spot not only delivers with a huge patio and three mammoth TVs. You can even toss bags with the indoor cornhole boards, as well as darts and Golden Tee. Try this: Something a little different with the Sea Wings ($13), butterflied shrimp with your choice of more than 15 sauces. 29804 Euclid Ave., Wickliffe, 440-944-7077, linosweb.com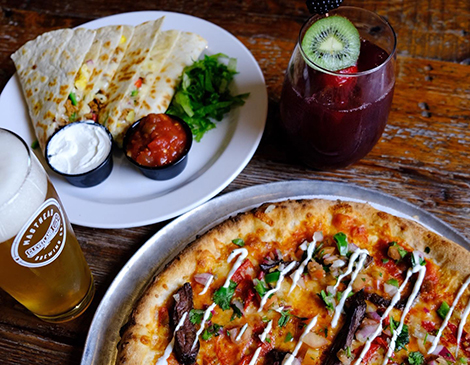 (Courtesy Masthead Brewing Co.)
Masthead Brewing Co.
Why we love it: This spacious brewery serves up Neapolitan-style pizzas and house stouts, IPAs and more. It's also big enough to accommodate you and a couple dozen of your closest football-fan friends. Try this: The Far From the Tree ($10), a hefty 14.3% ABV stout aged in an apple brandy barrel with a hint of maple wheatwine. 1261 Superior Ave., Cleveland, 216-206-6167, mastheadbrewingco.com

Merry Arts Pub & Grille
Why we love it: Arrive early for a seat at this 100-year-old Lakewood neighborhood staple, which has dozens of televisions, pub food and an atmosphere that makes you feel part of the Dawg Pound. Try this: For the vegan in the group, cauliflower wings ($10) with Tabasco breading keeps game day going strong. 15607 ½ Detroit Ave., Lakewood, 216-226-4080, merryartspubandgrille.com

Noble Beast Brewing Co.
Why we love it: Close to the Muni Lot, the industrial-chic microbrewery on Lakeside Avenue opens early on Browns Sundays and offers a special tailgate menu in addition to its wide beer list. Try this: The Gochujang Garlic with Sesame Seed wings ($10 for 6), boasting a powerful, slightly spicy punch of flavor. 1470 Lakeside Ave. E., Cleveland, 216-417-8588, noblebeastbeer.com
Nora's Public House
Why we love it: The Celtic pub in historic Downtown Willoughby loves all things Irish — especially beer and food. The menu offers hearty fare including cheese curds ($13), pierogies ($14) and poutine ($17). Try this: The fish and chips ($24) come with a creamy Cajun gorgonzola slaw, fries and tartar sauce. 4054 Erie St., Willoughby, 440-571-4640, noraspublichouse.net
Pub Frato
Why we love it: If you turn your nose up at average bar food, this gastropub staple is the place for you. Even with selections such as confit wings ($14-$16) and truffle fries ($13.5), Pub Frato maintains the chillest vibes. Try this: Short rib pierogies ($16.50) with goat cheese and horseradish aioli are hearty and delicious. 25 Pleasant Dr., Chagrin Falls, 440-600-7029; 7548 Fredle Dr., Concord, 440-867-2441, pubfrato.com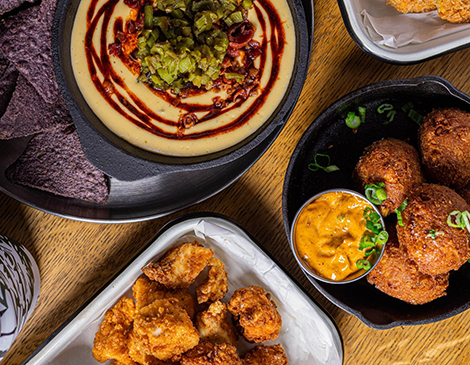 (Courtesy Pioneer Cleveland)
Pioneer Cleveland
Why we love it: This camping-themed sports bar adorned in wood paneling feels as cozy as it is fun during a Browns game. A live-fire grill only adds to the outdoorsy ambiance. Try this: If you're there for brunch, the steak and eggs ($19) with an 8-ounce USDA prime sirloin, crispy potatoes and two runny eggs is filling and delectable. 2407 Lorain Ave., Cleveland, 216-998-5355, pioneercleveland.com
Rivals Brew Pub
Why we love it: Opened in 2007, Rivals takes pride in sourcing ingredients locally as a means of providing the freshest flavors possible. Meals like the Home Run Breakfast ($7.99) and the Griddle Classic pancakes ($6.99) taste like home. Try this: The Rivals Team Platter ($12.99) goes big with two eggs, two pieces of cinnamon-swirl French toast, home fries,
biscuits with sausage gravy and hickory-smoked bacon. 6710 Smith Road, Middleburg Heights, 216-267-0005, rivals-cleveland.com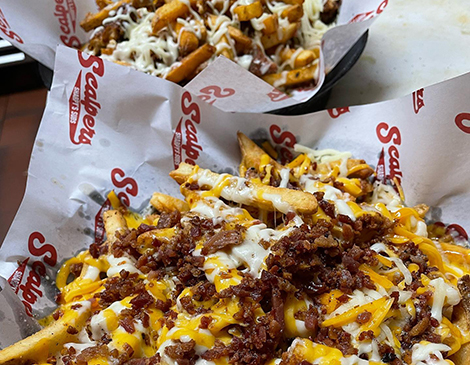 (Courtesy Scalpers Bar and Grille)
Scalpers Bar and Grille
Why we love it: Everyone knows football Sunday is a diet cheat day, and if you're going to cheat, go big with Scalpers in Lyndhurst. Since 1994, this cozy sports bar has been serving over-the-top pub food such as walking tacos, potato skins with loads of bacon and burgers, great wings, and subs, fries and burgers topped with things like mozzarella sticks, corned beef, deli meat, onion rings and more. Try this: The Sicilian Burger Sub ($9.75-$12.75), with a beef patty, salami and provolone on a sub with the works. 5718 Mayfield Road, Lyndhurst, 440-442-3577, scalpersbarandgrille.com
The Clevelander Bar & Grill
Why we love it: This two-story temple to fandom boasts a massive projector and tons of TVs, super-tall draft beers and some of the rowdiest and most rabid fans of any Downtown watering hole. True Browns fans know this is the place to be for a Sunday game. Try this: The Muni Lot ($11), with mushrooms, onion and hickory-smoked bacon, is the perfect hearty burger after a day of tailgating. 834 Huron Road E., Cleveland, 216-771-3723, clevelanderbar.com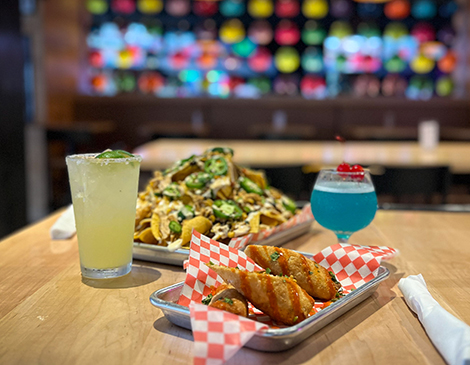 (Courtesy The Corner Alley)
The Corner Alley
Why we love it: It's closer to Rocket Mortgage FieldHouse than it is to Cleveland Browns Stadium, but the 10,000-square-foot complex has tons of seating, televisions and activities such as pool and bowling to work off your nervous energy when you're looking for a defensive stop. Try this: Black & Blue Smash Burger ($16) boasts Ohio Black Angus beef, bleu cheese spread, caramelized onion and bacon on a brioche bun. 402 Euclid Ave., Cleveland, 216-298-4070, thecorneralley.com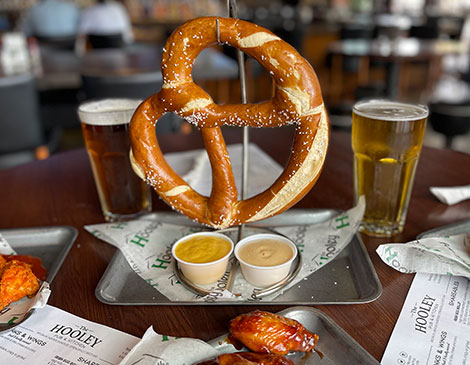 (Courtesy The Hooley Pub & Kitchen)
The Hooley Pub & Kitchen
Why we love it: With unique, Irish-influenced dishes, this local pub, which has locations in Strongsville, Brooklyn, Mentor, Montrose and Westlake, is cozy; features professional, college and high school memorabilia; and walls upon walls of TVs. Try this: Check out Irish Egg Rolls ($13.50) with a corned beef, sauerkraut and Swiss cheese filling. Various locations, 1funpub.com

The Wild Goose
Why we love it: The two-room Downtown Willoughby spot serves up great pizza from its open-concept stone oven. Try this: Warm up after a cold day tailgating with the Murphy pizza ($18) topped with mashed potato, bacon, sour cream and house cheese. 4144 Erie St., Willoughby, 440-951-6644, wildgoosewlby.com
West Park Station
Why we love it: This spacious neighborhood spot is family-friendly with two patios and food as diverse as steaks, wings and pizza. Try this: Pick up a fried chicken dinner ($14.99) with seasonal Southern-style house breading and hot honey for a sweet kick. 1705 Lorain Ave., Cleveland, 216-476-2000, facebook.com/westparkstation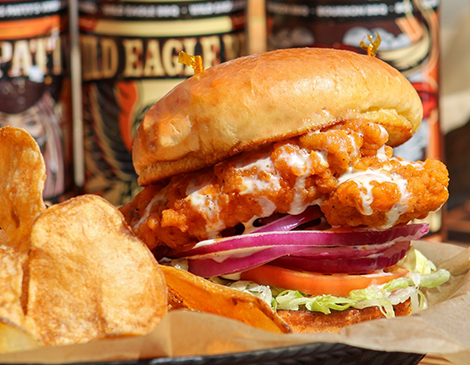 (Courtesy Wild Eagle)
Wild Eagle
Why we love it: Don't let the players have all the fun. With a patio that lets you feel the pulse of the city, this Downtown game bar, which also has other locations in Streetsboro and Broadview Heights, has dozens of arcade games, a BBQ-based menu and hundreds of craft beers on draft that you can pour yourself. Try this: The award-winning Mac & Cheese Balls ($10) are fried crispy with a bit of a kick. Various locations, wildeagle.com/downtown-cleveland

Yard House
Why we love it: Aside from being a great spot to catch a Browns game, Yard House sets itself apart with its emphasis on music. Each location boasts a freshly curated playlist, made anew every day for immaculate, shifting vibes. Try this: Inspired by German cuisine, the Flammkuchen Pizza ($15.49) offers up sweet and savory notes of bacon, caramelized onion and a blend of mozzarella, Swiss and parmesan cheeses. 160 Union St., Westlake, 440-808-8403, yardhouse.com
Still hungry for more recommendations?
Check out 23 Can't-Miss Restaurants in Avon and Avon Lake, or try 25 Tasty Restaurants in Mentor and Mentor-on-the-Lake and 22 of Chagrin Falls' Best Restaurants.

Start your day the best way by signing up for our free daily newsletter. Arriving in your inbox every morning to keep you in the loop on the best guides, home and style tips, and news briefs for all things Cleveland. Click here to subscribe.