Downtown Cleveland is getting a little sweeter. Campbell's Sweets Factory and Corbo's Bakery both opened new storefronts in the last few months — making it easier for Clevelanders to satisfy that sweet tooth. "We've wanted to come downtown for years," says Jeff Campbell, owner of Campbell's Sweets Factory. "There's great foot traffic, great people and a lot of fun here." We give you a few reasons to treat yourself.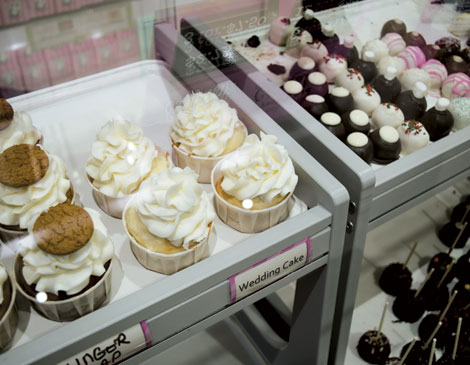 Campbell's Sweets Factory
424 Superior Ave., 216-282-6921, campbellssweets.com
The Experience: Located in the Arcade, this 1,000-square-foot space will make you feel like a kid in a candy store. Shelves are filled with popcorn and more while a glass pastry case holds favorites such as cake truffles and hand-dipped buckeyes. "We have old, wooden doors hanging on the ceiling to give an Alice in Wonderland-type of feel," says owner Jeff Campbell. "They are from homes and buildings in Cleveland that we use in unique ways."
The History: What started in 2004 with a West Side Market stand has grown to include three storefronts and products on the shelves of more than 20 stores, including Giant Eagle and Heinen's. "It's not anything we dreamed of happening," Campbell says. "Our first storefront was only supposed to be a production facility, but here we are."
The Goods: While Campbell's is known for its gourmet popcorn, including flavors such as French toast and garlic Parmesan, there's also a following for its fluffy cupcakes and hand-dipped chocolates. "We've been in the popcorn business since my dad brought us to Cleveland in 1975," Campbell says. "But we wanted to add more because we love to bake too."
The Must-Have: Candied nuts aren't just something to get from the county fair anymore. Campbell's is serving up candied cashews, almonds and pecans ($4) exclusively downtown. "Ours are soft on the inside and perfectly crunchy on the outside," Campbell says. "They taste like something that just came out of mom's kitchen."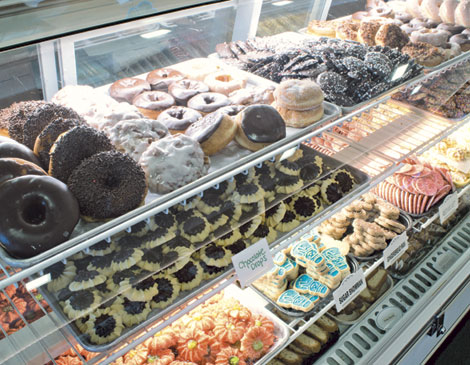 Corbo's Bakery
1603 Euclid Ave., 216-400-7170, corbosbakery.net
The Experience: You'll know you're close to Corbo's when you smell sweet vanilla wafting out the door of its new 40-seat bakery in Playhouse Square. With a mini replica of the GE Chandelier hanging over its space, the main stage is the cookie case stocked with classic lemon biscotti, chocolate drops and more. "We've always wanted to venture downtown," says president Selena Corbo. "When we saw the spot we thought, What better place than Playhouse Square?"
The History: Starting in Little Italy 59 years ago, Corbo's has become Cleveland's go-to place for Italian desserts. You can even find some of its desserts in select Marc's locations. "We had a family bakery in Sicily a long time ago, I was told," Corbo says. "We are keeping those traditional Italian recipes alive that have been with us for generations."
The Goods: Snag some of its famous cannoli, biscotti and Italian wedding cookies.
"There's nothing out of a can here. Everything is handmade in our bakery," says Corbo. "Our cannoli follows a recipe that was created probably 100 years ago, and we haven't changed one iota."
The Must-Have: Opt for the Sicilian cassata cake ($30 and up), a sponge cake that has been soaked in rum and filled with sweet ricotta cheese, chocolate chips, maraschino cherries and toasted pine nuts. "It's a classic cake that tastes like heaven in your mouth," Corbo says.