In 2003, Sam McNulty and Mark Priemer first visited the space on Ohio City's West 25th Street that would become Bier Markt, Bar Cento and Speakeasy.
Over the next nearly 20 years, among ghosts of shoppers from Fries and Schuele department store, the early-1900s building's original occupants, the partners built a Belgian beer bar, one of the city's premier chef-driven concepts and a basement party hotspot in a space that nodded to its past. From this home base, the team launched Market Garden Brewery across the street, Nano Brew a few doors down and the Market Garden production facility behind it.
"This is home for us. It's where we started," says Priemer. "We grew up in this neighborhood, and the neighborhood grew up around us."
But in October, the team announced the restaurants at 1948 W. 25th St. would close and reopen with a new restaurant concept upstairs and a new bar downstairs in 2022.
"It was just time," says Priemer. "The place was great. We have tons of memories here, but it was separated into three rooms, and we just wanted to bring it all together."
Now, the silver lining has finally come — and it's quite bright. Priemer and McNulty's new restaurant concept Bright Side opens on June 17 with Bird of Paradise, a tropical-themed basement bar, following suit in a few weeks. Bright Side's welcoming space is totally revamped with an open concept, warm colors and soft lighting, and its menu offers fresh, casual shareables and veggie-forward bites. Still, both the space and the menu nod to the past with the iconic gold ceilings and dishes such as the classic pizzas and pommes frites, respectively.
"We wanted to completely flip the script and go bright, happy and optimistic," says McNulty. "After a two-year global pandemic and social distancing, people want to get together again and be close and have fun and laugh and enjoy themselves. This is our answer to the return of living life again."
Here's everything you need to know about the new concept from Priemer and McNulty.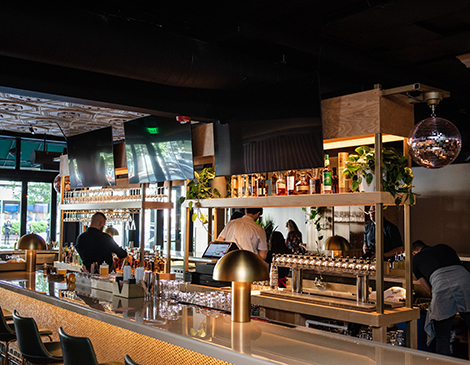 The Space
In just over 100 days, McNulty and Priemer's team transformed the former department store into a modern oasis. The previous spot used many original features, such as display cases that were turned into booths. It was cool but a bit imposing, closing off the main dining space from the street. "All of Bier Markt was kind of built around preserving and showcasing the history of that space," says Ciara Ahern, a partner at Bright Side and owner/founder of Sixth Element marketing, which helped bring the brand to life. "But there are challenges when you try to turn a department store into a restaurant."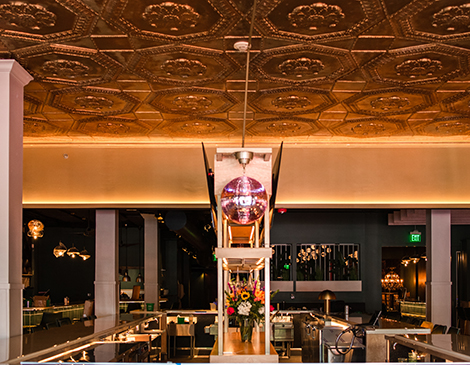 The goal of the new approach was to activate the front of the restaurant by opening it up and adding a centered, 44-seat island bar that introduces guests as they walk through the door. Soft lighting, pastel pink, orange and gold — most visible in the rose gold disco balls, light fixtures and the penny tile bar base — accented by earth tones such as natural wood and forest green tiles convey the restaurant's message of positivity, optimism and inclusivity. With natural light streaming in from retractable front windows, which open to patio space and forthcoming parklets, uplit half-circle booths face inward toward the party. The back room darkens a bit with another bar, funky garden wallpaper and a jaguar statue overlooking diners. The main floor holds about 220 guests.
"The downside was we lost a few historic elements that we loved," she says. "But the upside is this is actually built around what people actually want in a restaurant setting."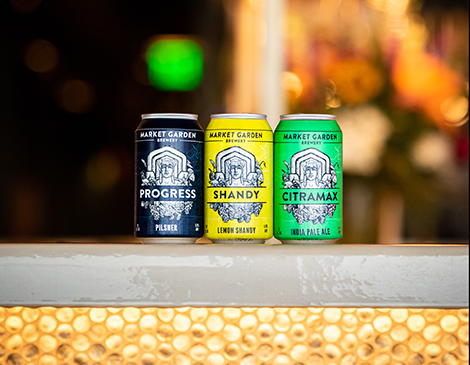 The Drinks
While you feel like a fool not drinking one of the 12 Market Garden Brewery beers on tap, such as the Prosperity Wheat or Frosty Tangerine Wit, a menu including four rotating local brews and a champagne-forward list of cocktails and wines makes you want to get a little silly. On opening night, we enjoyed the frothy, slightly spicy and fruity Golden Glow cocktail (non-alcoholic available) with coconut, turmeric and black pepper spritz.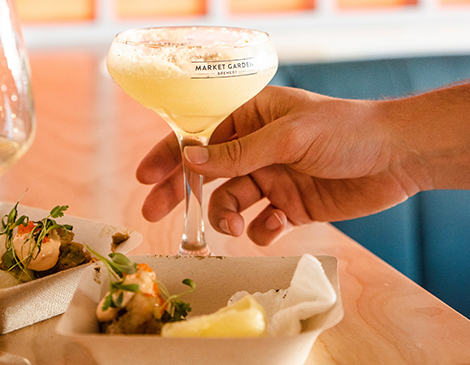 The basement, formerly Speakeasy, is set to become Bird of Paradise. This vacation-themed craft cocktail bar will serve a double purpose, greeting diners waiting for a table at the reservation-free upstairs restaurant and turning up the party with DJs and dancing. Stay tuned to Cleveland Magazine for more updates as Bird of Paradise comes alive.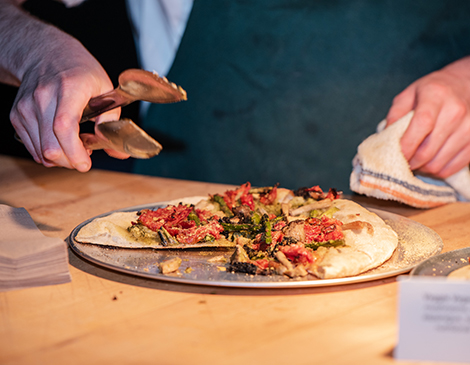 The Food
Chef-partner Andrew Bower, who started at Bar Cento as a line cook in 2010, has approached rebuilding the food program at the West 25th space with reverence.
"This is the place that's always felt most home to me in the kitchen," says Bower, who is running the kitchen with Steve Schimoler, also chef partner. "The smell of garlic, rosemary, duck fat and pork fat is just a fond memory. So, it means a lot to me to be able to be in here as the space is being upgraded and get to be the person who's doing it."
With a shareable modern American menu, Bower wants diners to come with friends and order a handful of different snacks and appetizers as opposed to typical entree dining. Despite its Midwest meat roots, the eatery is leaning into the veg life with plant-forward dishes such as the veggie charcuterie board, with housemade pickled veggies (such as Bower's great-grandma's pickle recipe). Vegan chips and dips, such as avocado-ranch dip, and fun desserts are sure to make you feel like a toddler again — though maybe a slightly more elevated one.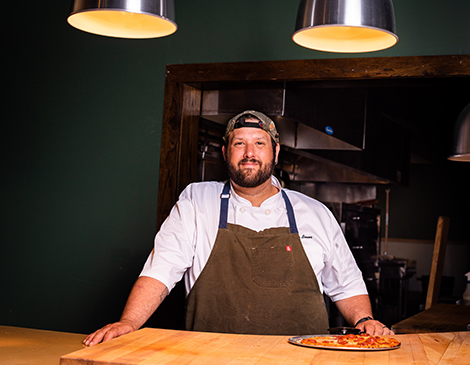 House-made pastas sit alongside five specialty pizzas, including the vegan veggie with grilled asparagus and roasted mushrooms and the spicy chicken with jalapeno basil chicken sausage and sun-dried tomatoes. Fans of Bar Cento/Bier Markt can rejoice that the restaurant is keeping favorites like the Sunnyside Pizza, with runny-yolk egg and pancetta on it, and the rosemary-garlic pommes frites. Still, Bower has updated the pizza dough to be naturally leavened thanks to a thriving sourdough starter (yes, a pandemic hobby).
With opening day and initial bites on the horizon, what is Bower most looking forward to about the revitalization of the space that means so much to him?
"Smiles," he says. "Smiles and for people to say 'This is great.'"