Make no mistake about it: Chatty's Pizzeria is generating the kind of buzz not felt in quite some time around these parts. When Matthew Harlan announced in December he was turning the former Vento la Trattoria Italian restaurant on the BAYarts campus at Cleveland Metroparks Huntington Reservation into a pizzeria, there was more than enough excitement to go around. For more than 20 years, he'd worked for Michael Symon at Lolita, Bar Symon and B Spot, pulling the kind of expertise associated with chef notoriety.
"More than anything, I learned not to overcomplicate the food and let the food speak for itself," says Harlan. "Use quality ingredients, use less ingredients, let the food shine and create good experiences."
When the space became available, Harlan jumped at the opportunity: the large outdoor patio with views of Lake Erie and the access to foot traffic driven by BAYarts was impossible to pass up. He envisioned the kind of restaurant that thrives in a takeout-driven environment and falls into the natural backdrop of day-to-day life.
"It's just a drop dead gorgeous, stunning view," says Harlan. "I'll never take that for granted."
Chatty's Pizzeria opens March 2 with dinner served from 4:30-8:30 p.m. Sundays and Tuesday-Thursday, and from 4:30-9:30 p.m. Fridays and Saturday. Ahead of Tuesday's opening, here's a first look at what puts this pizzeria at the top of our must-visit list.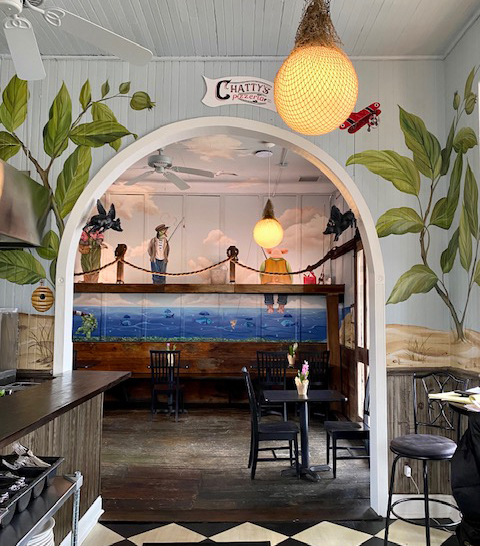 Chatty's Interior Evokes A Bright And Shiny Future: Pizza is the star from the minute you walk into Chatty's Pizzeria — you'll find Harlan manning the pizza oven at the front of the house. But once you look around, it's easy to get lost in the minute details of what makes this place mesmerizing. Harlan's sister-in-law, Charity Gangale, painted a mural across every inch of the restaurant that pulls from a beachside setting with storybook creatures partaking in a variety of activities. The patio, which seats up to 40 people, will also be expanded once warmer weather hits, but igloos are in place for now. "We wanted to tie in the water and the Metroparks theme into the artwork she had done," says Harlan. "We wanted the light to come in, and we wanted to look out and see Lake Erie, and the trees and the people walking and running with their dogs.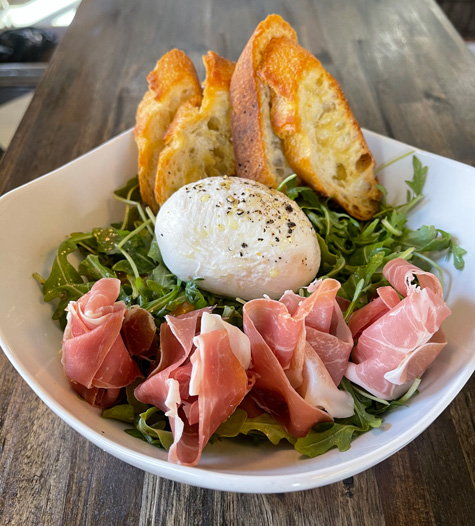 Better Believe There's Burrata: Harlan and his wife are huge fans of burrata, a thick and creamy Italian cheese made from mozzarella and cream. You'll find it used in a few different ways on the menu such as the burrata salad ($12). The shareable portion of arugula, cherry tomatoes, balsamic vinaigrette, prosciutto and burrata is best when you patiently create your own bruschetta with the toasted baguette it's served with. But you can also add burrata to any of the pizzas for $5: Harlan places it right in the center of the pie so it melts and oozes across every slice. "It adds good taste and texture to that pizza," says Harlan.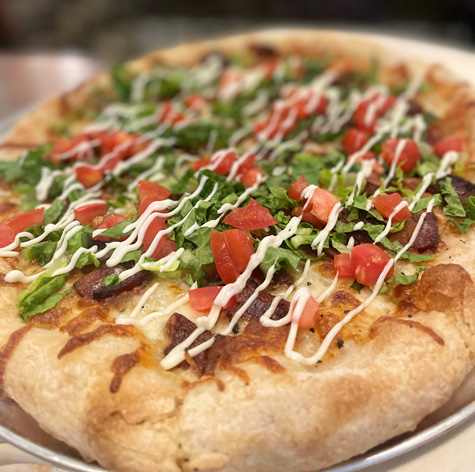 You'll Find Four Types Of Pies: Here, you'll find thin-crust traditional New York-style slices and a deep-dish, rectangular "Grandma"-style that's deceptively thick but airy. But there's a gluten-free crust and a crisp, cauliflower crust, too, for vegans and vegetarians interested in getting their own piece of Chatty's pies. Build your own pizzas ($11.25 each) with 22 toppings such as classic pepperoni and sausage or clams and meatballs, or choose one of five specialty pizzas. The sausage & rapini pizza ($14) is a holdover directly from Lolita, while the BLT pizza ($13), inspired by Harlan's mother-in-law, has house-smoked bacon, mozzarella, shaved lettuce, diced tomatoes and drizzled Miracle Whip. "It's kind of a throwback to the grandma pizza family style," says Harlan. "Picture what your grandparents would make on a sheet tray in your house or what church leaders might do in the basement of a church."
Looking Ahead: Plans are in place to expand to lunch as early as April, with a few possible surprise one-off pizzas along the way, such as a corned beef option for St. Patrick's Day. Harlan is even considering what delivery might look like down the road, but for now, he's focused on getting Chatty's off the ground running and perfecting the process. "I don't want to do anything until I can master what this is," says Harlan. "I think I need to get through a summer here to really know if I've ever mastered anything."
When You Go: 28611 Lake Road, Bay Village, 440-471-4485, chattyspizzeria.com