East Fourth Street finally has a new tenant for the former Greenhouse Tavern space, which has been empty since February 2020.
Indie, a music-themed restaurant decorated by hundreds of modern concert posters, opened quietly on Wednesday with a menu of cocktails and Southern-leaning hearty grub, such as burgers, fried chicken sandwiches and fried fish. Owned by Gabriel Zeller and Julie Mesenburg, who also own Char Whiskey Bar & Grille in Rocky River and Avo Modern Mexican in Ohio City, the space now seats about 100 diners inside but the husband-wife duo plans to expand with a rooftop patio called Cleveland Rooftop Bar that will seat 65 and a VIP cocktail lounge called E4SE.
"This is our largest concept that we've ever done, but we believe in ourselves and in our concept," says Zeller. "Jonathon Sawyer and Michael Symon cut their teeth [on East Fourth Street], you know, grew up there, so I'm very proud to be there."
Here are a few things to know before you go.
The Space
The bones of the former Greenhouse Tavern space are still there, but now the walls are decorated with more than 240 concert posters, which skew modern including the Decemberists, Father John Misty and Bon Iver. Scanning a QR code with your phone pulls up information on each artist. "This is Julian and I's most personal restaurant because we spend most of our time at concerts," says Zeller. "There's a personal touch to the atmosphere." Near the hightop seats up front there is even a personal collection of tickets and an Indie concert poster made by Tennessee artist Justin Helton. Right now, just the first floor is open, but Cleveland Rooftop Bar and E4SE are set to open in the spring. The speakeasy, E4SE, is going to be a whiskey- and tequila-focused lounge that seats only about 20. Only about 25 members will be invited at first, and eventually they'll be able to invite one friend each. These members will get first dibs on reservations because of the small space, but it will also be open to the public. Zeller also hopes to have live music outside and sponsoring live music around town. "Each space will have a completely different theme on the inside," says Zeller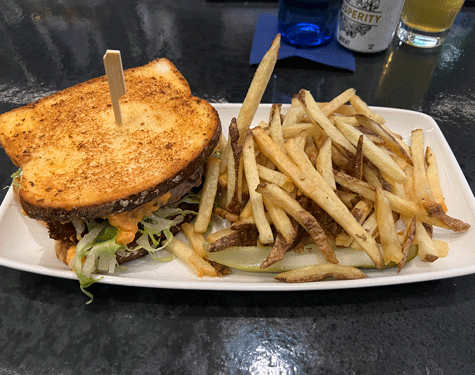 The Food
The Southern comfort food menu is concise with a lineup of eight mains, four apps, three salads and a few desserts. The Indie Burger ($21) slaps a fried green tomato, bacon and pimento cheese on a wagyu beef patty in between Texas toast, on which the fried chicken sandwich ($16) with slaw and chipotle aioli is also served. Seafood offerings include the shrimp po'boy ($21), the lobster sandwich ($27), cajun cornmeal crusted walleye ($28) and a seafood boil ($32). Hatch chile mac 'n' cheese ($16), chicken and waffles ($22) and family-style offerings round out the menu. Themed brunches, such as grunge brunch, will kick off in March. "I feel like comfort food is a dining trend that's coming back," says Zeller.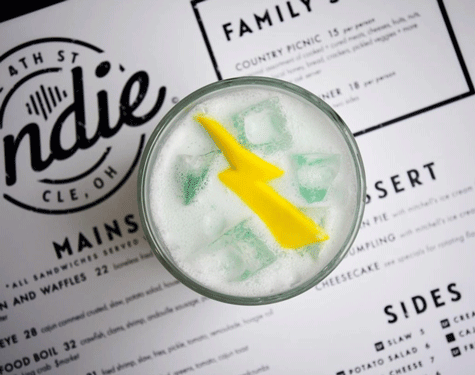 The Drinks
The cocktail list is extensive with 12 offerings. Many of them come from Avo and Char, but there are four new installments for Indie, each carrying a music theme. The Rebel Rebel ($15), for example, a creamy, blue-hued bacardi limon rum drink, features a fondant lightning bolt that nods to David Bowie. There are some beers, too, but with the restaurant still waiting on filling its four taps with local beers, cocktails are the way to go. Meanwhile, E4SE will likely offer even more cocktails, including a barrel-aged cocktail program with tequila old fashioned, sazerac and Manhattan. "Cocktails are fun," says Zeller. "When we go out, places that have great cocktail programs, seeing the craftsmanship, having the interaction, it's part of the enjoyment."