Cleveland's chefs seem to be an elite, almost untouchable group — Rocco Whalen, Zack Bruell, Karen Small, Jonathon Sawyer and Michael Symon. But with Ohio City Galley opening today, things might get a little easier for up-and-comers to break into that circle. Galley Group owners Tyler Benson and Ben Mantica wanted a concept that would be almost a test-run for potential restaurants. The chefs present a business plan and if chosen, Galley Group pays for marketing, equipment, utilities and more — giving the chefs an opportunity to audition their idea without the steep investment. "It can cost about a half a million dollars to open your own restaurant," Mantica says. "But here it's a lot less, giving the chefs a chance to experiment and see what will work and what won't." Ohio City Galley officially opens today, but we got a little sneak peek at the soft opening Thursday night. Here's where we went and what we tried from each spot. 1400 W. 25th Street, Cleveland, 216-525-9933, ohiocitygalley.org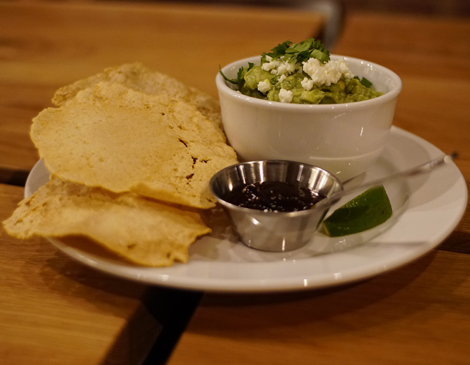 Poca
The casual Mexican cuisine at Poca is new and fresh while still being traditional. Chef Michael Nowak, who also owns Black Pig, uses his more than 20 years of restaurant experience to craft the braised lamb tamale ($15), which is steamed in banana leaf and served with black bean sauce and tomatillo salsa or the guajillo shrimp ($14), which comes with guajillo chili puree, sweet peppers and avocado. We tried it: The guacamole ($9) consists of smashed avocado, pickled green chili, onion and cilantro and is topped with queso fresco. It has a little kick to it, but the best part is the crunchy tostadas for dipping.


The Rice Shop
Chef Anthony Zappola already launched a successful Rice Shop in Las Vegas. And he hopes this second location is just as popular in Cleveland. The Rice Shop takes a new approach to the rice bowl with options such as BBQ pork belly ($14), Kentucky fried fish ($15) and more. If Zappola's name sounds familiar, it's because he opened Lox, Stock and Brisket in University Heights earlier this year. We tried it: The Korean beef rice bowl ($17) takes white rice and piles tender chunks of beef overtop. But the best bite was the bok choy and thinly sliced cucumbers covered in a kimchi vinaigrette.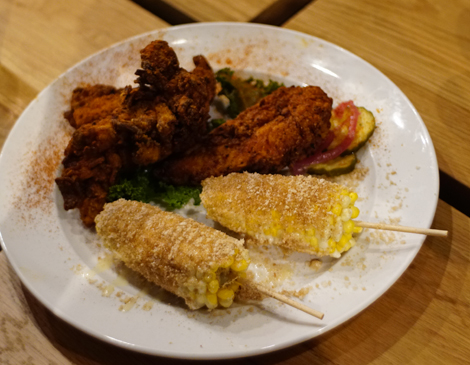 Sauce The City
We're suckers for some good hot chicken. But chef Victor Searcy from Saucy The City not only serves up some crispy, piping hot goodness, but he makes a line of seasoning sauces that drive the flavor home. You can go bold with his D'E'TE' signature chicken sandwich ($14.95) that comes with a fried chicken breast tossed in Searcy's spicy D'E'TE' signature sauce or you can stay classic with his Cleveland hot pieces ($14.95) — a mix of leg, thigh and wing that gets tossed in your choice of home-style, Cleveland hot or sauce fire dry rubs. We tried it: Our mouth was on fire just the way we like it with the Cleveland tenders (14.95) covered in the Cleveland hot dry rub. The midlevel seasoning wasn't too spicy, but it had just enough heat to get you sweating. With our chicken, we got a side of candied corn ($6.99) that made us reevaluate our definition of corn-on-the-cob. The ear was smothered in a vanilla butter and then coated in cinnamon and Saucy The City's sweet dessert sauce.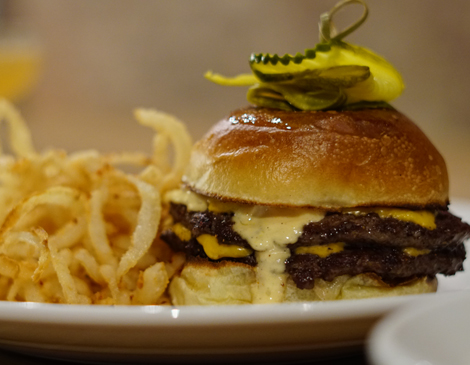 TinMan
After winning the Cleveland Iron Fork Chef of 2015 and about 20 years of experience at various Cleveland and Chicago restaurants, chef Michael Schoen was ready for his own thing. TinMan's menu is packed with nostalgic foods such as fried bologna ($14) and pot roast ($20). But it also has some unique dishes such as crispy chicken and dumplings ($17) and pork & apple ($18). We tried it: Even the pickle was delicious. The burger ($15) comes with two beef patties, American cheese, S&S pickles and TinMan's special sauce. It was juicy and flavorful, but not too over the top. We're all for the traditional lettuce and tomato on our burgers but the absence of them here let us focus in on the depth of flavors. The burger came with a side of shoestring onions ($7) that were crunchy, salty and the perfect companion for the juicy burger.