Get ready to hear a lot about Jade Asian and Sushi Bar this summer.
The glamorous three-story restaurant from former XO Steakhouse owner Zdenko Zovkic, which opened in April, is sure to be one of this summer's hottest reservations. The sushi bar and restaurant is located in a new structure between FWD Nightclub and Welcome to The Farm, country star Chase Rice's live music bar collaboration with Forward Hospitality Group.
Among mesmerizing decor, each floor features distinct menus, signature cocktails and vibes. But the thing you're going to keep hearing about is that view. With a retractable fourth wall that opens the entire restaurant to the Cuyahoga River as well as a rooftop bar, each level of the building features unrivaled, 180-degree visibility of the Flats, nearby attractions and, of course, miles of waterfront.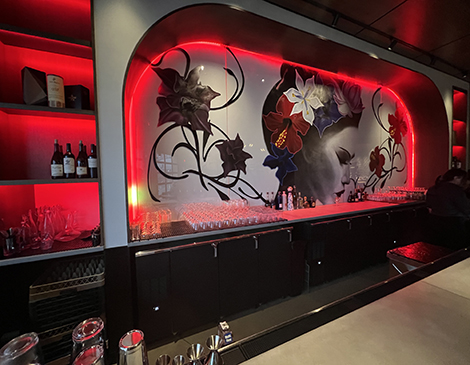 "Being on the water, I wanted to make a big impact and create something that the city can be proud of," says Zovkic. "We can't go to Miami or L.A. or Vegas every weekend, but we can have something here to enjoy that has a sense of excitement and adventure."
Here's what you need to know about Jade Asian and Sushi Bar, which is open now.
The Space
As mentioned, the massive, newly developed structure is split into three distinct concepts, which seat about 100 visitors each. The red-hued first floor is a modern sushi bar with an expansive cocktail bar and bumping music. It's got that Nobu-style club feel, much like East Fourth Street's Goma but larger and with the bass turned up to 10. The jade-wallpapered second floor features a bar, lounge and a sizable dining room. Finally, on the top floor, Zdenko plans to soon launch a members-only nightclub with access to a private rooftop, which overlooks FWD Nightclub and will presumably offer glimpses of its live DJ acts. Of course, in addition to incredible views of passing freighters and sunsets on the Cuyahoga River and Lake Erie, each level has a garage door fourth wall that opens for open-air, patio-style seating. "Everybody's been stunned when they come in here," he says. "People keep telling me, 'Cleveland needs this.'"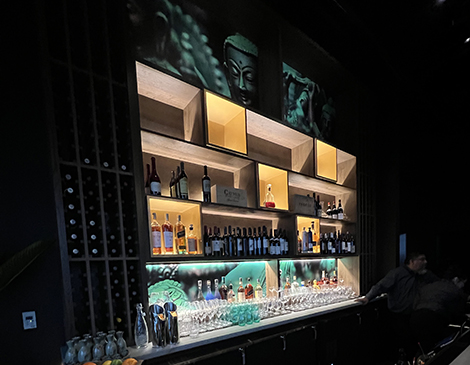 The Food
Zovkic's goal to create distinct experiences on each level starts with the food. The menus are a la carte, meaning each dish is served independently and designed to share.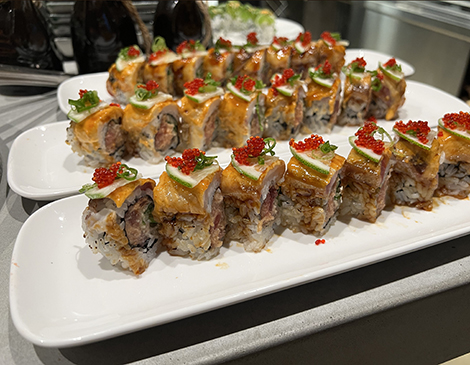 The first floor features noodles, poke, rice and other Asian tapas dishes, but sushi is at the forefront with interesting takes such as the Triple A ($10) roll with apple, asparagus and avocado and the crunchy, spicy Titanic Roll ($18) with fried potatoes and chopped hamachi. There are more traditional options across the menu, such as nigiri, sashimi and other specialty rolls.
The second floor takes more of a fine-dining approach. Asian influences meet dishes indebted to South America and Eastern Europe and sit next to the type of high-end steaks one might miss from Zovkic's XO Steakhouse. The Miso Baked Black Cod ($34.95) is served with baby bok choy and chive oil, while the Hong Kong Beef Lo Mein ($26.95) is a flurry of mushrooms, snow peas, carrots, Thai chilis, scallions and Japanese soy pan sauce.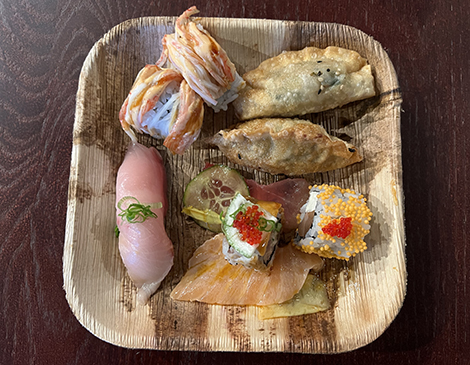 The third floor is a combination of the first and second. Boaters can also dock at the boardwalk to the rear of the restaurant and enjoy takeout sushi platters from the first floor.
"The food really matches the decor, exciting and new to the area," says Zovkic. "The dishes are refreshing, lighter and not overpowering."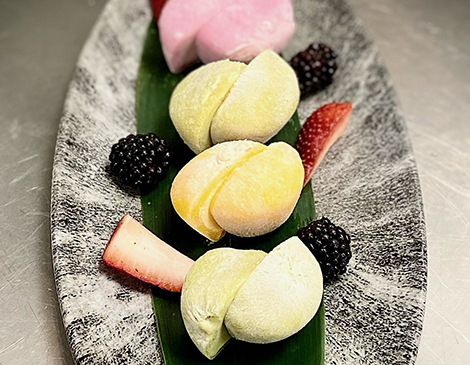 The Drinks
"Refreshing, refreshing," Zovkic says of the purpose behind the restaurant's craft cocktail list. Each of the three bars will have distinct options, and tequila,on track to take over vodka as the national booze of choice this year, plays a big role. The Party in Your Mouth ($17) is already a stunner thanks to the accompanying szechuan flower bud that creates a numbing, tingling feeling inside the mouth, almost like Pop Rocks. "It has a unique effect on your senses as you chew it and sip," he says. "It has this cooling effect in your mouth for the next 15 minutes. It's probably one of the most unique things we have."
The Social Club
The membership-only rooftop bar, one of only a few in Cleveland, offers an entrancing — and exclusive — view of the Cuyahoga waterfront. "The weekends are going to be an all-day operation with DJs," he says. "Turn up a little bit and enjoy the views." Still under construction, the rooftop bar and social club is expected to open in late May, but memberships are being sold now and range from $2,050 to $2,550 annually. Members get perks such as preferred reservations, drink and food discounts, special events and the ability to bring two guests each. Still, the real kicker, Zovkic says, is the company you keep when at the bar. "It's a social collaborative network of the business community and influences the tastemakers in the region," he says.
When You Go: 1048 Old River Road, Cleveland, 216-815-8700, instagram.com/jade.asianfusion