Say what you will about McDonald's, but there's a lot the fast-food chain gets right about breakfast, namely convenience, travelability and reliability.
"On my way to work today, I'm thinking Where am I going to stop to get a breakfast sandwich that's not going to take me longer than 10 minutes?" says chef Ryan Beck. "If I didn't plan ahead, I'm going to be going through a drive-thru probably. The old reliable and the convenience of being able to plan ahead is what I'm missing."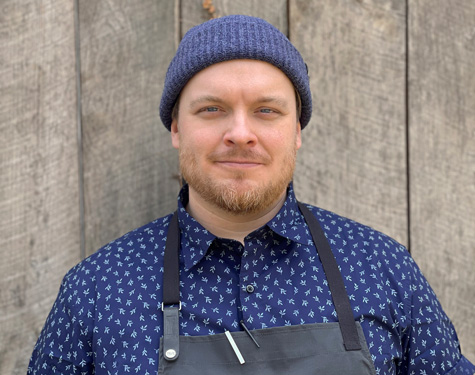 Beck hopes to fill that morning meal void with Martha On The Fly, an elevated diner-meets-weekend-takeout pop-up opening March 27. Hearty meat-and-egg breakfast sandwiches are the crux of the menu, but house-made pies and other sides leave plenty to be surprised and delighted by. Currently operating out of the Good Company space in Battery Park, the pop-up restaurant also has big, albeit uncertain, plans for the future as the pandemic wanes.
Already sold out for its first weekend, head over to the website to snag your breakfast sammie for later this month. But first here are three things to know about Cleveland's most exciting new brunch pop-up.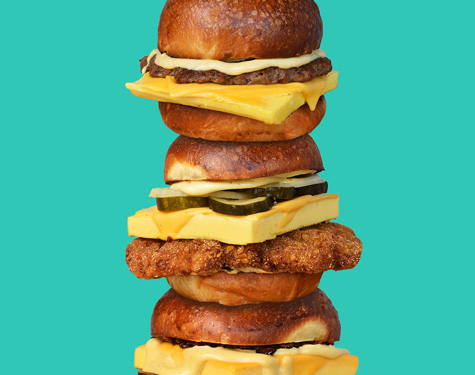 The Sammies
Inspired by his upbringing in a rural town outside of Tiffin, Martha On The Fly's menu is a Midwesterner's dream. "We wanted things that were approachable and recognizable, and then also some things that were fun and maybe a different take on something you've had before or something new altogether," says Beck. Some sandwiches, such as Betty ($13), a classic bacon, egg and cheese that uses thick-cut hickory smoked pork belly, simply elevate familiar options. Others, including Ethel ($12), which features a ham salad, stadium mustard and fresh greens, or the Ruth ($14), which places a pounded-out, larger-than-bun pork tenderloin and baked egg patty atop a fresh scotch roll, uses familiar bites to expand Cleveland's brunch vernacular. "A lot of the dishes were inspired by food that I had where I grew up," says Beck. "Where I grew up, there was a place called Mike's Dairy Bar, and they had a pork tenderloin sandwich that's comically larger than the bun." Similarly, the Shirley ($14), which pairs caramelized onions and tomato jam with fried house-made bologna, is an effort improve the meat's bad rap. Each sandwich features an egg patty reminiscent of the fast food breakfast staple, yet it shines thanks to the peculiar approach of blending the yolk with Miso, a traditional Japanese seasoning, and then steaming it in butter. "The egg is nothing to turn your nose up at," he says. "It's like McDonald's but way better."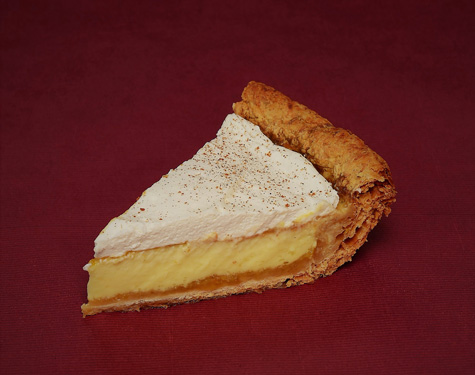 The Sides and Pies
The inception of Martha's began in 2019 with Beck dreaming of a diner-meets-bakery. So during 2020, Beck took on the quarantine hobby of perfecting his baking skills. The result was Pie on the Fly, a holiday pie pop-up where Beck sold pie direct to consumers via Instagram and delivered them himself. With Martha, Beck plans to offer a rotating, seasonal Slice Of Pie ($8), which is currently a Rittman Orchards apple pie on a butter crust with oat crumble. There's also a savory Hot Pocket-inspired Pocket Pie ($6) filled with stewed chorizo, refried beans and chihuahua cheese and an orange zest and vanilla bean iced Cinnamon Roll ($5). "Slices of pie and cinnamon rolls are guilty pleasures for breakfast," says Beck. "So we're going to focus on making those things that people just can't forget." Another thing we can't forget? Karleen's Cornmeal Fries ($6) dipped in a side of Martha's Sunshine Sauce, a delicious mix of hollandaise-style sauce.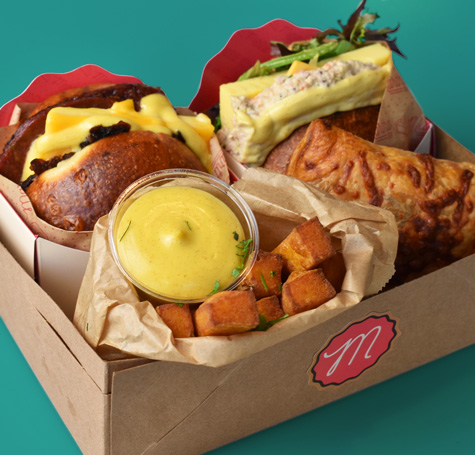 The Future
Beck hopes some iteration of Martha will be around for a long time. The initial four-weekend run is March 27 through April 11, and the first weekend, March 27-28, is already sold out. Orders for the rest of the month are being accepted now. "And then we're going to go from there," says Beck. Much of that will depend on when Good Company reopens, but Beck says he thinks his concept "has legs" and could work as a brick-and-mortar somewhere else when the pandemic stabilizes. But to be safe, we suggest ordering now. And with all the talk of fast food inspiration, Beck wants the vibe to be like a small town diner where the waitress knows your name — as comfortable as his great-grandma Martha's kitchen. "When the time is right, when I feel comfortable having people come to work in a place where they're going to be serving maskless individuals, then I think we can seriously talk about a more permanent situation," he says. "We're not ruling anything out that's for sure."
More Info: marthaonthefly.com