Wolf Pack Chorus brings something new to Cleveland's Little Italy neighborhood, while still honoring its building's legacy.
The hip, colorful concept — which opens to the public on March 4 — takes over the former home of Club Isabella at 2175 Cornell Road, near the corner of Murray Hill's stretch of red brick road. Inside, a grand piano rests in a sunny sitting area, and a massive swirly mural gives a pop of color in the dining area that can seat 82 customers at a time. On each table, a teddy bear lamp gives diners a bit of light to scan a menu of French-influenced dishes.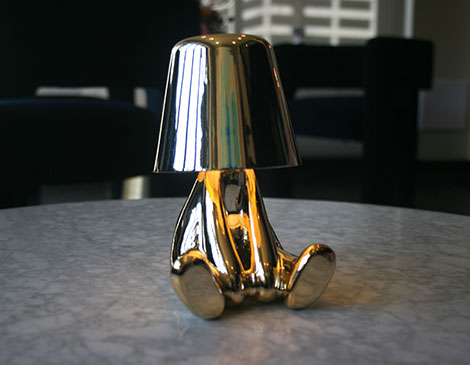 In corners you'll see paintings of wolves; in a back hallway, two portraits even show wolf versions of Chris and Katie Wolf, the owners of the restaurant. The couple decided they wanted to open a restaurant this past summer, following years of Chris' experience running local country club kitchens. Katie took on the decor and design.
"It just seemed like the right timing, with getting older and how much gas is left in the tank. It was just as good of a time as any," Chris, 41, says.
But Wolf Pack Chorus plans on being more than just an eatery. Back to that grand piano, the restaurant has music at its heart, a nod to the Cornell building's history. The original location of the Cleveland Agora, the building also at one point housed Goose Acres banjo factory, which featured recording studios and offered string instrument repairs.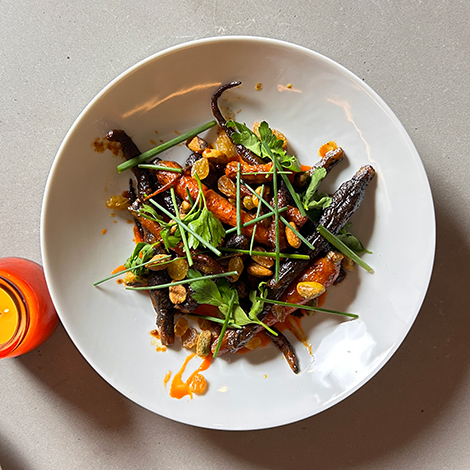 (Courtesy Blue Noda)
Live music is slated to be a big part of Wolf Pack Chorus's programming, with local trios, bass players, DJs and bands performing in the space.
"We wanted to pay homage to this musical history and roots," Chris says. "We're planning on having music, always, all week long."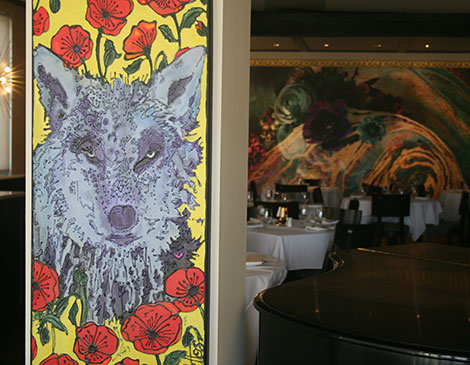 So far, diners at the restaurant's soft opening events have established a few standouts on the menu. Octopus with a bacon vinaigrette ($22) and shrimp in a hot sauce butter ($18) are appetizer highlights. Meanwhile, the Nashville-style duck confit ($33) and Chicken Francaise ($26) have earned fast fans on the dinner menu, with dessert options like the heaping serving of chocolate cake ($14) and the citrusy key lime tart ($14) finishing off the experience.
The wine menu features unique selections from Argentina, France, Spain, Chile and Germany ($10-$20 by the glass), including a handful of sparkling wines to sip. Both classic cocktails and unique twists — like an espresso martini ($18) and garlic, hot sauce and pickle martini ($18) — rotate seasonally.
Now that the restaurant is up and running, the Wolfs are starting with a focus on dinner service and a Sunday brunch, with a Monday brunch and lunch service set to begin soon. The restaurant plans to unveil its patio and open up its walls of floor-to-ceiling windows when the spring season arrives.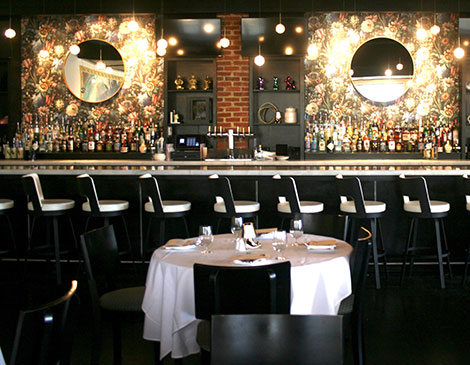 Chris says Wolf Pack Chorus aims to bring some new energy to the dining scene on the East Side of Cleveland.
"It seems like everyone's opening up West Side locations all over. That's been the hip and trendy spot," Chris says. "The whole idea was always to be a neighborhood kind of place, but we don't want to be a bar and grill. We can still be that neighborhood place that you want to come to for Wednesday night dinner, but also birthdays and graduations and anniversaries — and be able to be all of those things at once."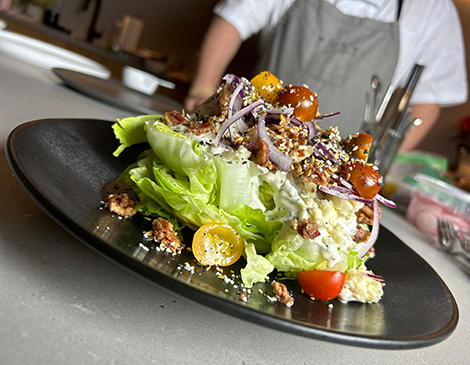 (Courtesy Blue Noda)
Bite into the Cleveland dining scene by signing up for our free weekly CLE Food & Drink newsletter — your guide to food and drink throughout The Land. Arriving in your inbox every week, this coverage fills you in on everything from mocktails to shareable plates — and more. Click here to subscribe.