It's time to let your body talk. As executive chef at Progressive Field and former Cleveland Clinic head chef, Josh Ingraham opened Go Buddha Meals & Eatery in Rocky River in July with the goal of streamlining healthy foods to people on the go. With a Chipotle-style setup, guests can create combinations from 28 ingredients that include hot and cold toppings, 13 sauces and a variety of proteins. "We want to make it so easy for you to come in and not have to worry about food ever," he says. By working with local dieticians, Ingraham sources most of his ingredients locally while focusing on their combined effects on the body. Here are three combinations we love.

Strawberry Chop Bowl

Edamame
Golden shaved beets
Kale
Pickled onions
Spiced pecans
Spinach
Strawberries
Citrus Dijon poppy seed dressing

This bowl offers more than a beautiful display of bright colors. The combination of vitamins C and D from the strawberries and beets allows the body to absorb more potassium and calcium from the kale and spinach, while the citrus Dijon poppy seed dressing drizzled on top has a boost of turmeric, which is great for blood flow and reducing inflammation. "This bowl has a great balance in textures," says Ingraham. "The dressing is a turmeric, citrus poppy seed sauce emulsified with cashews instead of oil."




Mediterranean Power Bowl

Almond milk yogurt tzatziki
Cucumbers
Hemp seeds
Olives
Roasted chickpeas
Spinach
Tabbouleh
Tomatoes

With an iron-rich base of spinach, veggies, olives and chickpeas, this bowl provides an abundance of omega-3 fatty acids, aiding in digestion, boosting mental cognitive abilities and increasing blood flow. Topped with house-made tabbouleh and almond milk yogurt tzatziki, you're not only getting healthy heart protein, but you're also mixing in some refreshingly sweet flavors. "This is the perfect recovery bowl post-workout," says Ingraham.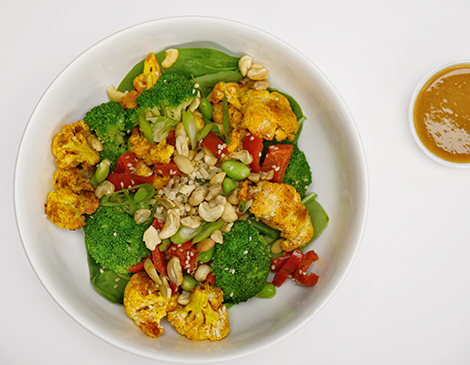 Kung Pao Cauliflower And Broccoli Bowl

Bell peppers Broccoli
Cashews
Cilantro brown rice
Gochujang chile sauce
Green onions
Peas
Spicy cauliflower

After a long day, look no further than this combo for a quick meal that you can actually feel good about. The house-made Gochujang chile sauce contains roasted pineapples that have a digestive enzyme and naturally sweet-and-sour tamarind paste that boasts vitamin-rich benefits. "The cauliflower is tossed in garlic and turmeric, then roasted," says Ingraham. "This bowl is the perfect dinner with fibrous vegetables and hearty cilantro brown rice."