Our dining scene has shifted and with it, East Fourth Street has evolved. New spots have opened, more are preparing for their first customers and some favorites have had to adapt, so will East Fourth remain a hub of excitement and activity? "East Fourth is going to look different with new tenants, but it's going to have the same vibe as the place to be for entertainment and food and beverage," says Ari Maron, partner in MRN Ltd., East Fourth's real estate developer. Before your next visit, here's a look at how East Fourth has changed.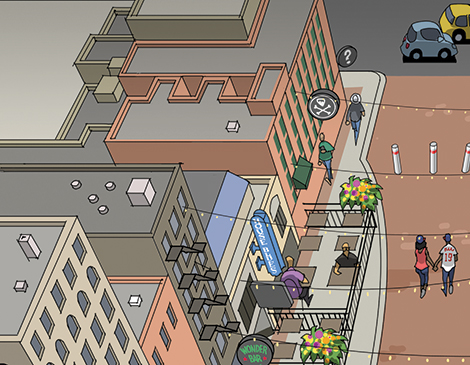 Indie
Gabe Zeller and Julie Mesenburg, co-owners of Char Whiskey Bar & Grille and Avo Modern Mexican, began renovating the former Greenhouse Tavern space in May. Set for a fall 2021 opening as a music-themed restaurant outfitted in 165 indie rock posters, the menu is a work in progress. "I felt like it was a once-in-a-lifetime opportunity," Zeller says.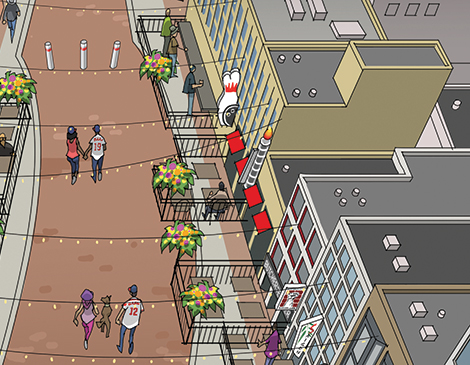 Butcher and the Brewer
Shut down during most of the pandemic, the upscale brewpub has dealt with continued challenges related to safety and staffing. "Even as activity levels start gaining traction, we're scrambling to find the appropriate levels of staff to reopen properly," says Jason Workman, CEO of Cleveland Brewing Co. Luckily, the brew pub reopened in May with a limited menu.
Citizen Pie Roman Cafe
Vytauras Sasnauskas opened East Fourth's first pizza joint last September with a twist. Unlike the thin, wood-fired Neapolitan-style pizza served at his Collinwood and Ohio City locations, the downtown spot offers lighter, crispier Roman-style pizza. Some are made and topped in advance, allowing for quick interactions and to-go orders.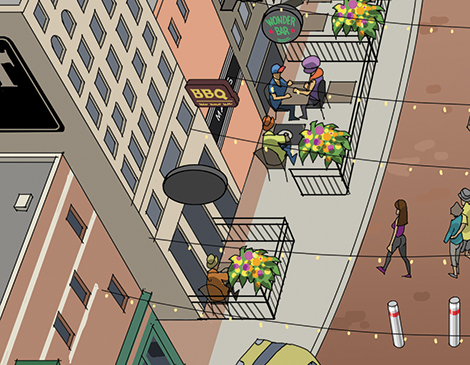 Mabel's BBQ
This downtown barbecue spot specializing in slow-cooked meats and platters is one of Michael Symon's last remaining restaurants in Cleveland. Mabel's patio and dining room are both open, and the restaurant has added online ordering, curbside pickup and delivery via DoorDash and GrubHub to adapt to dining trends.
Lola Bistro
After 24 years, Michael Symon's flagship restaurant permanently closed in November. The 7,500-square-foot space currently stands vacant, but Maron says he's expecting to make an early-summer announcement about what's coming next. "We're excited about the interest we have in the space and think it'll continue to be an anchor," he says.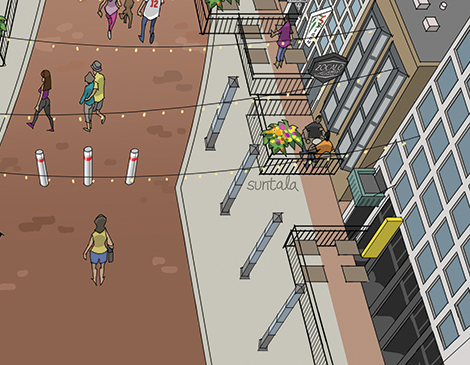 Zocalo Tequileria
East Fourth's only Mexican restaurant shut down for a couple of months before reopening last June with local delivery and curbside pickup. Zocalo's northern wall opens into its patio space, providing outdoor and open-air indoor dining for folks interested in high-quality Mexican cuisine, margaritas and more than 75 tequilas.
Goma
Initially slated to open at Pinecrest two years ago, Dante Boccuzzi's new Japanese-fusion restaurant will finally open this summer at East Fourth and Prospect, complete with a basement speakeasy called Giappone (Italian for "Japan"). Goma's hot kitchen will allow for a menu that goes beyond sushi, inspired by Boccuzzi's time working with famed Japanese chef Nobu Matsuhisa.