If you go searching for a life-changing meal in Austin, Houston or Dallas, you'll probably end up in a gravel parking lot surrounded by food trucks. Called food truck parks, these spaces democratize fine dining while providing a communal gathering space, which is exactly what Dan Deagan wanted to recreate by opening Lakewood Truck Park on June 19. "I went to this place just north of Dallas called Texas Truck Yard, and they probably had 300 people there eating from four food trucks on a Monday night," says Deagan, who also owns Deagan's Kitchen and Bar and Humble Wine Bar, both in Lakewood. "Everyone was having fun, and I just loved the vibe of it, and I thought this is something that Cleveland needs." With two permanent bars, a 4,000-square-foot air-conditioned indoor structure, bathrooms instead of port-a-potties and more than a dozen flatscreen TVs, Deagan's Detroit Avenue park is a little less makeshift than some of Texas' pop-up parking lot food courts. But nonetheless, the 12,000-square-foot indoor and outdoor space finally brings the nationwide trend to Cleveland. Here's everything you need to know about Lakewood's newest food court.



More Food Trucks Options Are En Route.
Some diners who visited during opening weekend were disappointed to find just one food truck each day. Deagan blames that on short notice that the liquor license had transferred and each truck having to undergo a city-specific inspection. "The City Of Lakewood wants to make sure every truck is up to code," says Deagan. "So far only 11 trucks have gone through that certification." Deagan expects Lakewood Truck Park to be at full capacity by next week with two to three trucks during the week, and three to four trucks on Friday and Saturday. In addition to Barrio, Rocco Whalen's ShortRib1, SmashTime and The Original Steaks and Hoagies, which were parked during the first weekend, Deagan looks forward to welcoming Proper Pig Smokehouse, Hatfield's Goode Grub, Smokin' Rock 'n' Roll and more. "There'll be different trucks, with some trucks during brunch and others pulling in around 3 or 4 p.m. for the evening shift," he says. "We don't want to have two barbecue trucks at the same time or two taco trucks at the same time. It's really important for us to have different cuisines."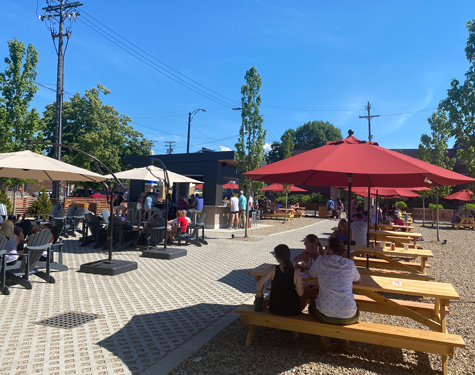 Outside Food Is Welcome.
In creating a communal space for people to gather, eat and drink, Deagan also wanted the space to benefit other nearby restaurants, especially as so many are being affected by COVID shutdowns and restrictions. Already, Lakewood's El Carnicero, for example, is offering six to-go street food boxes ($7-$14) that diners can enjoy next door at Truck Park. "[El Carnicero] owner Eric Williams was very forward-thinking," says Deagan. "We wanted to make sure that we weren't going to adversely affect nearby residences and businesses and that maybe we could help the other Lakewood restaurants."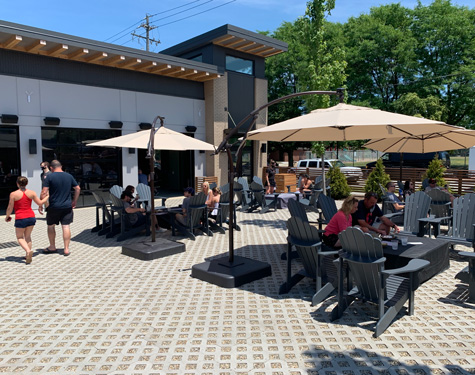 Ice Cream And Cocktails Will Cool You Down.
With the summer sun bearing down on the 8,000-square-foot patio, cold cocktails, popsicles and ice cream are a necessity. A permanent ice cream stand features two rotating flavors from Mitchell's Ice Cream and Sweet Moses ($5 per scoop, $6 per two scoops), while vegan options include a flavor from Tremont Scoops ($5 per scoop, $6 per two scoops) and Chill Pops popsicles such as grapefruit ginger and blueberry basil ($4 each). Meanwhile, in addition to six beers and six wines on tap and more than two dozen canned and bottled beers and seltzer options, the indoor and patio bars offer a list of 10 craft cocktails, with some made from fruit puree, and six boozy milkshakes. "Each cocktail is inspired by [truckers's] CB Radio names and call signs," says Deagan. "I had no idea how much of a hit the adult milkshakes would be, and we nearly sold out of the purees on the first day."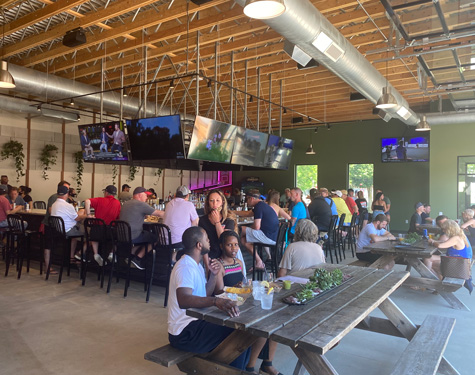 Bundle Up. Lakewood Truck Park Is Open Year-Round.
With 4,000-square feet of indoor space featuring a 360-degree bar and arcade games, it was expected that Lakewood Truck Park would be open during the winter in some capacity. But with fire pits and heavy-duty heaters, Deagan expects Clevelanders to brave the elements year-round — especially during football season. "It's 55 degrees and you see Clevelanders in shorts and T-shirts," says Deagan. "So we're looking forward to college football and the NFL season [on the patio] if those happen this year."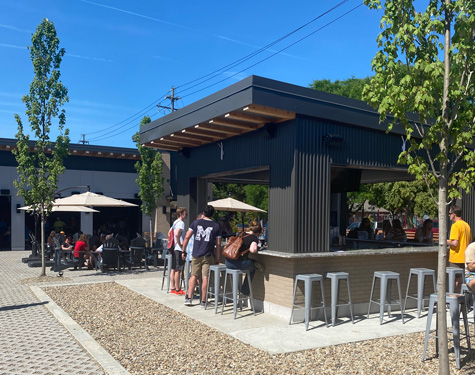 Lakewood Truck Park Has Post-Pandemic Plans.
While the pandemic has limited seating and made it more difficult to source things such as Leinenkugels' Summer Shandy, it's also prevented the space from reaching its full potential, Deagan says. Features such as a bloody mary bar, live music, an Oktoberfest event and more have been put off until later this year or even next year. "These things will eventually get going once we're allowed and it's safe for everyone," says Deagan. "But we may need to delay them for the time being."

When You Go: 16900 Detroit Ave, Lakewood, 216-712-4032, lakewoodtruckpark.com; Sun-Thurs 11 a.m.-10 p.m., Fri-Sat 11 a.m.-11 p.m.