Jeremy Umansky, the James Beard Award-nominated chef and co-owner of Larder Delicatessen and Bakery, is taking his love for koji to the next level with Koji Alchemy: Rediscovering The Magic of Mold-Based Fermentation ($34.95, Chelsea Green Publishing). Out May 6, the book, co-written with engineer Rich Shih, focuses on the history and science behind the fungal microbe, alongside 35 recipes and detailed instructions for growing and curing koji. "The book is for anyone who's koji-curious," says Umansky. Here are three things we learned.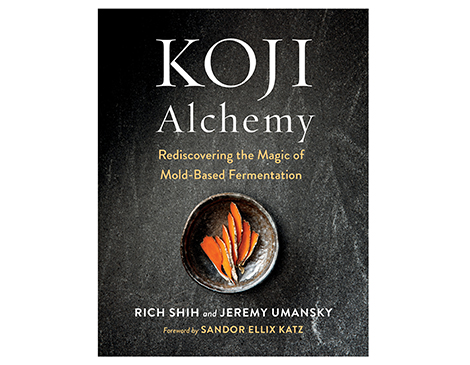 You've already eaten it.
Used to ferment soybeans, koji is a key element in soy sauce, sake, miso and rice vinegar. At Larder, Umansky uses koji to cure meats, age cheeses and create amino pastes that elevate the flavor of everything from matzo ball soup to oatmeal cream pies. "You have it in your house," he says.


It can taste like anything.
Koji-fermented foods run the gamut from sweet to citrusy to umami bombs. Umansky compares koji spores to tomatoes: They come in multiple varieties and can be used in various ways. "Each one does something a little different or has a different appearance," he says.


Its closest relative will kill you.
There are just two genetic differences between koji and aspergillus flavus, the most toxic mold in the world. Employees at Japan's koji production factories wear hazmat suits and work in strictly controlled, high-tech laboratories on the off-chance that any spores could mutate back. "One will kill you, and one is delicious," says Umansky.