The Avon Lake storefront that used to be Divine Scoops has found a new life in helping former engineer John Hyland fulfill his lifelong dream of running a business.
After the Divine Scoops owners retired last year, Hyland — a self-proclaimed ice cream fanatic — and his family began renting the space, only needing to add a couple of additions to make it fit the vision for their business, Isla's Ice Cream. The cherry on top is the location, as the shop is next door to Reflection Room, his wife Mikayla's tattoo shop.
"I just thought to myself, it's weird to sit around and wait for things you want to do," says Hyland. "Just go ahead and do it."
Here are three things to know before you start screaming for ice cream at their grand opening on July 3.
It's a family-owned business in every sense of the phrase.
Not only is Hyland's daughter Isla the name behind the shop's name, she also played a part in reshaping the shop's image by choosing the color palette. "She's 2 1/2 so we tweaked a couple of things but most of it was her choice, which was really great," Hyland says. The originally green and brown walls are now a colorful array of pastel pinks, mints and teal blues. A mural of the logo was even done by Alex Rivera, a tattoo artist from Reflection Room who also owns a mural company. Not to mention, the family's influence can also be spotted on the menu, whether it be Mikayla's Banana Split — sans pineapple due to an allergy — or Isla's Chocolate Dream with chocolate fudge, whipped cream, chocolate sprinkles and a Kit-Kat, her favorite candy.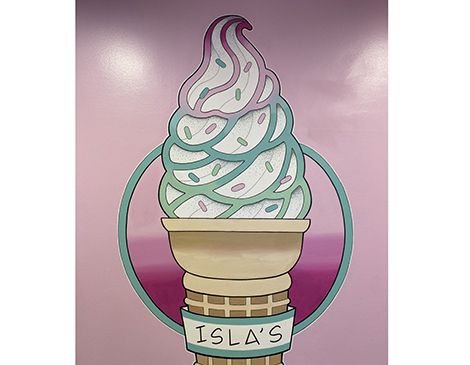 There's plenty of ice cream delicacies to choose from.
In addition to the usual beloved classics like vanilla, strawberry, moose tracks or cookies and cream — Hyland's personal favorite — there will also be a flavor of the month, with Salty Caramel Fudge Truffle getting the distinction for the grand opening. Hyland also recommends one of his daughter's favorites, Unicorn Dreams, a vanilla-based sugar cookie and pink vanilla frosting ice cream. And if you're looking for something a little more unique, the shop will also be serving soft serve with a special flavor burst machine that stripes the outside of the ice cream with flavored syrup and then injects it into the center. Upon opening they'll be serving a variety of Italian ices and sorbets, with vegan ice cream arriving in August. "It's all about balancing ingredients and figuring out how to get it to come out as good as regular ice cream," says Hyland.
They're serving up more than just frozen desserts.
Thanks to a hand-me-down bun warmer left over from the previous owners, Hyland is able to sell hot dogs, another obsession he shares with his daughter. Some of their unique hot dog options include Grandpa's German Dog topped with sauerkraut and brown mustard and John's Spicy Boi that was created by Mikayla, which has sriracha mayo and jalapenos. With only a few initial combinations, plans are already in place to add more as the business grows. Additionally, the space features a party room that Hyland's renting out, with a potential catering service on the horizon as well. "We've got a lot of stuff in the works," he says. "Always improving, always changing, never getting rid of the good stuff, though."
When You Go: 140 Lear Road, Avon Lake, 440-961-0852, islasicecream.com